The Section on Business Law (SBL)
Will Reshape Standards
In The Nigerian Economy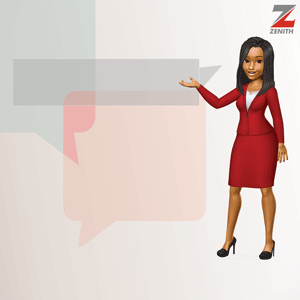 By: Gloria Ireka. on: Mar 14, 2015

A highly-regarded corporate and commercial lawyer who brings an unrivaled eye to key aspects of service delivery, Ayuli Jemide is highly regarded by his peers within and outside his field with having a creative mind, a keen intellect and wide-ranging expertise in the theory and practice of commercial law, with several notable transactions under his belt.
Recently, in his capacity as chairman of the conference planning committee of the forthcoming 9th Section on Business Law annual conference, Jemide discussed the modalities of the SBL's operations with the crew of NEWSWIRE Law & Events Magazine.
Excerpts:
What is the theme for this years' conference?
The theme for this year's conference is: 'Regulators as a Catalyst for Economic Growth'. The whole idea is to position the Section on Business Law as not just a conference for organizing sessions, but as a Section that is going forward to engage regulators and see how we can contribute our quota to making doing business in Nigeria more efficient.
What influenced the choice of this topic and how would it benefit stakeholders and can it enhance economic development in the country?
The key thing is that the Section on Business Law under the chairmanship of Asue Ighodalo has identified a few things that this Council wants to be known for in the next two years. One of them is to drive the SBL to begin engaging regulators on the areas where we find out that there are weaknesses in how business is conducted in Nigeria. So, even if you look at the Corporate Affairs Commission, the NIPC (Nigerian Investment Promotion Council), and all other regulators, it's usually one complaint or the other. We've decided at SBL that we want to champion those causes and see how we can collaborate with these people to resolve some of these problems. If you look at the World Bank's Ease of Doing Business index, you will find that Nigeria is in the one hundred and seventy-fifth position, compared to our neighbor Ghana, which is in the seventieth position, and it's all about these little things here and there. So we see this conference as a backup to begin that engagement.
As chairman of the Conference Planning Committee of the forthcoming 9th Section on Business Law Annual Conference, how far have you gone with preparations. What should be the expectations of participants at the conference?
This year's conference is billed to take place between the 7th and 9th of June. I don't want to say we still have time, but then again we do have some time. What we've spent our time doing since this committee was inaugurated in December 2014 is to try and put a program in place, so we have a skeleton of the program. We have also tried since January this year to get in touch with the major speakers because we have a long list of items. Even a few days ago we booked a place at the Eko Hotels & Suites in Lagos. We've put a program in place, gotten in touch with majority of the speakers; and also gotten confirmation from them that they would be in attendance. So now is the time to start the media work and begin to put the nitty-gritty in place.
The SBL is gradually gaining global recognition. What would be the benefit of the conference to indigenous practitioners as well as those coming from various parts of the globe?
This time around, what we've tried to do in this conference is to focus more on information rather than knowledge. It's a very subliminal difference. Knowledge is about deepening yourself in things that you already know, while information helps your perspective and makes you a well-rounded practitioner. For example, as a lawyer, your knowledge of the Securities and Exchange Commission is knowledge. But if you have information about the economy, then you're more rounded. So you can beat those regulations and laws putting them in perspective. So what we are trying to do is to drive an information-based conference as opposed to a knowledge-based one. Talking about things like the economy and the regulations around it, we have the chief economist of PWC coming in for our Plenary Session. We also have a session for Nigerian content in the legal services industry. A lot of lawyers fail to realize that Nigerian content law provides for Nigerian content for lawyers. How are we handling it? We're having a discussion around things like that.
The SBL has approximately 21 Committees. As the CPC Chairman, tell us about the Committee you belong to, and the expectations?
I don't belong to a committee. I'm a member of the SBL Governing Council, so technically I belong to every committee. The Council simply helps to facilitate the activities of all the committees. But as council chairman I have committees that I may be particularly interested in because what they do ties into my own interest as a person. But I don't belong to any committee.
The year's conference is definitely holding under a new dispensation. How do you think the outcome of this year's conference would affect Nigeria as a country?
It's an interesting time because it's not only that we have a conference holding under the new chairman; we also have a situation where our conference is holding soon after the 2015 general elections in Nigeria. And some of the things we have tried to weave into our conference are things that will help to stem the decay of regulators and government at decent levels now that we have a new dispensation. And I mention one of them to you; which is to have a proper round table where the international economists see Nigeria growing amongst the emerging markets. These are discussions designed to attract captains of industry, regulators and decision makers in government.
How do the committees ordinarily key into the general theme of the Conference? How do they determine the sub-themes?
What we try to do is learn to drive all the sessions to fall in line, though not all. Even though you have a theme, there are other things that you want to achieve for the conference. So ordinarily some of the sessions would tow a line with me and other sessions could be designed to achieve some other things that you have determined that you must achieve along this conference. Just to mention two of such things; when you look at the demographics of both Nigeria and the Section on Business Law, 80% of members are young lawyers. So we are going to have law firm visits where lawyers can visit such places. You go there, spend an hour with senior lawyers, you're taken round offices, mentored and told a few things about law practices. All of these are imbedded into this conference. We're also going to have a session where the younger and the older lawyers sit in a room and have an open discussion about the practice of law and how it affects people from both view points. Things like salaries, expectations, hardwork and so on. So we want to usher in that environment where younger and older lawyers can actually have a healthy discussion as to mutual expectations.
Another area where we're very strong on inclusion is that we found that the in-house counsel; both those who work in the corporate world and those who work in government have not been carried along in these conferences. We're going to try to carry them along. One platform that we want to use to do that is to have a discussion session with in-house counsel and external counterparts as to areas on which they need to collaborate. So that's one of the things we are trying to achieve. We want to have a conference which basically covers specific themes and also covers some other strategic objectives.
One other thing we've found in previous conferences is that it hasn't had enough of social content. So we are trying to build a programme that has some more of social events where people like Justices can just relax and network, and generally enjoy themselves.
Tell us little about your practice as a commercial lawyer?
Detail Commercial Solicitors, as the name implies, is a strictly non-courtroom commercial practice. We are perhaps, the first and only firm that just focuses on working for the clients on the business side and stay pro-active. We do absolutely no litigation and we always try to navigate our ties to stay safe and pro-active. But in the event that we have to, we involve any of the litigation firms that could produce the best for us. And basically we have about twenty lawyers. We are very focused on some key areas, we don't just do anything, we pick the areas where we want to function and keep track of them.
Can you give us a little insight into your educational background?
First and foremost, I'm a home-trained man. I went to primary school in Warri, where I grew up, went to Federal Government College, Enugu, proceeded to the University of Benin in Benin City. After I graduated, I came to Law School in Lagos. That's my foundation. Later in life, I did my LLM in North Western University in Chicago, USA and to a business school, the Instituto de Empresa in Madrid, Spain. After that, I did courses here and there, so that's me basically. The most important thing about me is that I'm home-trained.
What do you consider to be the greatest challenge facing commercial law practice in the Nigeria?
I think the greatest challenge would be the regulators and practitioners who just don't want to adapt to our changing times. I believe that as the years go by, we have to get to a point where we'll begin to change things so that we can have a more efficient business environment. A lot of times either the lawyers or the regulators, or even the clients are not willing to take the pains to challenge the status-quo. That's one thing I enjoy doing anytime I've had to work on a transaction, and someone would say, 'This is how we've been doing it'. But I tell them, 'Why don't you do it this way instead because it's more efficient, it saves time and money'.
Tell us about your partnership and the creation of Details Solicitors?
We believe in re-organic growth, which means, we like to employ people – train them and bring them into partnership. Every time we've been tempted to do lateral hires at a high levels, we always got into trouble. Our culture is distinct and the way we do things is different. And you know organic growth takes time; you have to be patient, because at times you will suffer casualties. Some would come here and you will train them for five years, six years, and they would get up and go. Which is why Details Commercial Solicitors is just myself and my partner, Dolapo Kukoyi. She is a success story in our organic growth principle because Dolapo Kukoyi joined us ten years ago when we started Details in Lagos as a Youth Corps member. And today, she's a partner. And I'm proud to say that she's a foremost expert in the power sector in Nigeria. So, we are growing gradually, but we would rather take our time.
How do you see yourself in the next five years?
As a firm, I think we really want to keep doing what we are doing, keep pushing the market, and maybe, with God on our side, would one day be among the 'Magic Circle Firms'.
And as a person? Well, I'm not sure that I am going to be in law practice throughout my professional life. There are so many other things I'd like to do with my life at some point. One passion I have is to teach in the classroom. And I want to start working towards that, to go to a top school somewhere in the world and become a professor. I also have a passion for real estate. May be in another five years I will probably be doing some other things.
What was growing up like for you?
On one hand, growing up was sweet because I had a very strict father, but there was a balance. My father was a lawyer with Shell, and my mum was a civil servant with Ministry of Education. We were six children; and it was lots of fun, lots of laughter. I grew up in Warri – which really wasn't the ideal town to be growing up in at that time. You could count people that made up Warri in those days because it was a small town. I learned Pidgin English which is actually my first language; as a matter of fact, I can say that my Pidgin English is better than my Queen's English. When am angry I tend to speak Pidgin English. I'm always very happy when I meet people from Warri who speak pidgin well. So it just takes me back to the years of comfortable childhood.
Do you think the previous SBL programmes have had any meaningful impact on government policies?
Yes they have! But we need to push the boundaries a bit more; we need to do it in a more concerted way. It's not enough to have a conference where people will just come and talk; we need to engage the regulators in a more concerted way. One of the things we are trying to do is to work on the regulators one by one. We already had the first meeting with the Corporate Affairs Commission, CAC, where we setup a joint committee of SBL lawyers and some directors from the CAC, to honestly look at the areas in the CAC's operations and regulations where they need to improve. It is an honest contribution, and an open and frank discussion; we are not there to criticize them. We're just there to collaborate and build bridges, to find out how we can all improve. Once we are done with the Corporate Affairs Commission, we will then move from one regulator to the next. I think that's the only way we can actually make a long-term impact.
It's a pleasure having a timeout with you sir.
Anytime!
-Advertisement-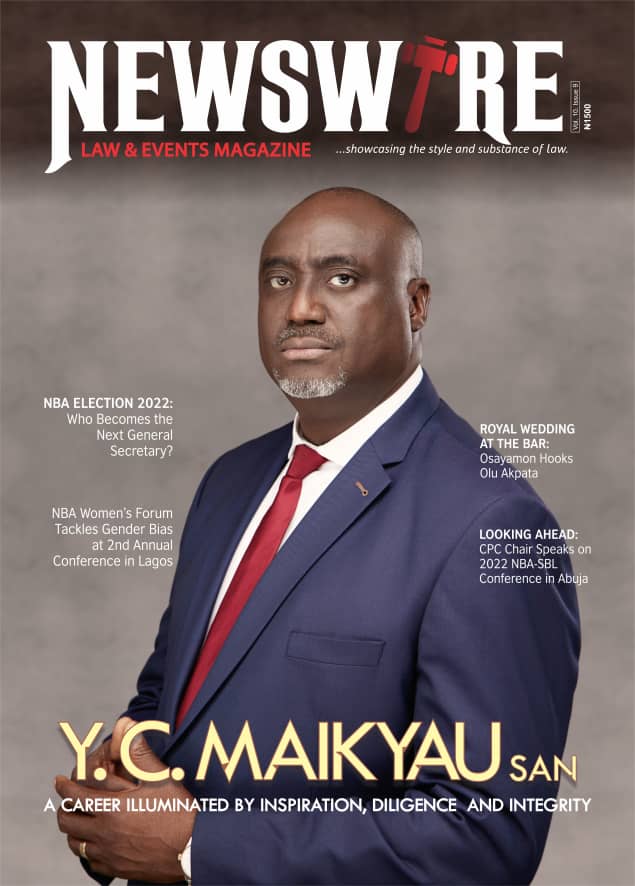 Newswire Law and Events Magazine is Out. It's a collector's item. Get one - or two,or more - for yourself and loved ones.
Do you want to be heard, your events covered, your articles published, or need to advertise your products and services on our

Blog

and

Magazine,

reach out to us at

Newswire Law and Events,

you will be glad you did. For more details about our services,

please call:

08039218044, 09070309355. Email: newswiremagazine@yahoo.co.uk