PATIENCE DAPPA
Executive Director and Group Company Secretary/Legal Adviser Masters Energy Group Limited
 Navigating the Oil Industry with Expertise & Panache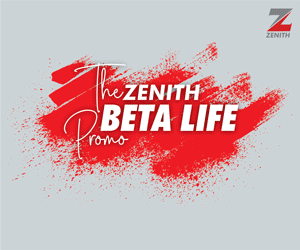 With two decades of experience in the legal profession, Patience Dappa brings to her current role as the executive director, group company secretary/legal adviser of Masters Energy Group Limited, a combination of hard-nosed legal expertise and excellence in social and interpersonal skills.
 The proud holder of a bachelor of laws degree (LLB) from the University of Calabar, and master's degrees in Law (LLM) and in Humanitarian Law and Refugee Studies (MHRS) respectively from the University of Lagos, Patience Dappa is an Arbitrator (A.CIArb), as well as a member of the Chartered Institute of Arbitrators (UK), the International Bar Association and the Nigeria Bar Association (NBA).She was also involved in proof reading the Laws of Delta State in 2005.
 To say this virtuous woman is an unrelenting go-getter is no overstatement; she puts in her best in whatever task is placed before her and would never say never until she has given such a trial.
 In this interview, she gives NEWSWIRE Law & Events Magazine an insight into her role at Masters Energy Group Ltd., and the oil and gas industry as a whole.
Excerpts:
What was growing up like for you?                                                                        I'm from a humble background, from the south-south region of Nigeria. I grew up with my grandmother, who taught me discipline, humility and moral core values that prevented me from going astray.
What were the highlights of your educational career?                                            My grandmother placed a high premium on education; she ensured that I went to school like my peers. After my undergraduate degree in law at the University of Calabar, my master's degree in UNILAG, and another master's degree in humanitarian law and refugee studies, after which I became an arbitrator, I still wasn't satisfied with my knowledge of law, so I proceeded to the London Metropolitan University for another LLM in Maritime Law to further boost my competence in the oil an gas industry this is in addition to several executive and leadership courses I have attended in Canada, New York (USA) and in London (UK). Till date, I study because there is no limit to learning. You must always seek knowledge in life; as they say, without knowledge, you're like a blind person.
Why choose law as a career?                                                                               Again, my grandmother; she had very high regard for lawyers during her days. She saw them as very upright people, defenders of the weak in the society, always telling the truth. So she thought I belonged in that profession, defending the defenseless. She also wanted to see me wearing the wig and gown and going to court. That was why I chose this path. Sadly, it was in the year of my call to the Bar that she died, so she did not get to see me wearing the wig and gown.
Before your present position, you were at various times at Pat Dappa and Associates, Alegeh and Associates, and T&A Management Consultants. Did any of those previous jobs prepare you for working in the oil services sector?               Not really. We were not really doing much of oil and gas law. I have always wanted to explore my potentials in a full fledged oil and gas company, coming from a riverine part of the country, this opportunity came during my youth service with the legal department of the NPDC (Nigerian Petroleum Development Company) in Benin City, Edo State where I worked directly under the company secretary, the experience I got from NPDC further propelled me into searching for an oil and gas firm to work in. I'll say working with those law firms prepared me legally for the profession and the task ahead, by the design of God I came into Masters Energy Oil and Gas Ltd.
What is the difference between being a legal adviser in a company like yours and, say, a bank or some other institution? Does it demand a different set of skills?    Working in a corporate office is more demanding than working as a litigation lawyer or in a law firm. Although they are both demanding, it depends on the way we look at it. Working in a company like ours requires hands-on application of knowledge from diverse areas of law and business, almost on a daily basis. Unlike when you're working in a firm, there is this requirement for you to know almost all elements, which drives the company's business, both from the legal and corporate perspective. For example, in Masters Energy Group Limited we are into marine services with three operational vessels, so it becomes very compulsory for me to know the regulatory laws guiding the maritime industry. Same applies to other areas of our businesses; such as oil and gas trading (where we deal with International Traders), Liquefied Petroleum Gas, Insurance, Banking, Commodities, Lubricants etc. with all these subsidiaries under the group, it is only reasonable to be acquainted with the applicable laws and regulations as it relates to these subsidiaries. That is why I said it is different"
Why leave private practice to work for a corporate employer?                            My interest in the oil and gas sector, that's all.
What value does a department like yours (legal and corporate affairs) bring to a company like Masters Energy?                                                                            The legal department no doubt under me has contributed immensely towards the success of the company, my job and that of my team basically, is to ensure that the company is in compliance with the applicable laws in the industry, and to advice on corporate governance. I handle the legal and corporate affairs of the group and advise appropriately. I ensure that the company carries out its corporate social responsibilities in the environment where we operate. The legal department advises the company on all legal matters and ensures that obligations on contracts and agreements are carried out. We also ensure that Employment /Labour laws are followed adequately as stipulated, Masters Energy Group we have over three hundred staff failure to be within the rules will put the company in jeopardy.
Your company, Masters Energy Oil and Gas Limited, is 10 years old. What were the initial challenges the company had to surmount to get to where it is today?   It is a fact that success comes with challenges; Masters Energy oil and gas limited the flagship of the group has in no doubt battled with various forms of challenges in its ten years of existence to become a leader in the Nigerian oil and gas industry. Finance was ultimately the biggest challenge the company encountered. We had painful disappointments from a handful of potential financing institutions; the inability of some of the financial institutions to key into our vision was a great challenge to us. When we took them to where we presently have our storage facility (Energy city) in Port Harcourt, some of them laughed and ask if anything good can come out from a swamp? But we kept striving and trying to convince them that our vision was realizable. Eventually Oceanic Bank, (now Ecobank) came to our aid and that was how we kicked off. Gradually, financing for the company has eased with the notable credit rating of the company coming from our ability to discharge our loan obligations in a timely and proper manner. The other challenge we had was menacing threats of Niger Delta militancy (which was at its peak) but we braved all odds to penetrate the huge marshland of our present-day ENERGY CITY; we also had to convince the host community about our vision and how it will be beneficial to them as well particularly in the area of development; Through our CSR, we have provided employment to indigenes, built schools and town halls, award scholarships and provided transformers among others, so they are happy with us."
Your company's stated vision is to be the world's benchmark in the oil and gas industry. How close is Masters Energy to attaining that lofty objective, 10 years after your inception?                                                                                               I can say proudly without any regret that we've done excellently well. We are 10 years now because we started business in 2005. But I want to tell you that there are companies who have been in this sector for 20 years and haven't done what we have achieved in 10 years. Presently, we have over 13 subsidiaries under the Masters Group. We are into Shipping/ Marine Services, Haulage and Logistics, Commodities, Lubricant, LPG, Insurance, Dredging services, Retailing. We have over 100 Masters Energy Filling Stations where we retail petroleum products at government-regulated price. We have the largest storage facility in Sub-saharan Africa for petroleum product. We have a lubricant manufacturing plant in Mowe, Ogun State. We have a plant for LPG at Ojokoro also in Lagos State. We are coming up with a storage facility for LPG in Port Harcourt, where we presently have our Energy City. We are presently working on the construction of a modular refinery. We are coming out with a bigger lubricant plant in Uturu, Abia State, where we have Masters Industrial Complex. We are also diversifying into production of commodities such as olive oil, bottled water, rice, wine, fertilizers, and farming among others. We are hoping for a day where every household will have one thing about Masters Group. That is why we are MASTERS. But I assure you that we are coming out with something more interesting very soon."
 What opportunity does the oil and gas sector offer lawyers – especially young lawyers – that you feel they're not taking full advantage of?                          Young Lawyers with interest in Oil and gas law has a lot of opportunities in learning the new trends in the industry. For example Shale gas and its impact on Africa/global economy as it affect the price of crude. You only get to know about new things imparting on global economy as it relates to oil and gas by reading up or by attending oil and gas seminars, and there are lots of training that I know the sector offers lawyers in this country. A lot of them don't know about oil and gas risk management in contracts as well as financial law in relation to oil and gas, so when you go for these trainings, your knowledge base is enhanced .
Tell us more about the new projects of Masters Energy Group?                        Well, we like to surprise people, so there's a limit to what we'll disclose until we are ready to unveil our intentions. As I said, however, we are venturing into commodities now; as can be seen in our Masters Noodles and Spaghetti, water, rice and wine, among others.
You're a member of both the International and Nigerian Bar Associations. What would you say are the major challenges facing the legal profession in Nigeria today?                                                                                                                    A lawyer is expected to demonstrate integrity at all times but due to the bad economy of the country, some lawyers now compromise on their roles by not advising their clients rightly. All they are after is to get money from their clients. But I think it's high time we have a scale of fees that clients should be charged, because if we have that, it will balance-up some of the charges given to our clients. An example, charging 10% of whatever accrues to a client in the case of damages for example, some lawyers will charge 2%. Such variance is not helping but only damaging the face of the legal profession. I think with the introduction of a uniform scale of charges greed will be reduced and the public will also understand that no matter where you go, you will get the same fee as your charge (except the charges from silk wig which I know should be higher than the others). Also I think as a lawyer you should not be static. If you have an LLM, or LLB, that doesn't mean you should stop there. Lawyers should be encouraged to further their education and do researches. It is a shame that some lawyers don't even know the new laws here in Nigeria, even the ones that have been repealed, just because they don't read. Some lawyers are also in the habit of prolonging cases by filing frivolous applications that has no bearing and pray the court to grant an extension of time, just because they know that their client might have an unfavorable judgment. I believe that if we have a policy that defines the length at which a case can stay in court, it will be helpful.
How would you assess the role of the NBA today – and especially its current leadership?                                                                                                          The NBA is supposed to be against anti-democratic policies of government, and violation of human rights. The association is also meant to protect and discipline lawyers that are found wanting. The present president, Augustine A. Alegeh, SAN, who happens to be my former boss some years back, is a fantastic brilliant and articulate gentleman. With him at the helm, the association will move to the next level. I monitor the activities of the NBA, and I think he (Alegeh) is a very active a leader; something the NBA did not have a long time.
What do you hope to accomplish in, say, five years from now?                           Let God decide. I always take one day at a time. Five years ago, if you asked me if I knew I would be here today, I would have said no.
Quite a number of lawyers are in elected political positions. Do you see a future in politics for yourself?                                                                                             It's possible, because my mother taught me never to say 'never'. My upbringing and profession have taught me to be upright and be a defender of the less privileged, to always stand on the side of the truth, to be disciplined and patient. So, I can't say no (to a political career) because you never know what will happen in the future.
How is a typical work day like for you, and how do you relax?                               I am always busy during the weekdays but I ensure that I spend the weekends with my family either at home or outside the home. I am not the outgoing type and I only attend social functions, which are of great importance, I also spend the weekend cooking for the family.
Tell us about your family life: your relationship with your husband (where you two met), and children?                                                                                Interestingly, we met and began courting while in the university of Calabar, though at the time we did not know it would metamorphose into marriage. He graduated two years before me. After my youth service we got married (that was 22years ago,) we are blessed with 2 children (all Boys) ages 18 and 16. My handsome and gentle-looking husband is from Opobo, in Rivers State. Though not a lawyer, he is very articulate, straightforward and very caring. Back then, I saw in him someone I could spend the rest of my life with. Each time I run into any of our school mates (Malabites /Malabress) who knew us back then, they would say 'Wow! So you guys made it!'
What advice do you have for young, up-and-coming lawyers?                             My advice for the upcoming legal practitioners is to be modest, integrity-conscious, hardworking and be patient on the path to success. "Our prayer is that the younger ones and our children should be better than us. So they should be very focus, straightforward, and have a mindset of what they want and work towards it, they will surely achieve their dreams. They must know what they really want in life. In a nutshell, you must cultivate the virtues of Integrity, Patience, Hard work, and Strong Moral Values.
Thank you for your time, madam.                                                                          It's been my pleasure.
-Advertisement-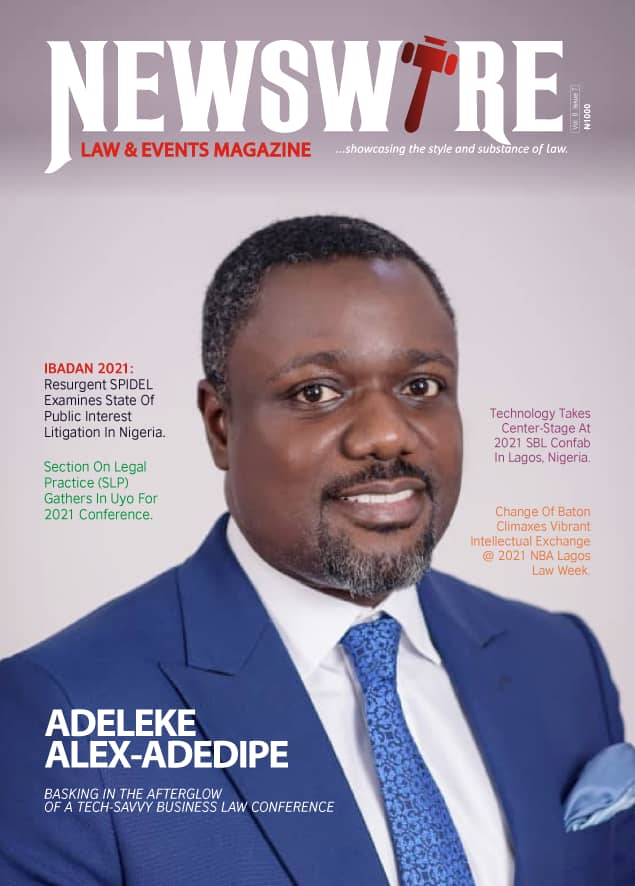 Newswire Law and Events Magazine is Out. It's a collector's item. Get one - or two,or more - for yourself and loved ones.
Do you want to be heard, your events covered, your articles published, or need to advertise your products and services on our

Blog

and

Magazine,

reach out to us at

Newswire Law and Events,

you will be glad you did. For more details about our services,

please call:

08039218044, 09070309355. Email: newswiremagazine@yahoo.co.uk