Advert

Oghogho Akpata: Leading the Charge for Excellence  & Innovation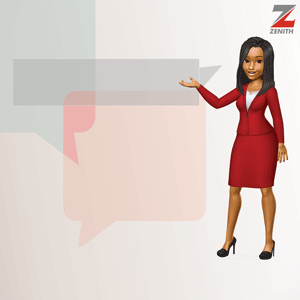 In his almost thirty years of practice, Oghogho Akpata has carved an enviable niche for himself as one of Nigeria's leading oil and gas lawyers. He has advised some of the biggest conglomerates in the country and beyond in some of the industry's biggest transactions and negotiations. A graduate of the University of Benin, Nigeria, Oghogho is a Partner at the prestigious law firm of Templars, which he founded in 1995.
Oghogho, who turned 50 recently, sat down with the editors of NEWSWIRE Law & Events magazine to discuss a wide range of issues around the oil and gas industry, the dynamics of global energy (in the face of the move towards cleaner energy sources), the role of the NBA  in an emerging democracy such as Nigeria, and the realities of reaching the golden age.
Excerpts:
-Advertisement-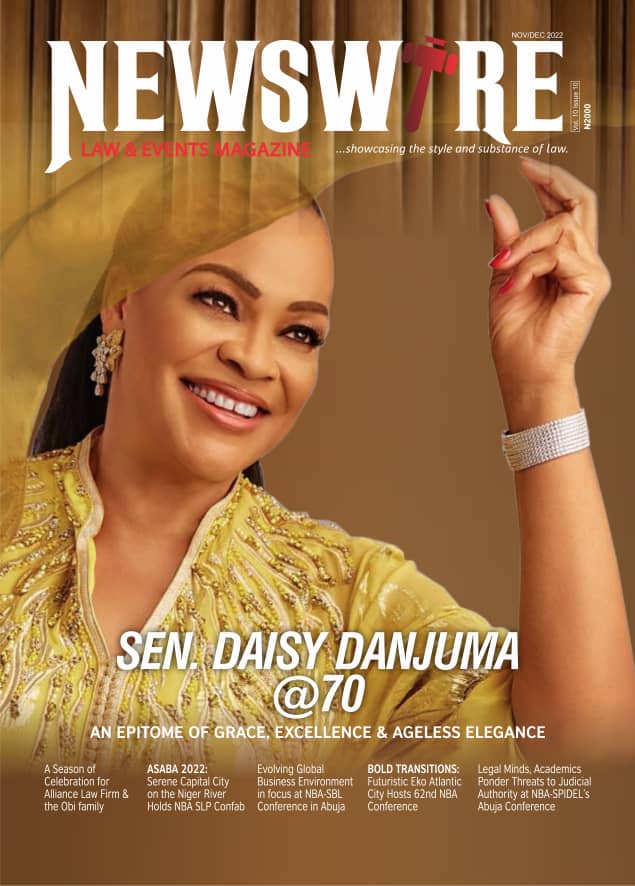 For more details about Newswire Law&Events Magazine, kindly reach out to us on 08039218044, 09070309355. Email: newswiremagazine@yahoo.co.uk. You will be glad you did
NEWSWIRE: Tell us about your early life, family and educational background. >>> AKPATA: My early life was spent in Benin, Warri and Asaba – primarily the old Bendel State. I studied law at the University of Benin, between 1986 and 1990.
What attracted you to the study of law? >>> I grew up in a family of lawyers and it seemed a right fit to me as a person. From my early years I was familiar with the hard work required and the necessity to have extensive knowledge in whatever area I decided to specialize in. This clarity from my early years made law a certainty for me.
What are the highlights of your early career as a lawyer? >>> I started my career at the first-class law firm of F.O Akinrele & Co which had an exhilarating and inspiring atmosphere, and I was fortunate enough to witness the legal profession from some of the best minds in the business. I was introduced to oil and gas law and I witnessed the beginning of deep/ultra-deep offshore oil and gas activities in Nigeria through the 1993 Production Sharing Contract allocations which was the start of a new age in the oil and gas sector in Nigeria. This was surely an epoch-making time in the oil and gas sector in Nigeria.
What attracted you to oil and gas law in particular? >>> I think the practice of law is very practical. While at inception the concepts may seem rather abstract, in time you start to see your ideas take form. Take for example the 1993 PSC allocations which I witnessed as a young lawyer. Conceptual agreements were signed and 15 years later we can see multi-million-dollar floating production platforms in deep offshore Nigeria. I was always attracted to the practicality of the sector.
Also, the oil and gas sector is the most sophisticated sector in the Nigerian economy till date. The level of technical expertise and strides made in the sector is unprecedented when considered in the context of the economy at large.
A further attraction to the industry is my deep appreciation of the value chain from conception to field development and then midstream and downstream activities until final consumption in the market place. This I found extremely exciting.
Tell us about your first professional break. >>> My first big break would be acting for AMEC, which is now Amec Foster Wheeler. I remember back then my clients had to take three level of the stairs into my office which was quite injury-prone. The MD of AMEC called me on a certain day while making his way upstairs, and made a joke about breaking his legs in the dark stairway. He warned that we would hear from his lawyers if he breaks his legs. AMEC in the early 90's was a behemoth EPC contractors in the North Sea. They built the Bonga FPSO and have since participated in other major projects in the Nigerian oil and gas sector.
You've been at Templars Barristers & Solicitors as a Partner since 1995. Can you give us an insight into your role as head of the firm's energy and projects group? >>> In my 27 years of experience, I feel I have seen most sides of this industry. At least I can say I have experienced the most colourful aspects of the Nigerian oil and gas sector till date. These years come not just with knowledge, but with experience. As the head of the firm's energy and projects group my role starts with setting out a clear understanding of the firm's culture and spearheading that culture of excellence in our service. I believe as the head of the Energy Practice Group we must have the best minds in the business, thus, setting the tone which enables us to tackle high value complex commercial projects. As I always say to my team "We do not do plain vanilla."
What can you tell us about the issues around the Petroleum Industry Bill and its likely impact on the industry? >>> From the unbundled Petroleum Industry Bill, the Petroleum Industry Governance Bill ("PIGB" or "Governance Bill") is the first in a series of long-awaited petroleum industry laws designed to reform the Nigerian oil and gas industry to be passed by both houses of the National Assembly on Wednesday 28th of March 2018. It currently awaits the presidential assent (which has been the status for a long while now).
The PIGB on its own is commendable. Whilst there is still uncertainty on whether or when the President will give his assent to the PIGB, the harmonized Governance Bill in its current state serves as a springboard for the much-awaited dispensation of non-discriminatory allocation of acreages and curbing of abuse of dominant power by the regulator. With the introduction of a single and independent petroleum regulator, operators within the sector and potential investors will no longer have to contend with similar requirements from multiple agencies. A single petroleum regulatory agency will assist greatly to streamline the regulatory process, introduce clarity and reduce the several layers of bureaucracy in a sector that is already notorious for unnecessary regulatory processes and hurdles.
An endemic problem in the management and operation of the nation's petroleum assets has been the absence of transparency. If the proposal to restructure the NNPC for transparency, accountability and value addition scales the outstanding regulatory and executive hurdles, the nation's asset-holding vehicles will, for the first time in Nigeria's history, become positioned to compete globally and attract funding for resource exploitation.
However, for corporations hoping to make investments worth billions of dollars, the level of uncertainty with respect to the other bills is unhealthy for the sector.  For example, there is no clear indication of the future fiscal regime and it is a challenge faced by investors.
In this era when all the talk across the globe is about alternative (clean) energy sources, and of diversification of the economy here in Nigeria, how can oil companies make the transition to a time when oil no longer plays the dominant role it plays at present? >>> We are moving further into a low-carbon future and oil companies are fully aware of the progression of events and the changing dynamics.  The next 5 decades will bring about a lot of changes in the form of energy we consume, and even how we consume it. However, we must all be careful in our assumptions. The shift from fossil fuel to clean energy will be extremely slow. The number of cars worldwide is forecast by BP to double from 0.9bn in 2015 to 1.8bn in 2035, driven by growth in developing countries. BP expects the share of electric vehicles to increase from the current 0.1 per cent to 6 per cent by 2035, but that would still leave plenty of growth in demand for petroleum. Moreover, oil is harder to substitute for trucks, ships and aeroplanes and it will remain a feedstock for petrochemicals. These factors lead BP to forecast that demand for oil will continue growing, albeit at a slower pace, into the 2030s.
The industry's main hedge against slowdown — and eventual decline — in oil demand has been to increase investment in gas, which is considered the "cleanest" fossil fuel because it emits less carbon and air pollutants than coal and oil when burnt. So, I honestly don't think the fossil fuel age will end abruptly, which is the impression created by the media. However, to address your question as to how oil companies can make the transition to a time when oil no longer plays the dominant role, the gradual transition has to start now.
Today's oil and gas organizations were developed in a time of resource scarcity. To get at those hard-to-find, difficult-to-develop resources, companies built large, complex organizations with strong centralized functions. This model allowed them to tackle terrific technical challenges, manage great political and operational risks, and deploy scarce talent across the world as needed. However, this came with the disadvantage of rigidity. Organizational agility is the first requirement for them to adapt. The relentless pace of change puts a premium on the ability to adapt quickly to changing conditions. I also think the oil companies need to commit more of their research and development budget towards shaping future market developments by funding studies for the advancement of alternative energy.
Companies need to identify which parts of their company's portfolio are at risk so that they can embrace the opportunities and properly manage the uncertainties and they will eventually need to redeploy their numerous retail networks to support renewable and clean energy infrastructure and use their experience in joint ventures to forge effective partnerships with smaller and more agile innovators in the renewable space and support in funding renewable projects.
They can also begin to build a portfolio of investments outside fossil fuels and be alert to new opportunities in the space so that they are not completely shaken or their revenues overly threatened when the transition completely happens.
How can lawyers (especially young lawyers) maximise the opportunities in Nigeria's oil and gas industry? >>> The young lawyers should take advantage of the times, and build expertise and capacity as the industry develops. This way, we can ensure that the advisors in the industry develop at the same pace as the technicians in the sector which is fundamental for continuous development.
What we try to do at Templars is build capacity, because we understand that we are only as good as our lawyers. We put our young lawyers in front of transactions so they learn how to lead from an early point in their careers. It means everything to us when we boast of young lawyers handling multi-million dollar transactions with confidence and utmost competence.
As an active member of the NBA, among other professional associations, how do you think the NBA can enhance its ability to promote the rule of law and positively influence the democratic process in Nigeria? Are you satisfied with the association's progress in this regard? >>> I firmly believe that the Bar plays, or ought to play, a very significant role in the socio-political and economic affairs of any nation. It goes without saying that a critical aspect of this role is our defence of the Rule of Law. Unfortunately, however, there is the widely held belief, which I am inclined to subscribe to, that in Nigeria, rather than engender the enthronement and sustenance of the Rule of Law, Lawyers tend to be at the forefront of those who obstruct and sometimes outrightly thwart the entire process. The NBA must do more to regulate the profession. I tend to support the idea of self-regulation, which is the model we operate presently, but to whom much is given, much is expected. The NBA must be seen to take the issue of professional discipline seriously. I am not unaware of the efforts of the LPDC in this regard but a lot more needs to be done to sanitize the profession and to ensure that we hold ourselves up to the highest of standards as this is the only way we can effectively play our default role as custodians of the Rule of Law and in the process positively influence all sectors of our polity including the democratic space.
In a short time, the NBA will elect a new national executive. In your view, what should be the key priority(ies) of the new executive in the next two years? >>> In my view, those who will succeed the outgoing exco will have to focus a lot more on professionalism and professional development at the Bar and less on politics. As a profession, we are currently struggling to keep pace with the economy which we are supposed to be servicing and we therefore need to do more in ensuring that legal practitioners hone their skills in diverse aspects of the law that are essential to an emerging economy such as ours. Specialisation is therefore critical and our Lawyers, particularly the young ones, should be encouraged to carve niches for themselves so that they can quickly become subject matter experts. It is disheartening, actually quite tragic, to see young lawyers jostling for one position or the other in the NBA in the mistaken belief that this will be a sure path to success at the Bar.
I am firmly of the view that Lawyers must first distinguish themselves in the profession before offering to serve the Bar in whatever capacity. I must say that I have seen a copy of the Report on the Restructuring of the NBA, prepared by KPMG at the behest of the current NBA leadership, and I fully subscribe to the recommendations contained in that Report the implementation of which, I believe, will be a good starting point for those who will succeed the current administration.
What advice can you give to younger lawyers wishing to play in the world of oil and gas? >>> In their professional life, I think young lawyers should strive to be better than the average lawyer. They should know their industry and be capable of discussing it with their clients. The sector requires a higher level of appreciation of specialized issues from practitioners. So constant self-improvement is necessary.
You're an avid golfer, as well as a football and Formula One fan. In what other ways do you unwind? >>> I tend to spend more time with friends and family these days. Between golf and my Chelsea games, I get enough time to myself to unwind.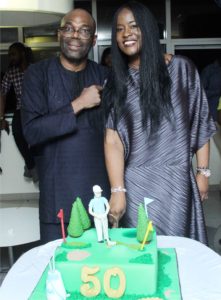 How did you meet your wife? Tell us about your family life? >>> I met my wife in school at the University of Benin. We were friends for a long while from about 1986. I studied law while she was in medical school studying dentistry. We got married in 1995 and we have 3 kids; two girls and a boy. We spend most holidays traveling together as we all seem to share the same interests in traveling.
Where do you see Templars, and yourself, in a decade or two? >>> As you know, an economy can only develop as far as the intellectuals within it can imagine. We seek therefore to lead the legal profession in Nigeria into a new age, which would not be bound by the norm. We also believe our best is yet to come, so we keep striving to achieve greater heights. Apart from growth, we hope to lead the charge in more charitable endeavours. So, in a decade or two, when the younger lawyers take over, my expectation is that our culture and beliefs will stand the test of time, and hopefully the experience garnered will be tapped by the younger lawyers.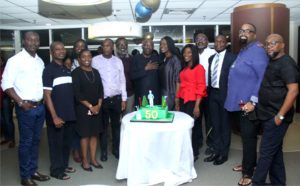 When you were much younger, surely you must have thought of 50 years of age as an eternity away. But now, here you are, at the half-century mark. How do you feel to have hit this milestone? >>> That's a good question. Every day (since I turned 50) I try to check to see if there's been any change in my person, my health or my physicality, the way I felt from a month ago or a week ago, and it's not different from today.  So 50 to me, is like a number, which perhaps will catch up with me eventually, and then I will now feel 50. But right now, there's no change. But I've always thought of 50 as old. When I was a kid and my dad was 50, there was a big party, and I was very young then. And I thought of the people that attended this big event as old men. But upon my attaining the age of 50, it seems normal to me, and as I said to my colleagues, friends and family, 50 is the new 30 because I feel very young.
You don't look 50. What is the secret behind your good looks and your energy? >>> Well, first and foremost, it's arguable whether or not I look 50. Some people say I do, and others say I don't.  But I try to be as healthy as I can possibly be. I don't do too many things that I ought not to do. I come to work – that's primarily what I do, come to work and then go back home. I play golf once in a while. I just have a relaxing personality, and I try to think young. I play with my kids, and you'd be surprised the songs we play together. In a sense I try to upgrade them and they try to upgrade me. So, yes, I still feel very young. I try to have a young disposition, so that perhaps shows in my character, and so forth.
It's been quite an eventful half-century in your life-journey. What are the most important lessons life has taught you so far, that you may wish to pass on to those coming after you? >>> Well, that's a question I've not really thought about yet, but I think it's a question of being true to oneself, of being compassionate to your family, to the people you love and even those you don't love.  You need to show respect and love to everyone, and treat everyone equally. So what I've learned is to be true to myself, and true to my conscience – what I call being conscience-free. When I do anything, I want to believe I've done the best that I possibly can. And that's what I tell my children, make sure you do what you really believe is the right thing. Nobody is infallible, everybody has faults, but I try as much as possible to do what I strongly believe is the truth. And that's what makes me sleep well at night.
What are the things that you were doing before turned 50, which you'll no longer do now that you're 50? >>> Well, as I said, I still feel very young; I don't feel 50, but going forward, in truth, there are some times when I feel creaky and I ask myself, Is it because I feel 50 or am I just tired? But I'm going to take it easier. My colleagues at work will tell you that I'm always aggressive and pushful. In fact, they call us an aggressive law firm and as the person leading the charge, I suppose I embody that aggression. But now, I think I need to take it easy, spend some more time on recreational activities as opposed to all the time trying to be the best lawyer I can possibly be. And also, I'll try to make sure that it's not all about me; make sure that everyone has their own sphere and their own space to be all they can be. I suppose that also comes from old age.
NEWSWIRE: Thank you for your time.  AKPATA: You're very welcome.
Subscribe for your copy/copies now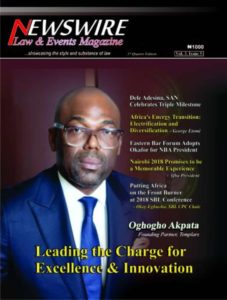 Do you need to be heard? Or your articles published? Send your views, messages, articles or press release to: newswiremagazine@yahoo.co.uk  >>> We can cover your (LAW) events at the first Call: 08039218044, 08024004726
Do you want to be heard, your events covered, your articles published, or need to advertise your products and services on our

Blog

and

Magazine,

reach out to us at

Newswire Law and Events,

you will be glad you did. For more details about our services,

please call:

08039218044, 09070309355. Email: newswiremagazine@yahoo.co.uk