Advert
Born in 1961, Chief Joe-Kyari Gadzama, OFR, MFR, SAN, FCIArb. (UK) is a graduate of such reputable institutions as the University of Maiduguri; the Nigerian Law School, Lagos; Keble College, Oxford University, UK; the London School of Economics and Political Science, among others. He was called to the Nigerian Bar in 1986 and enrolled at the Supreme Court of Nigeria the same year. He was appointed a Notary Public in June 1996 and elevated to the worthy rank of a Senior Advocate of Nigeria (SAN) in 1998. His professional experience spans a vast area of legal practice. A thoroughbred professional, he has served as an external solicitor to several merchant, commercial, development and industrial banks; an adviser to major multinational corporations, indigenous companies and organizations and high net-worth individuals in Nigeria.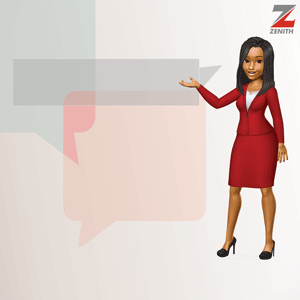 The principal Partner in the law firm of JK Gadzama LLP (a commercial and constitutional law firms) and a capital market consultant with the Securities & Exchange Commission (SEC), Abuja, Chief J-K Gadzama, SAN, is a front-runner in the race for the presidency of the Nigerian Bar Association, NBA, in the upcoming elections, speaks with the editor in chief of Newswire Law and Events Magazine on his vision for the growth and development of the association, welfare of legal practitioners and reforms for the NBA.
Excerpts:
Briefly share with us your wealth of experience which most definitely has strategically positioned and prepared you for this moment?
I was called to Bar in 1986 and have been an active member of the Nigerian Bar Association since then. I was appointed a Notary Public in 1996, conferred with the prestigious rank of Senior Advocate of Nigeria (SAN) in 1998, appointed Honourary Bencher in 2007, admitted to the Lincoln's Inn (UK) in 2008 and became a Life Bencher in 2015. I am a Fellow of the Chartered Institute of Arbitrators (UK) and a CEDR accredited Mediator. I am a Member of the General Council of the Bar (Nigeria), the NBA General Practice Committee, National Executive Committee of the NBA and Member of the Council of Legal Education (2002 to 2003).
I have successfully served the Association in various capacities, notable among which are Chairman of the Nigerian Bar Association (NBA), Abuja branch (2003 – 2004), Chairman of the 2005 NBA Annual Conference Planning Committee, Jos, Chairman of the Organizing Committee of the 2006 Maiden Conference of the Section on Legal Practice (SLP) and Pioneer Chairman of the NBA Section on Public Interest and Development Law (SPIDEL) from 2006 to 2010. Flowing from the foregoing, I am convinced that I posses the requisite skills, exposure and experience to steer the affairs of the Nigerian Bar Association.
You are a very high profile and successful Commercial and Constitutional lawyer. Briefly share with us again your role as a Fellow and the Chairman of the Chartered Institute of Arbitrators, UK & Nigeria and also as a Regulatory Consultant?
Firstly, I will like to clarify that I was the Chairman of the Abuja Chapter of the Chartered Institute of Arbitrators (UK). I am also the Chairman of the Board of Trustees, Janada International Centre for Arbitration and Mediation (JICAM). As you are aware, arbitration is an alternative dispute resolution mechanism and as a Fellow of the Institute, I have contributed in so many ways to the growth and development of arbitration practice in Nigeria. I am a Certified Arbitration Tutor by the Chartered Institute of Arbitrators (UK), I served as Executive Committee Member of the Nigerian Branch of the Chartered Institute of Arbitrators (UK) between 2002 – 2005 & 2010 – 2015, Board Member of the Lagos Court of Arbitration (2010- 2015) and Member of the Governing Board of the Abuja Multi-Door Courthouse – AMDC- (2003 – 2004).
As a fellow and former Chairman of the Abuja branch of the institute, I have always availed myself as a tutor for the entry course of the institute within the last five years. This has afforded me the opportunity to mentor and positively impact on the younger Arbitrators. I have also supported young arbitrators to attend arbitration conferences and seminars within and outside the Country. I also belong to the London Court of International Arbitration (LCIA) and Mauritius International Arbitration Centre (MIAC).
You are the Pioneer Chairman, Nigerian Bar Association Section on Public interest and Development Law (SPIDEL) for 4yrs –(Nov. 2006 to Nov. 2010). Why is it that most Nigerian lawyers don't know much about SPIDEL and its activities?
Although the SPIDEL was still nascent at that point in time, it may not be completely true that most Nigerians did not know much about SPIDEL and its activities. It is on record that under my watch, SPIDEL grew from humble beginnings to one of the robust specialized sections of the NBA with strong focus on the promotion and application of law to economic development and the growth of Public Interest Law in Nigeria. Admittedly, the deserved attention is not being given to SPIDEL and this is worrisome, particularly bearing in mind the fact that it is the ligament between the profession and the larger society and its mandate include but not limited to public interest litigation, defence and promotion of the rule of law, people, human, fundamental and constitutional rights of the citizenry, good governance, transparency in governance amongst others. If elected, I will resuscitate the SPIDEL and restore its lost glory.
Tell us the J-K Gadzama LLP story – (the story so far).
The "long journey" of J-K Gadzama LLP started in the year 1989 when I decided to take the bull by the horn and venture into legal practice on my own. I had just left my elder cousin's firm, A. Ismail Gadzama & Co in Kano where I continued to cut my legal teeth in balancing my knowledge of substantive law with the everyday demand of procedural law, after leaving the Kano State Ministry of Justice as a National Youth Service Corps member.
At birth, the firm started as Kyari & Co, then Kyari Chambers, which later metamorphosed into J-K Gadzama & Co, J-K Gadzama and Partners, J-K Gadzama & Partners LLP and is now known as J-K Gadzama LLP.
Why did you decide to run for the position of the President of the Nigerian Bar Association at this particular time?
My decision to run for the coveted position of NBA President is borne out of selflessness, desire to serve the Bar and passion to harness the accumulating gains of our profession, consolidate on same and to lead the NBA to greater heights. It is also a response to the numerous calls and yearnings of my learned colleagues nationwide to serve this noble Association
NBA proposed Electronic voting system. How viable is it at this point of our nascent democracy? Do you think it's a better option compared to the former voting system?
I think it is a welcome development. Technology has become the order of the day and I think the NBA should move with the global trend. I also see it as a sign of advancement and I am optimistic that if professionally handled, it will turn out to be an effective system of voting. Also, this is going to be the first time that it will be used for NBA national elections and I do not expect that it will be without hitches. It will also interest you to know that the electronic voting system was successfully used for the NBA Abuja branch elections in 2014 and the Chartered Institute of Arbitrators (Nigeria Branch) elections few years ago. It is actually a more convenient and accessible way of voting and in that regards, it is a better option compared to the former voting system.
If elected, what would be your first assignment in office?
My first assignment if elected would be to convene a Bar leaders' conference to chart a course for the Association within the first quarter of my administration. Participants of this conference will be drawn from elders of the bar, young lawyers, law teachers, FIDA, various branches of the NBA, different sections of the Bar; Section on Legal Practice (SLP), Section on Business Law (SBL) and Section on Public Interest and Development Law (SPIDEL) as well as all interest groups. My agenda and all issues affecting the bar will be tabled and deliberated at the conference. My vision, mission statement, manifesto and programme of action will be exhaustively discussed for immediate implementation. I believe that this will go a long way in promoting the interest of members and addressing the concerns of the Association.
How will your welfare program assist junior lawyers who wish to establish their own law firms?
As President of the NBA, I will consolidate on the achievements of the present NBA leadership in terms of welfare of young lawyers. I will also intensify efforts towards the training and capacity building of young lawyers to equip them with the needed knowledge and values to enable them deal with the rigours of legal practice. Programmes and schemes will be put in place to encourage and enable qualified lawyers to set up their own firms after acquiring the requisite skills. There will also be a monitoring process to track the performance of such empowered young lawyers over time. Currently, the firm of J-K Gadzama LLP is embarking on a mentorship programme named after renowned Honourable Justice Chukwudifu Akunne Oputa (JSC) of blessed memory for lawyers who are below 10 years post call.
How do you raise (the said) funds to assist aspiring young members?
There already exists a partnership between the NBA and Access Bank that avails legal practitioners' access soft loans to help grow their practice. I will maintain such existing strategic partnerships and work towards improving the gains from such. There are also other well meaning persons and organizations that I would approach to assist young members of the bar. The NBA under my administration will not stop at creating ways for raising funds for young lawyers but will also go the extra mile of providing financial literacy and sensitization especially for young lawyers to enable them manage resources prudently.
What are your thoughts on judicial corruption and what reforms need to be carried out urgently to ensure the judiciary gets back to its pride of place in the society?
Corruption indeed pervades the country and is a national problem. It has become an endemic problem which must be fought to a logical conclusion in the interest of the Country at large. The National Judicial Council is responsible for the discipline of judicial officers and I must say that although the Council has performed well, there is still a lot more that needs to be done. I admit that there are a few bad eggs in the judiciary but I do not subscribe to the tagging of the entire judiciary as corrupt due to these few bad eggs. Corruption is not peculiar to the Judiciary and I am optimistic that with the right commitment and efforts, corruption will be reduced to its barest minimum. We need to grant complete financial autonomy to the Judiciary at both the federal and state levels in line with the provisions of the constitution. There is also need to comply strictly with the guidelines for the appointment of judicial officers to ensure that only persons with unblemished track record are appointed to preside over our courts. There is also urgent need to develop the capacity of our law enforcement agencies and empower them to effectively deal with issues of corruption.
What further steps can you suggest for the improvement of the criminal justice delivery system in Nigeria?
The criminal justice delivery system can be improved by ensuring speedy dispensation of justice. This can be achieved by increasing the manpower of our security personnel and appointment of new judges to man our courts in order to cope with the increasing number of cases that are brought to court on a daily basis.
The Administration of Criminal Justice Act, 2015(ACJA) is a revolutionary law and I will advocate for its adoption by the various states of the federation so as to make it applicable in all courts across the Country. The ACJA if implemented properly will definitely go a long way in improving the criminal justice delivery system of Nigeria.
The role of appointing Judges was modified with the introduction of new criteria. Tell us your view on the new rules of appointing Judges?
It should be noted that judicial appointments are a gateway to the exercise of enormous judicial powers and authority. Where the procedures of appointment are weak, flawed or vulnerable, the outcome will likely reproduce such flaws. The new guidelines make the process competitive and rigorous. It underscores the importance of merit and competence of candidates and provides that vacancies should be published. It also seeks to ensure that unsuitable people do not get appointed as judicial officers.
I am of the view that if properly and strictly implemented, the current guidelines for appointment of Judges is adequate and meets the demands of our time.
What in your opinion do you think is the reason for long years of cases in our courts?
The delay in disposition of cases in our courts is caused by a number of reasons. Firstly, the system of recording proceedings in long hand by our Judges is time consuming and has since become archaic. Also, some of our judges appear to be over laboured as they have large number of cases pending before their courts. Another reason is the use of technicalities and some legal procedures like interlocutory applications, preliminary objections, unnecessary adjournments etc by our lawyers. These and other reasons must be tackled and resolved for us to have speedy resolution of matters in our Courts.
What do you know about your closest opponent (A. B. Mahmoud, SAN), people believe he's equally as qualified to lead the bar. How would you feel if he is eventually elected?
I know as a fact that he is a former Attorney General of Kano state. I also know that he became a Senior Advocate of Nigeria (SAN) in the year 2002, which was four years after I was admitted into the inner bar. It is his right to contest which he has exercised by contesting in this election.
If he is elected, I will extend a hand of fellowship to him and support his administration. It is not a do or die affair and I will definitely accept it in good faith if he is eventually elected.
What would you do to cases of exploitation in the profession?
This would depend on the angle one views it from. I will set up a machinery and adequate system to deal with issues of exploitation in the profession. Appropriate sanctions will be taken against erring members of the bar.
Do you think top law firms can be made to adhere to National Body's policies and regulations?
It all depends on the approach. I think that if these top law firms are carried along and involved in the formulation of policies of the bar, I do not think that they will have any problem with adherence.
What is the social responsibility of the Bar? Or rather let me say, what would be your own social responsibility to the Bar?
My social responsibility will focus on;
a. Functional welfare support programme for Junior members of the Bar;
b. Functional welfare support programme for Aged members of the Bar;
c. Functional welfare support programme for Incapacitated members of the Bar;
d. Functional welfare support programme for members of the Bar living with disabilities.
Tell us about your agenda on professionalization?
Every lawyer must adhere strictly to the Rules of Professional Conduct. Ethics and professionalism are key in the legal profession and maintaining discipline in the profession is top on my agenda. I will collaborate with the various branches of the NBA on improving on professionalism within the bar. The Legal Practitioners Disciplinary Committee will further be empowered to deal with the large volume of cases being brought before it on a daily basis.
If elected, are there new areas you would like to explore?
Law is very broad and I am of the view that there are new areas of law that are yet to be fully explored in Nigeria. At the moment, the Country is in need of more experts in certain areas of law like sports law, entertainment law, medical law e.t.c I think these are new areas that can be explored by our lawyers. It is high time we start thinking seriously of diversification and specialization.
Do you think if elected you can create more jobs for young lawyers?
There are many opportunities for young lawyers to explore which are currently being untapped. I will create a platform and the needed support for young lawyers to explore these opportunities and empower themselves. Young lawyers will be appointed to various committees of the NBA and will also be an integral part of my administration if elected. My administration will also work out modalities to sponsor young lawyers to attend the International Bar Association Conference, regional conferences and even national conferences.
How would you be able to do that in just within two years of your administration?
I will foster collaborations and create partnerships with relevant professional bodies and other organizations for the benefit of empowering young lawyers. I will also work towards creating awareness and capacity building of young lawyers on emerging and untapped areas of law which are capable of creating lucrative jobs for them.
What are those things the present National Exco of the NBA are not doing right that you wish to correct or put in place if elected?
In my view, the present NBA Exco has performed above average and I plan to consolidate and improve on their achievements as there is always room for improvement.
Tell us some of the professional bodies you belong?
Apart from the Nigerian Bar Association, I also belong to the following professional bodies;
i. International Bar Association (IBA) and as a member of the following Committees:
a. Environmental Health & Safety Law
b. Intellectual Property & Entertainment Law
c. Litigation
d. Public Law
e. Oil & Gas Law
f. Arbitration
g. Mediation
h. Capital Markets Forum
i. Law Firm Management Committee
ii. American Bar Association (ABA) as an Associate Member.
iii. African Bar Association (AFBA) as a Life Member of the Governing Council.
iv. Commonwealth Lawyers' Association (CLA) as a Member.
v. West African Bar Association (WABA) as a Member.
vi. Pan African Lawyers' Union (PALU) as a Member.
As a very busy man, how do you relax?
I relax by swimming, playing golf, badminton, lawn tennis, table tennis, squash rackets, I do farming, I go hunting and fishing.
We wish you the best of luck.
Thank you.
-Advertisement-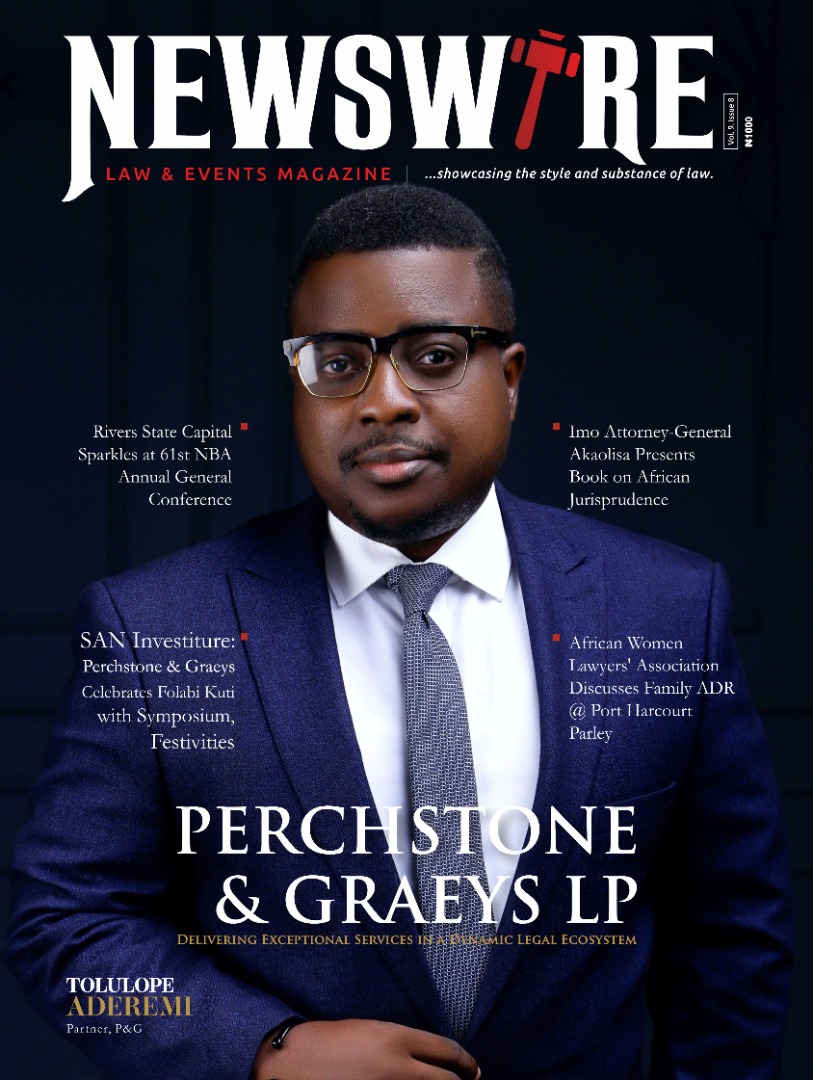 Newswire Law and Events Magazine is Out. It's a collector's item. Get one - or two,or more - for yourself and loved ones.
Do you want to be heard, your events covered, your articles published, or need to advertise your products and services on our

Blog

and

Magazine,

reach out to us at

Newswire Law and Events,

you will be glad you did. For more details about our services,

please call:

08039218044, 09070309355. Email: newswiremagazine@yahoo.co.uk