Advert
Full text of Saraki's Speech as Southern Senators Begin Confab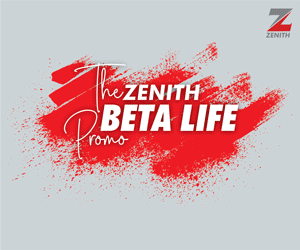 Members of the Senate from the southern part of Nigeria on Friday converged on Calabar, the Cross River capital, for a two-day retreat on the governance and political structure of the country.
The conference has 'National Unity and Restructuring' as theme. Below is the Senate President, Bukola Saraki's full speech at the event…
My Distinguished Colleagues, it is my pleasure to be here today in the charming vista of the city of Calabar. Let me express my appreciation to the Distinguished Senator Hope Uzodimma, Chairman of the Southern Senators Forum, for the invitation extended to me to join you at this retreat, which is on the theme: 'National Unity and Reconstructuring'.
I congratulate the Chairman, the Executive and entire members of the Forum for the vision, commitment and dogged determination that made possible this retreat. I have no doubt in my mind that, with the inspired leadership at its helm, the Southern Senators Forum will remain a strong, clear voice that speaks forcefully in the interest of the region.
Distinguished Colleagues, this retreat is a very commendable initiative, and the timing is extremely well-judged. As a nation, unity is a prerequisite for development, stability and greatness. Unity is the first focus. Without unity, we can achieve nothing. And yet we know that, since the end of the Nigerian Civil War, our unity has never been more challenged than at the present time. There are agitations across the length and breadth of this country that threaten our unity. And this time round, the threats are multi-faceted, and the vagaries of modern times have made the issues even more challenging than in the early post-independence era.
However, it must be emphasised that Nigeria is not alone in this predicament. In Africa and the rest of the world, similar agitations are causing governments and those they rule over to question their continued co-existence, amid new and persistent threats to their unity. The ripples of Catalonia's failed referendum bid are still being felt in Spain. In other parts of the Western hemisphere, the rise of right wing populism – amid concerns about immigration and illegal migration – is fuelling suspicion and injecting an element of the unpredictable into once stable societies. Britain's shock Brexit vote not only brought about a seismic shift in the political dynamics of that country, it also prefigured the dawning of Trumpian America. Sections of U.S. society are now locked in a fractious debate about what it means to be American. From anthem protests by African American football stars to the debate over Confederate statues to inflamed confrontations in Charlottesville, the United States is roiling with its own agitations. In the Middle East, a location of historical disagreement over borders, religion and statehood, the solutions seem far off.
In all of this – the ability to dialogue, to listen to one another, to seek to understand the other person and to accept each other's differences – is important in this issue of unity. Indeed, unity must exist before you can even talk about restructuring or reform. And so, Distinguished Colleagues, one of my messages to you today is this poser: How Do We Stay Together?
Firstly, today, there is no group of people better placed than members of the 8th National Assembly to steer the debate on the way forward, because they are political leaders elected by the people. Secondly, by virtue of our constitution, no restructuring can take place without the National Assembly. By the grace of God, lawmakers will define the Nigeria of tomorrow and many generations to come.
So, how do we do this? How do we deliver on the task entrusted in us at this critical time? As I see it, the only way is for us to see ourselves, first and foremost, as Nigerians. Not as a language – or tribe – or religion – or region – or any other consideration out there that serves to deflect our attention from the quest for national unity. We must see ourselves as Nigerians first.
In seeking to carry out any reform or restructuring, it is worth bearing in mind that the founders of our country, in their wisdom, had laid down some guidelines, making clear that it cannot be done by a simple majority, but rather by a two-thirds majority. To this end, we must all be on the same page. We cannot bully or browbeat others into accepting our point of view or positioning. Whatever we do, must be by consensus, with the buy-in of all critical stakeholders in the debate.
To my mind, what stops us from striving for consensus is the fear of the unknown. But we cannot allow ourselves to be ruled by fear; it only drags us backwards, impeding our march towards greatness. If truly we love this country, then we must overcome that crippling fear of the unknown.
Distinguished Colleagues, it is our responsibility as legislators to find the clarity to allow substance to override parochial consideration and crude sentiment. Whatever makes sense, to transform Nigeria as a country, must of necessity override the fear of the unknown. Always, we should be thinking of the good of Nigeria – that should be our guiding principle. Doing nothing is not an option.
It is worth reminding ourselves that the kind of democracy we practise is built around compromise. It is my hope that in participating at this very important retreat, you will all come away with enhanced skills that will enable us achieve that which is good for Nigeria, and birth the spirit of compromise in us all. I have full confidence that Southern Senators Forum members will come back to Abuja with a strategy capable of securing the buy-in of all our people; and meet their needs and aspirations, while also reassuring them.
Distinguished Colleagues, let me touch one of the ways in which we can reassure our people and inculcate in them the sense of belonging that enables everyone to put Nigeria first. The southern region of the country, which you represent, is noted for commerce and industrialisation. Senators representing the people of the region, have a role to play in boosting the profitability of commercial enterprise, thereby creating an economic boom that will enhance unity.
Take for instance the Made-In-Aba initiative, which is creating jobs while providing much needed stimulus for entrepreneurship in the South East – so much so that the Nigerian Army has placed an order for 50,000 pairs of boots for military personnel. If we can help these hubs to grow into major commercial centres servicing the whole country, those involved will develop a greater sense of belonging, and see the value in staying together in a country that recognises, nurtures and rewards their labour and potential. Here lies the challenge for us as representatives of the people.
As for me, I truly see myself as a Nigerian; and I assure you that I will always be driven by what is best for the country. It is my hope that this retreat will go a long way in assisting each and every Nigerian to put country first, always, in this whole debate about National Unity and Restructuring.
Once again, I congratulate you all on the convening of the retreat, and I thank you for the opportunity to address you today. I wish you a wonderful retreat.
Thank you for listening.
Long live the Southern Senators Forum, Long Live the Federal Republic of Nigeria.
Subscribe for the new edition now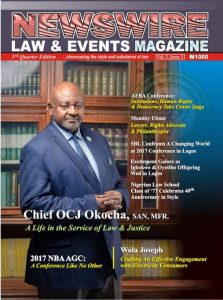 Do you need to be heard? Or your articles published? Send your views, messages, articles or press release to: newswiremagazine@yahoo.co.uk  >>> We can cover your (LAW) events at the first Call: 08039218044, 08024004726