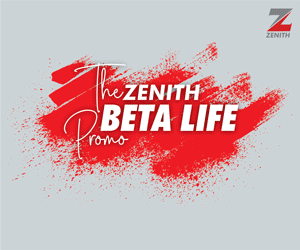 Encounter With a Multi-Dimensional Achiever
– Senator Daisy Danjuma
Vice Chairman, South Atlantic Petroleum Ltd.
By: Gloria Ireka
A one-time senator of the Federal Republic of Nigeria, Daisy Ehanire Danjuma has traversed the challenging worlds of law, business and politics – and made a success of each. Born on the 6th of August 1952 in Benin City, Edo State, she is a law graduate of Ahmadu Bello University Zaria, and was called to the Nigerian Bar in 1977. She is a member of both the International and Nigerian Bar Associations, as well as the International Federation of Female Lawyers (FIDA).
Having cut her legal teeth in the Lagos State Ministry of Justice Department of Public Prosecution (DPP) and the Legal Aid Council of Nigeria, Sen. Danjuma worked as an Executive Assistant at Nigerian Acceptances Limited, a merchant bank from 1977 to 1978. She also had a meritorious 10-year stint at the NTA, where she was the company secretary/legal adviser between 1982 and 1992. The climax of her political journey came in 2003 when she was elected to represent the Edo South senatorial zone in the nation's upper legislative chamber. Her eventful four-year tenure, saw her rise to the chairmanship of the Women and Child Rights Committee of the Economic Community of West African States (ECOWAS) Parliament. She also served as a member of different senate committees. She was also a member of the Commonwealth Parliamentary Association (CPA). Sen.
Danjuma's business career has been no less eventful. An alumnus of the Lagos Business School, she is currently the Executive Vice Chairman of South Atlantic Petroleum Limited. Her desire to contribute to the development and regeneration of society – already signposted by her preoccupations as a lawyer and her sojourn in the murky waters of politics – was recently buttressed by the leading role she played in the renovation of the Dining Hall of her alma mater, the Nigerian Law School, Lagos Campus – a project that was facilitated largely with funding from her company, South Atlantic Petroleum.
Her marriage to the Gen. T.Y. Danjuma (Rtd.) – a former chief of staff of the Nigerian Army, and a one-time minister of defence –is blessed with five children.
Recently, this multi-dimensional achiever bared her mind on issues of public concern in a chat with Gloria Ireka of Newswire Law & Events magazine. Excerpts:
Tell us the motivation behind the renovation of the Nigerian Law School, Lagos Campus Dining Hall. Was it as part of the corporate social responsibility of SAPETRO or just a way of giving back to the institution?
It's a combination of both. Moreover, I went through the Nigerian Law School in the 1976/1977 session. (The Deputy Director-General), Mrs. Toun Adebiyi came to me to complain about the condition of the Law School Dining Hall where we ate our meals when we were called to the Bar, and said the dining hall was in urgent need of renovation. I agreed that, yes, it was something worth doing, and so we took it up as part of South Atlantic Petroleum Limited's corporate social responsibility. Toun Adebiyi contributed a lot towards its completion, because it was virtually a direct-labour project. I am pleasantly surprised it turned out so beautiful, and I'm really proud of her because she did a whole lot.
You went through this school (the Lagos Campus of the Nigerian Law School) and you know what it used to be in terms of standards and infrastructural quality. You saw the state of the dining hall, and you (SAPETRO) decided to renovate it and make it an ultramodern dining hall befitting the School. Was it because you were an alumna of the institution?
Oh definitely! You must give back – or let me say, you should be able to give back – to society or the institution that did so much to prepare you for the future. I'm proud to be a lawyer, and I'm sure everybody (including lawyers) present at the commissioning were quite excited. A lot of people have congratulated us, and friends in particular have called me to say 'thank you.' I did not think about the dilapidated state of the law school dining hall until Toun Adebiyi brought it to my attention, and I felt that it would be a good way of paying back our debt to our alma mater because all lawyers (prior to relocation of the Law School to Abuja in 1997) went through the Nigerian Law School Lagos. We felt it would be a nice idea to put upgrade and modernize the dining hall to a standard befitting an institution of this stature.
Any intention on the part of SAPETRO to extend this laudable contribution to other Law School campuses across the federation?
Not at all. Because in the first instance the price of oil is quite low and most companies are downsizing. Extending this gesture to other campuses, without any doubt, would create awareness and would also increase SAPETRO's generosity towards creating a conducive learning environment. It would make some other corporate organizations, as well as generous Nigerians who have foundations to contribute to infrastructural development in our institutions. But with what we have done with the dining hall of the Nigerian Law School, Lagos Campus, I believe it's an incentive for others to do the same. At first, I didn't think about renovating the law school dining hall, but now somebody has set the pace and I'm sure other Nigerians will wake up, especially families that have produced lawyers. Big wigs in law that have made a lot of money in the legal profession and in business will do that. It is just a wake-up call that we need better dining halls for the law students to have their two of the three compulsory dinners in the course of the Bar Part 2 Programme,
You are a lawyer and a professional one at that. What endeared you to the profession?
I come from a family of lawyers. My aunty was a lawyer, i.e. the late Justice Beatrice Adebayo; as well as my father's immediate elder brother, Justice S. O. Ighodaro who was also the Eyase of Benin. Right now, I have a lot of cousins who are lawyers, and some are judges, such as Professor Yinka Omorogbe, who is a lawyer; Mrs. Adesuwa Lawal-Oke, a judge; Ayokunle Rotimi Balogun, and so many others in my family. Besides, I did not like mathematics when I was in school, and in law, you know, you don't do so many calculations, except in law school where you do minimal calculation in Property Law Practice; Corporate Law Practice and Accounts in Ethics and Skills .Law was a course I liked a lot, and I also admired lawyers. I loved the black-and-white re – gowns they wore – not just as a professional uniform but as a fashion statement – and even in fashion, the mixture of black and white is one of my favorites. Professionally, I think law is a very dignified profession. With a law qualification, you can work anywhere, and it gives you a broad range of career choices to choose. From the onset, I never wanted to be a graduate of BA History or BA Geography. In my house we preferred to be professionals. In those days you were either a lawyer, an engineer, an accountant, a doctor or an architect. So being a lawyer was natural. I looked at the options and knew I had to choose a profession, and law was the natural choice. Also, I liked stories and could recall decided cases effortlessly.
How would you compare the standards of learning at the Law School in your days, is it better or otherwise?
I don't want to compare standards of learning because everywhere in Nigeria the standard has dropped, unfortunately. Maybe we had better opportunities and facilities during our school days. But learning depends on the person; it's an individual approach. You might say a school is bad but if you have good students in that school they would still excel. I don't want to generalize in saying the standards of learning in the law school now are lower than what we had. Some students still do very well even today. It's a question of perspective and who you are talking to – as well as the quality of the individual student. The books remain the same, and the syllabuses remain the same, so it's really up to the student either to work hard, or laze around. Standards are never low; but I believe students should work harder to achieve their set goals and desired objectives.
Do you think building and supporting quality education in Nigeria is the responsibility of corporate organizations, or the government?
For the country we live in, the government has a lot to do. People pay taxes and we should be able to see what the tax payers' money is doing. And don't forget that we have oil. I still believe that the government owes the public a lot of social services, like what obtains in the developed countries. But, having said that, nothing stops other institutions – from private to religious organizations – from complementing government's efforts. In those days, mission schools were the best. The Catholics had excellent schools; they still do. The Anglican Colleges were nice too. Private people owned schools as well. My father owned a school in the 60's – Ituah Girls Grammar School in Benin City, which still exists till date. Some private individuals have put up schools – Olasore, Adesoye, Benson Idahosa University, Afe Babalola University, Covenant University, as well as a lot of religious organizations. Those days our universities were excellent; they could match other universities abroad. When I was at the Ahmadu Bello University, Zaria (ABU) in the early 70s we had visiting professors from the University of London who came to lecture at ABU. We had the University of Lagos, and the University of Ibadan (UI), University of Nigeria, Nsukka as well as ABU. The government funded them and every university had its competency/core areas. ABU was known for Fine Art, Engineering and Architecture courses; UNILAG was known for Mass Communications; UI had the best College of Medicine and was also known for Theatre Arts, the University of Nigeria – Nsukka was known for Accounting; University of Ife (now Obafemi Awolowo University) for Law and Pharmacy. I had my university education here in Nigeria and it was memorable. We always looked forward to going back to school after the holidays. We never had cult situations, the highest we knew of then was the Pirate Confraternity who would get drunk and go their own harmless way. There was no killing or molestation. We had a very good social life; the UI used to have parties – Havana Night, it was called, and students from other universities would attend. There was Nigerian Universities Games (NUGA) in which events were keenly contested amongst students. We had a Student Union which used to oversee our canteens and our food was very good. We had three course meals on properly laid out tables When my sister was in UI, I was doing my 'A' Levels, and I usually spent my weekends at Queens Hall in UI. During my school days, universities were good, and we aspired to go there and were motivated to study hard, we had fun because the facilities were very good. I think the problem today is that we don't have any developmental plan or policy towards the future to cater for more people. We build a city for 5,000 for today, but do not envisage that the population of the city would grow to 50,000 in the near future. We still 'manage' instead of expanding. Nigerians don't have a maintenance culture and that is the reason the Law School dining hall, in particular, degenerated to that state before SAPETRO came in with the renovations. If we had done well by maintaining what we had from the onset, it wouldn't be as bad as it was by the time I came in and had to do comprehensive repairs. I think the corruption in the system makes it worse. Again, we don't have a sense of accountability. But I believe that very soon, that attitude and mentality of ours – the mind set of Nigerians about maintenance and how to value what we have – would change.
Who among your peer group at the Law School are you still in contact with?
Among my set at the law school, we were quite close. The present Director-General of the Nigerian Law School, Mr. Lanre Onadeko was my classmate. A lot of judges of the Supreme and Appeal Courts are colleagues of mine; Justice Coomasie, Justice Obaseki, Justice Fatima Akinbami, Mrs. Sade Adetiba, Justice Auta, Justice Selong, Justice Aboki, and many others that I don't recall right now. But I think I have quite a lot of colleagues in the judiciary.
Tell us about your legal career. Did you work with any law firm or practice after your call to the Bar? And before going into business and politics?
During the holidays as a law student, I used to work in my brother in-law's chamber, that is, Solomon Asemota who is married to my sister. But after Law School I served with Lagos State Ministry of Justice, and worked with the DPP. I worked directly with the late Justice Ejiwunmi and I shared an office with Justice Rhodes Vivour and Justice Manuwa. I was actually in the Armed Robbery and Firearms section. I was one of the first set of counsel sent to the Nigerian Legal Aid Council when it was established under the leadership of Mrs. Uchenna Osakwe. She was our boss, and Mrs. Hairat Balogun was the deputy. Mrs. Hairat Balogun was my direct boss; I used to accompany her to court, and I gained a lot of experience working with her at the Nigerian Legal Aid Council. From there, I worked with Nigerian Acceptances Limited, which later became NAL Merchant Bank. I was special assistant to Chief Gamaliel Onosode. He would send me round all the departments; one of them was Capital Issues Trust and Investments during the indigenization exercise. I worked with the late Wole Adeosun. The team then in NAL included Tunji Bello, Atedo Peterside, John Oyetan, Erastus Akingbola, Oshole, Adegbite, and Alkali who later became one of the executive directors with First Bank. We worked in NAL like one big family.
I later joined the Nigerian Television Authority (NTA), where I rose to become the company secretary and legal adviser. I was there for ten years, during which time I worked with Aminu Tijani, and also with Babatunde Jose who was at that time my chairman. I also worked directly with great chairmen like Christopher Kolade and Alhaji Mamman Daura, I went into meetings with them, took the minutes and later gave official summaries of what happened at the meetings. So, with the numerous experiences I garnered as a company secretary under Onosode, Kolade, Jose and Daura; you can imagine how great a privilege it was for me to work with such accomplished men. Also Mrs. Hairat Balogun as my boss in those days taught me a lot about the ethics of Legal Practice. She was strict and highly principled. I think I can proudly say I have worked with people who are thorough when it comes to legal practice.
Would you now say that your experience working with these great legal icons has helped to position you to be who you are today?
I will say yes because they were all very strict bosses. By that reason, I think I can take decisions and stand by them. Working with them made me very bold and self-confident. I take the blame when I fail and take the credit when I pass. I am never afraid to take decisions, and when I think I'm right I stand by my decisions.
You were once a senator of the federal republic of Nigeria. Why the transition, and what were you hoping to achieve in the senate?
We like to sit and criticize the government because somebody has to be there. It's not enough to sit around your community or neighborhood and criticize government. If you think you have something to offer then take a shot at it. I did and I got there, and I contributed my quota to the best of my knowledge. In Nigeria, the best might not be what the people want. At times if you are too sincere, it becomes a problem, and I really suffered from being too frank and confrontational in the senate. They like people they can control and I didn't belong to that category. This is perhaps may be the reason why I am no longer there.
What were the high and low points of your senatorial tenure?
There was a Bill I sponsored that people misunderstood; it was posted online for people to comment. That was the Reproductive Health Bill which was very controversial. People thought it was an abortion bill but it wasn't at all. The Bill was meant to reduce maternal and child mortality which is still quite high in Nigeria and it is a disgrace. And the reason I sponsored that Bill was to curb that problem. I went on a course in John Hopkins University in Baltimore, Maryland in the United State of America and that Bill was what I came up with. Remember many States in America prohibit abortion, and in Nigeria it is illegal as well. Many people did not understand the bill. You can not contradict Nigerian law so it amazed me when people said it was an abortion bill. I actually wanted it out of the Ministry of Health's jurisdiction, to establish an institute that would tackle reproductive health in Nigeria. That is the only way you can focus more on child and maternal health, which is one of the goals of the Millennium Development Goals (MDGs). Unless we address that issue, we will have problems for a long time and will not leave the level of poverty. In that Bill, we have education, health, catering for nursing mothers, pre and postnatal, etc. Women and children in our society are the most vulnerable and neglected. Don't forget that a woman is the engine in every home and an engine of the future. We always say the youths are the leaders of tomorrow. The plan for their future should start from today, so we have to go back to the basics. If the Bill is still lying there, they should re-open it and read it properly and put it in focus.
Do you see a future in politics for yourself?
I'm a card carrying member of the People's Democratic Party (PDP), so I am still very much active in politics. Like I tell people; my party lost the election, but my friends won. That will not change who I am or make me decamp to another party. I am a member of the Board of Trustees of the PDP and will remain PDP. You see, for a government to function very well you need a formidable and credible opposition, to act as checks and balances for the society. Nigerians complained about the PDP government, now the APC (All Progressives Congress) has taken over, and if people are not satisfied with their stewardship, they will vote them out in the next elections. But the trend where everybody appears to be moving from the PDP to the APC, will ruin the system. For democracy to thrive properly you must have a credible opposition in place.
You served in public office under the banner of the PDP. Following the party's losses in the 2015 elections, do you see a way back for the party as a force in Nigerian politics?
If we put our heads together and re-strategize on ways to take the party to the next level, we will bounce back. We mustn't all decamp, you never can tell. The fact that we were defeated does not mean the end of the world or that we can't be a strong opposition party and win again. After all, President Buhari tried and only won on his fourth attempt. I just hope Nigerians will be patient with him – because we are very impatient people. Buhari is a disciplined person, and I am positive that he will do well. He promised change and we hope that change will come very soon. But I can promise you that the People's Democratic Party (PDP) will bounce back.
Why haven't we seen a female president or governor in Nigeria? What needs to be done by – and for – women?
I've never believed you needed to help a woman to get there. While in the Senate, I was a member of the Commonwealth Parliamentary Association (CPA); I was chairman of the senate committee on women affair and youth development; I was even chairman, women and child rights committee of the Economic Community of West African States (ECOWAS) parliament. I spoke and campaigned a lot, did a lot of advocacy, trying to raise awareness for women to be in policy and decision-making positions, as well as for the increase in the number of women in parliament. But having said that, I don't believe women should sit down idle; after all, we all went to the same schools and men's scripts were not marked separately. Women are managing directors of banks, directors of multinational companies, etc. So why should politics be different? The Beijing Forum has said that 35% of women should be in such political positions, but that 35% should be credible women who can help themselves. When I ran for senate, I contested with men and won, and other women have contested and won, so let more credible women come out with the belief that they can win. The days are over when we used to say politics is for men, it's a dirty game; politics is not dirty; though the player may be dirty. If women continue to say politics is not good, who will make it better? We should stop complaining and begin to think of ways in which each of us can participate. That is the only way we can contribute our quota. Men recognize competent women. They are not against women going into politics because when I ran, most of my supporters were men. If men believe you can do it, they will support you to get there. Nigeria has gone past the stage of 'na woman.'
Compared with the Western world don't you think Nigerian women are being shortchanged?
Where are they being shortchanged? How? In the banks are they shortchanged? Are women judges shortchanged? Has a woman not been a Speaker (of the House of Representatives)? Remember we've had many women ministers in this country, and we have a lot of women in parliament; in both the upper and lower houses. The only thing is for women to be able to get there and sustain their position. For the progress we've made so far, we've done well as women. Forty to fifty years ago, by contrast, did you see women in elective positions? The kitchen was their place. A woman's job was to rear children and take care of the home, or to assist her husband at the farm. Forty years ago, would you be able to interview me? But now everything has changed. We just have to contest with men; I did, and got elected because I went shoulder to shoulder with them. Even most men that are there worked hard to be there. I know if the younger women see the women up there as role models and strive to be there, they will be also.
What would be your candid advice for the young lawyers and young entrepreneurs?
There are basic ingredient for success; you must be polite – learn to say please – you must be grateful and appreciative – learn to say thank you, and when you are on the wrong path, learn to say I am sorry. Those three key statements will help you to retain your staff, earn respect from them and sustain whatever you are doing. With hardwork, prayers and an attitude of gratitude to God, things will work in your favour.
At 63 years of age, what is the secret to your stunning and youthful look?
I actually have no secrets; maybe it is just hereditary. I don't do facials, and the day I paint my nails, my friends will rejoice with me. I love nice clothes and nice shoes. And that's all. But I'm not on any beauty or facials regime. I eat what I like and when I put on a bit of weight I eat less – though it's difficult. There is no secret for my looks; I guess I'm just lucky.
What change do you envisage for Nigeria in the next four years?
A better country that we can all be proud of. I would love to see a Nigeria with stable electricity. Besides, if we have electricity it will solve a lot of problems. We are very hardworking people; most Nigerians are business people and if there is electricity, cottage industries will thrive and you won't find so many people on the streets because they would all be self-employed. The hairdresser, the furniture maker, the welder, fashion designer and even the woman grinding pepper in the market, they all need light. How many people go to white-collar offices in Italy, for example? They have cottage industries, families come together to make shoes, they make bags, suits and so forth to survive, and it has really supported the growth of the Italian economy. But in Nigeria if there is no light you cannot survive. The cost of production is extremely high because you depend on your generator or other alternative sources of energy all the time. Most industries have closed down because they couldn't cope with the influx of foreign goods coming into the country, produced by manufacturers who don't have to contend with such a high cost of production. Once the light problem is solved, everything will function well, people won't loiter about, and it would reduce the crime rate in our society. Also, good water supply would solve 75% of our health problems, because most health problems are from water-borne diseases. If those social services are provided – electricity, good water supply, good health care service, good roads, and an improved standard of education, those are basic needs of most Nigerians.
As an indigenous Nigerian oil and gas company, how does SAPETRO see itself especially amongst indigenous oil and gas companies in Nigeria and across Africa?
As an indigenous Nigerian oil and gas exploration and production company, SAPETRO is focused on creating value in the pursuit of profitable exploration, development and production opportunities across Africa. We have a balanced portfolio of assets with a strong platform for growth. We have a portfolio of 6 assets in 5 countries spanning the full cycle exploration and production value chain. Our net acreage production and exploration position is in excess of 74, 890 km², in deep-water offshore Nigeria as well as interests in west, central and southern Africa. In East Africa, for example, we have majority operating interests in two contiguous deep-water blocks in the Mozambique Channel. SAPETRO is currently the second largest operated acreage holder in all offshore East and Southern Africa. We are well-placed to play a leading role in one of the world's major emerging hydrocarbon provinces, and remain focused on continued strategic growth in sub-Saharan Africa whilst building lasting and beneficial partnerships.
Can you share with us the South Atlantic Petroleum (SAPETRO) mission statement and vision for standard of education and health in Nigeria?
SAPETRO's mission and vision, as far as education and health are concerned, are encapsulated in the overall mission statement and vision of our company, and how they guide our business model. Our vision, of course, is to be the leading independent Nigerian energy company; we want to be admired for our asset portfolio and human capital. And our mission is to safely explore, develop and produce hydrocarbons; meet stakeholder aspirations and create value by powering the development of African economies – which depend so much on qualitative education that equips our people with the tools to compete effectively in the global market place of goods, services, information and ideas, as well as a good healthcare delivery system.
Thank you so much for your time, Senator.
Thank you for coming, Gloria.
(Pix – 1)   Rtd. General Theophilus Danjuma and the Vice President Yemi Osinbajo, GCFR
(Pix – 2)   Member of staff of SAPETRO with Chairman: L-R; Uzoma Echegiri – GM Commercial, Ms. Chibututu – Company Sec., Daniel Oguche – Ag. Managing Director, Rtd. Gen. T.Y. Danjuma & wife; Sen. Daisy Danjuma, Dr. Thomas John – Director, and Bernard Longe – Director, at the re-opening of the Nigerian Law School Dining Hall.
(Pix – 3)   Sen. Daisy Danjuma, Prof. Yemi Osinbajo, and Toun Adebiyi – DDG, Law Sch. Lagos
(Pix – 4)   Toun Adebiyi, Deputy Director General, Nig. Law Sch. Lagos Campus and Sen. Daisy Danjuma, with students of Law School, Lagos Campus in 2013 at the golden jubilee anniversary celebration when she made a pledge to rebuild the dining hall.
(Pix – 5)   Sen. Daisy Danjuma, Former Gov. Babatunde Fashola, SAN and Toun Adebiyi, DDG Nig. Law Sch. Lagos Campus, during the Golden Jubilee Anniversary celebration of the Nigerian Law School.
(Pix – 6)   Hon. Justice Rita Ajumogobia of the Fed. High Court Ikoyi, Chief Wole Olanipekun, SAN, and Sen. Daisy Danjuma during the Golden Jubilee Anniversary of the Nigerian Law School.
(Pix – 7) The newly renovated Ultra Modern Sir Adetokunbo Ademola Dining Hall of the Nigerian Law School, Lagos, by SAPETRO.
(Pix – 8)   Toun Adebiyi, DDG Nig. Law Sch. Lagos Campus and Sen. Daisy Danjuma
-Advertisement-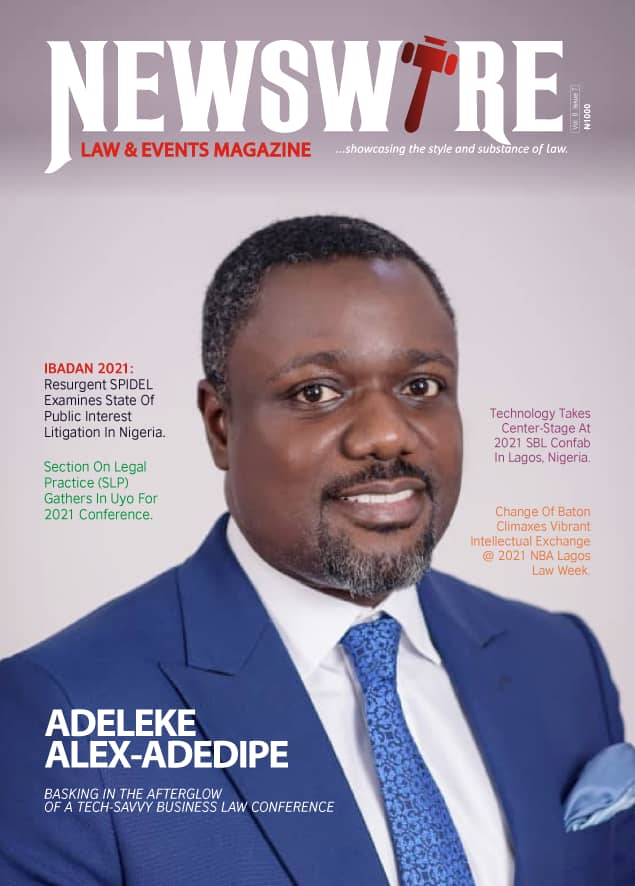 Newswire Law and Events Magazine is Out. It's a collector's item. Get one - or two,or more - for yourself and loved ones.
Do you want to be heard, your events covered, your articles published, or need to advertise your products and services on our

Blog

and

Magazine,

reach out to us at

Newswire Law and Events,

you will be glad you did. For more details about our services,

please call:

08039218044, 09070309355. Email: newswiremagazine@yahoo.co.uk