Central Crime Prosecution and Horde of endless Corruption Trials
Just recently, the office of the Attorney General of the Federation and that of the Economic and Financial Crimes Commission (EFCC) were embroiled in conflict about the prosecution of high profile corruption cases (HPCC).
The AGF wanted the files of those cases and therefore demanded them from the EFCC, but the EFCC were reluctant in complying with the directive. However, following series of pressures, the EFCC complied.
The AGF, Abubakar Malami (SAN) had announced plans to create a central body that will coordinate all criminal prosecutions in the country. It is now over two months after the files were handed in and the announcement made, nothing has been heard about the prosecution of those politically exposed individuals.
The list of such cases is reportedly 103, comprising judicial officers, senators, governors, ex-ministers, and other class of politicians.
Some of the unresolved high profile corruption cases involving politically exposed persons include that of Senator Iyabo Obasanjo-Bello. The case was commenced by the EFCC on April 2008 on allegation of receiving N10 million allegedly stolen from the Federal Ministry of Health. Till date, the case is still unresolved without acquittal or sentence.
Another case involving former governor of Enugu State, Dr. Chimaroke Nnamani, who was charged by the EFCC for alleged embezzlement of state funds to the tune of N5.3 billion was commenced on May 2007 and August 10, 2009 respectively at Federal High Court, Lagos.
Cosmo FM Radio Station, Rainbownet Nigeria Limited and other companies allegedly owned by the former governor were named as co-defendants in the case. After arraignment and long adjournments, the case has remained unresolved, while the defendant was elected a member of the Senate in 2007 and served till 2011.
There was also unresolved case of former Governor of Jigawa State, Saminu Turaki. Turaki was charged by the anti-graft agency for misappropriation of the sum of N36 billion from the State funds; laundering public funds of various values contrary to the provisions of section 14(1) (b) of the Money Laundering (Prohibition) Act 2004.
In spite of this, he later won a seat in the Senate and served from 2007 and 2011 until he was recently rearrested by the EFCC at a public function.
Another similar case involved, the former governor of Abia state, Dr. Orji Uzor Kalu. He was arraigned before a Federal High Court, Abuja in 2007 alongside others on money laundering charges. He was accused of committing the offence while he served as governor. The case is still pending at the Lagos division of the Federal High Court, after the Supreme Court dismissed his interlocutory appeal.
The former governor of Plateau State, Joshua Dariye had a similar case, which was filed in 2007 at the FCT High Court. He is standing trial on a 23-count charge of criminal misappropriation of public funds, embezzlement, and criminal breach of trust. His trial commenced in January 2016 after the loss of interlocutory appeal at the Supreme Court on a snail speed as usual.
There was also the trial of Jolly Nyame, the former governor of Taraba State at the FCT High Court in 2007. He is standing trial on a 41-count charge of criminal misappropriation of public funds.
Other unresolved corruption cases with international dimension includes the Abacha's alleged loots, Malabu bribery case, Halliburton scandals, fuel subsidy cases, the botched James Ibori's case and lately Diezani Alison-Madueke.
Adding to the list is what has been known lately as 'mainagate', involving former chairman of the Presidential Committee on Pension Reforms, Abdulrasheed Maina.
Maina was sacked in 2013 for his involvement in a N100 billion pension scam after turning down summonses from authorities before fleeing the country.
He however, reappeared in the country as a deputy director in the Ministry of Interior.  Following public outcry, President Muhammadu Buhari ordered his sack and probe into how he returned into the country and was posted to the ministry.
The national assembly is currently investigating this matter. It is left to see if anyone would eventually answer to this infraction in court.
It is important to state that the clandestine nature of corruption cases, high level of social toleration of corruption by citizens as well as low level of cooperation from the citizenry may constitute hogs on the wheel of progress.
At present, there are skepticisms about the federal governments anti corruption fight. This has resulted in public apathy and lack of 'buy-in'.
Nigerian professor of public law, Yemi Akinseye-George (SAN), believes that the skeptics see anti-corruption activities in Nigeria to be mere pinpricks. According to him, in a country that is vast and unredeemably corrupt, mobilizing citizens can be a highly effective tool in combating corruption in the public domain.
Akinseye-George, president of the Centre for Socio-Legal Studies, said reorientation is necessary, where the public should own the "anti-corruption fight.
"The challenge is for the citizens to accept the task by building a social capital and effort until a tipping point is reached where being corrupt becomes too risky .
"As citizens, our task is to play a crucial role of demanding transparency and accountability.  We must also put pressure on government to end impunity for corruption to curb malfeasance by public officials.
"It is worthy of note that the citizen has the civic responsibility to monitor, analyze and report what they see and what actions state institutions like the Judiciary and others take on corruption cases," he suggested.
Akinseye-George stated that without reliable data on such cases, whether resolved and unresolved, plea-bargained and on going and their outcomes, Nigeria cannot conduct a meaningful assessment of the fight against corruption.
He stressed the need for an overhaul of how HPCCs are handled, which he said, has over the years followed a particular trend, including petitions or investigations, arrests, detention in EFCC or ICPC custody and media frenzy.
But the Chairman Presidential Advisory Committee Against Corruption, Professor Itse Sagay (SAN) rather advocated for "stiff punishment for counsel, particularly Senior Advocates, who have turned obstruction and frustration of proceedings on high-profile corruption cases into an art.
Sagay said such punishment for SANs must include denial of right of appearance in such high profile and grand corruption cases.
According to him, prosecuting authorities must insist on full application of Sections 306 and 396 of the Administration of Criminal Justice Act, namely: no stay of proceedings under any circumstances.
"S. 306. Any preliminary objection must be taken together with the substantive issue – S. 396(2), and hearings shall be on a daily basis, but in exceptional cases, adjournments not to be in excess of 14 working days, may be granted.  Such adjournments will not to exceed five in any proceedings – S. 396 (3) and (4)," he pointed out.
Sagay also recommended that, a High Court Judge who is elevated whilst presiding over a criminal case, should be allowed to conclude the case without any effect on his new status.
"The Head of various Courts, namely Chief Justice of Nigeria; President, Court of Appeal; Chief Judge of the Federal High Court; and Chief Judges of State High Courts, should be sensitized about the very critical nature of the fight against high-level official corruption to Nigeria's development and the welfare of its peoples.
"Pending the establishment of a Special Crimes Court for the whole country, Criminal Divisions should be created in the Federal and State High Courts. Specially vetted and selected Judges, known for integrity and self-discipline should be posted to man such Courts," he suggested.
He added that it is very important to deploy the Administration of Criminal Justice Monitoring Committee and Civil Society Groups to monitor all high profile corruption cases on a day to day basis in order to ensure that corruption cases are heard speedily and in full compliance with Sections 306 and 396 of the ACJA as well as to report non-compliance by any Judge to the National Judicial Council (NJC).
Also Lagos-based rights group, the Socio-Economic Rights and Accountability Project (SERAP), in a recent letter  to the Attorney General and Minister of Justice, following its Media Roundtable on "Strategies and Approaches for the Completion and Effective Prosecution of Abandoned and Unresolved High Profile Cases of Corruption and Impunity in Nigeria",  urged the Attorney General to initiate new high-profile corruption cases and investigate them.
They also advised him to ensure that prosecuting counsels in grand corruption cases apply to reinstate any case struck out for want of prosecution.
The group noted that in cases requiring appeal, the attorney general office should apply for leave to appeal out of time, and prepare evidence and legal arguments thoroughly, including inviting consultants who can give credible and substantial advice.
The group further urged him to ensure that all suspected proceeds of crime are placed under temporary forfeiture during the trial of a high-profile person and that prosecutor's resort to Non-Conviction Based Asset forfeiture, where proof beyond reasonable doubt is difficult to achieve because of technicalities.
For the special assistant on Prosecution to President, Chief Okoi Obono-Obla, combating high profile corruption cases need an all-inclusive approach of enforcement with prevention and detective measures, including enhanced whistleblower mechanisms.
Subscribe for the new edition now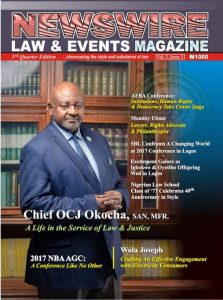 Do you need to be heard? Or your articles published? Send your views, messages, articles or press release to: newswiremagazine@yahoo.co.uk  >>> We can cover your (LAW) events at the first Call: 08039218044, 08024004726