Advert

Buhari Has Saints Around Him Who can Freely Commit their own Looting – Chidi Odinkalu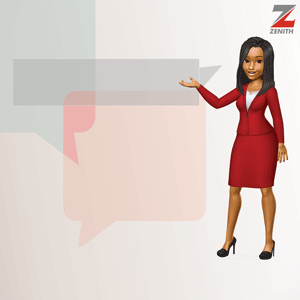 A former Chairman of the National Human Rights Commission, Prof. Chidi Odinkalu, tells GBENRO ADEOYE about the #NationalDayOfMourning observed recently and that the security situation in the country is verging on catastrophe
Tell us about the day of national mourning you declared, why do you think there was a need for it? >>>  It's not exactly accurate to say I declared #NationalDayOfMourning. I am part of a group that did – the Joint Nigeria Crisis Action Committee. The facts and circumstances were there before all of us. For too long, Nigerians have been killed in large numbers really. Political leadership at all levels treated this with casual indifference or worse. The broad feeling among us was that this was unacceptable. Under the watch of our leaders, a Nigerian life has become unacceptably cheap and also the killings, which are happening admittedly in varying degrees of intensity, are indeed nationwide. It was therefore important to underscore the common sense of loss and, at the same time make the point that all Nigerian lives must matter to us all as citizens, but even more to our political leaders, who are there to serve our people. The central message of the #NationalDayOfMourning was quite simple: that our government has fallen far short of its primary constitutional mission to guarantee the safety and well-being of all who live within the territory of Nigeria.
And do you think it was able to achieve the desired objective? >>> It more than met its objective, yes. With less than one week to organise it, the response around the country and beyond was overwhelming. We had activities in every geopolitical zone, including in places like Zamfara, Kaduna, Bauchi, Yola, Benue, Abuja, Enugu, Owerri, Port Harcourt, and Lagos. In Lagos, there were four centres of activity in Lekki, Yaba, Isolo and Ikeja (Allen Avenue) and all these were full. Nigerians in the Diaspora also joined in large numbers and the global social media reach was incredible with the hashtag – #NigeriaMourns. The world did take notice.
What do you think about the killings by suspected Fulani herdsmen in the country? >>> There are many strands of killings taking place all over Nigeria. The one involving armed pastoralists along the Benue Valley is the most well known but it is not the only one. The killings by so-called bandits in the Zamfara-Kaduna axis are also quite intense. Boko Haram and Islamic State in West Africa remain quite murderous in the North-East. Kidnappers, robbers, cult members, and political thugs are equally active in many states of southern Nigeria.
The common thread in all of these is that the government has been indifferent to them. So the security services appear quite interested in dealing with regime political enemies – both real and imagined – but not in dealing with these profound causes of insecurity in the country. I'm not sure I am qualified to offer any sensible rationales for unnatural and casual indifference of Nigeria's government to the epidemic of killings. Only the government of the day is qualified to do that – if it can. The whole thing doesn't make sense. The Minister of Defence (Mansur Dan-Ali) has gone on record to explain and justify the killings, blaming them in turn on the anti-grazing laws in some states or, according to him, on the allegation that farmers in some places have blocked traditional grazing routes. Notably, he did not give any specific examples of places where this had happened. President Muhammadu Buhari has casually explained at various times that the killings are caused by foreigners or irregular fighters from Muammar Gaddafi's Libya or stuff like that. It's as if to them, what is happening is normal. And it's not just the killings, mind you, there is vast internal displacement accompanying it, including schools being laid to waste, tens of thousands of kids dropping out of school and loads of farmlands that will not be cultivated. This is verging on catastrophe. And the government is indifferent, largely.
You were the Chairman of the National Human Rights Commission for a long time, so you should have access to some information. What do you think about claims by the President that these people are from Libya? >>> There is considerable official literature on the nature of what is happening. In 2011, the Sheikh Lemu-led panel reported on the post-electoral violence of the 2011 general elections. Also in 2011, the Usman Gaji Galtimari-led committee reported on the violence in the North-East. In 2013, the Kabiru Turaki-led panel reported on the violence in Nigeria generally. In the same year, there was also a report by a committee set up by the Northern States Governors' Forum, which reported on the nature of violence in northern Nigeria. The National Human Rights Commission, which I chaired, also reported on different forms of violence, including election-related violence and killings. So, government is not without some ideas and literature if it is interested.
That said, the nature of what is happening is being transformed by the day, so, some of these reports may be outdated and more up to date investigations and determined political leadership are called for. Clearly, there is an underlying climate-change dimension. However, it seems clear that the chronic and, in my view, inexplicable failure of government to act in a determined manner to address this thing has aided the mutation of the crisis into dimensions that are increasingly toxic. With these recent attacks on churches, priests and seminaries, there is a new escalation. Places of worship are not farms. There is increasingly little elbow room now close to the electoral season for political actors in the different states to act or sound moderate. That could be politically suicidal. The security agencies, all under the control of the Federal Government, have not covered themselves in glory here and are losing the twin perceptions of both competence and even-handedness necessary to make progress in this situation. Government has been clearly reluctant to act with invention to re-tool public perception of the Nigerian security agencies. In any other serious country, the leadership of the security agencies would have been changed in these circumstances. In Nigeria, President Buhari recently reappointed them to fresh terms.
Why do you think the problem has been difficult for this government to solve? >>> In my view, the responsibility is squarely that of the President. He is the Commander-In-Chief and his brief on security is non-delegable. He has failed to be present on this issue. Even worse, he has been turning a deaf ear (to appeals) and abysmally divisive. He alone can explain why.
As I said earlier, it (government's handling of the situation) has been characterised by casual indifference at best. I could actually say worse and with good reason, but I will stop at casual indifference. The President's general disposition on this thing has been implausible. The Vice-President (Prof. Yemi Osinbajo) has earned some credit in my view. He has used his role in the National Economic Council to convene the governors and seek to marshal an appearance of thoughtfulness. The problem is that the output from the NEC processes doesn't seem to get any support from the security cabinet of the President. Indeed the last time the security cabinet met, the Vice-President could not attend. The Defence Minister came out of that meeting and effectively justified most of the killings. If that is the kind of advice the President gets, then we stand no chance of ever addressing this problem successfully.
Beyond the killings by suspected Fulani herdsmen, Nigerians say the level of insecurity in the country has been high if we consider kidnapping and other crimes. What do you think is the solution to the problem? >>> If the President does not bring personal credibility to these problems, they become intractable. Right now, he does not.
President Buhari has spent three years in government. How would you rate his performance in the areas of security, economy, infrastructure, poverty alleviation and fight against corruption? >>> That is for Nigerians to decide. There are many entities that have done this over the past fortnight. Buhari-meter is a monitoring and measurement project by the Centre for Democracy and Development to track all the promises made by Muhammadu Buhari as a presidential candidate on his march to the Presidency. It released its assessment recently, showing that the overall dissatisfaction rate with President Buhari was 63 per cent. The area in which he was deemed to have performed best was security, but even there, the breakdown was 24 per cent (good); 21 per cent (fair) and 55 per cent (poor). So, even in the area where he was deemed to have performed best, the President did not do very well on this measure. NOI Polls rated him 43 per cent on security, 32 per cent on corruption, 16 per cent on economy, 15 per cent on job creation and 12 per cent on poverty alleviation. These are not my numbers. They were derived by two separate institutions deploying different methodologies of assessment but their outcomes are remarkably similar.
One of the things this government promised to do and has continued to say it is doing well is fighting corruption. How would you rate him in this regard? >>> In my view, the government has turned the so-called fight against corruption into a joke. I totally accept that no system could possibly prosecute all infractions committed within it, but a system that is manifestly lacking in credibility will struggle for both throughput and output. That is where we are now.  Minister of Information and Culture (Alhaji Lai Mohammed) is using the fight against corruption for propaganda. The Minister of Justice (Abubakar Malami) uses it to shield regime operatives from accountability. The security services use it to accord impunity to themselves. All the while, it is turned into a political football in which the only permissible shots seem to be fired against perceived enemies of the regime – Dr. Bukola Saraki today, because he chose to run for Senate President against the entreaties of perceived party owners; judges the other day, because they ruled against the regime, and so on. Meanwhile, someone like Orji Uzor Kalu, a former Governor of Abia State, who has been on prolonged trial for his alleged plunder of his state, has become a close confidant of the President, who ran and won on the ticket of integrity. The former Secretary to the Government of the Federation (Babachir Lawal), whom the President should have known better than appoint to that role, is walking free and has now reportedly become coordinator of the President's re-election bid in the North-East. The former Director-General of the National Intelligence Agency, Mr. Oke, is beyond the reach of the Economic and Financial Crimes Commission. And Abdulrasheed Maina (the embattled former chairman of the defunct Presidential Task Force on Pension Reforms) is untouchable. Around the President, there are only saints, who are nevertheless able to commit their own looting with halos around their skulls! It is not even laughable anymore.
Lai Mohammed recently said this government had fulfiled its promises. Do you agree with him? >>> Do you want me to say that Lai should not live up to his name? His brief as Minister of Information and Culture is to talk up the administration. Seriously though, government is a continuum. There are some areas in which the government has some good ideas and in some others, no. Oil prices have rebounded somewhat and that is driving limited economic recovery but with deepening inequality and rising unemployment. The school feeding programme is a good idea, in my view. The initiative on ease of doing business, masterminded by the Vice-President is well-intentioned. And the idea of growing the tax take and the revenue pool of government is good. But on the whole, the government has been lacklustre and the President has been mostly not present. Under his watch, there are no consequences for non-performance. Appearances of loyalty count more than competence, compliance or delivery. That means comfort level is the way he does things. That's a recipe for underwhelming outcomes and that is exactly what we have.
But the President has shown interest in running for a second term. Does it mean you don't think he deserves it based on his performance so far? >>> The President is not term-limited so he can run for a second term. It is up to Nigerians to decide. All anyone can and should ask for is that the playing field should, as much as possible, be level. The Governor of Kano State (Abdullahi Ganduje) has gone round repeatedly saying that Kano will give the President 5 million votes. That is a round number, isn't it? I don't know the magic in the figure for him. He could have chosen 4.8 million or 5.1 million but he is fixated on 5 million. It is significant that Kano is the one state where the President is paying repeat visits to. He seems to have all the time in the world to attend every little wedding in Kano but no time to visit the places where killings are taking place all over the country. It's a strange sense of priorities. One of the places to which the President has not paid as much attention as he could is Benue. But, with all the killings in Benue, the Governor of Benue State (Samuel Ortom) has gone on record to say President Buhari will win Benue in a landslide in 2018. Interestingly, the Benue State Governor has failed to tell anyone that he is a Babalawo. If you recall, in the local government elections in Benue State last year, the State Independent Electoral Commission awarded all the seats contested to the ruling All Progressives Congress, even before the votes were counted. So, Governor Ortom's prognostications about results should be taken seriously.  The Inspector-General of Police (Ibrahim Idris) appears busy using strong-arm tactics on anyone who appears critical of the President, for whatever reason. These are not exactly good signs. These things are upping the stakes on the 2019 elections, rather needlessly.
Nigeria has recovered a lot of money from the late Sani Abacha loot and he was known as a despot who ordered the killing of many people, but President Buhari recently praised him, saying he built roads and so on. Do you think the accolades were justified? >>> But it appears that the Abacha loot may have been targeted for re-looting under this administration, which is fighting corruption. The Attorney-General of the Federation (Malami) appears to have had some interesting designs on the money. As for the President praising Abacha, that is his own cup of tea. He has a capacity to say lots of strange things to the point that many people have genuinely tuned out.
Do you think there is any chance that Nigerians have a wrong impression of Abacha and that the President could be right about him? >>> No! Numbers don't lie. General Abacha (retd.) stole about 5 per cent of Nigeria's Gross Domestic Product. If a President who is fighting corruption thinks that is a virtue, what do you want me to say?
Orji Uzor Kalu has been a strong supporter of President Buhari's government but in a recent comment you made about him, you didn't seem impressed. Why? >>> By the standards of Lai Mohammed, Orji Uzor Kalu is a looter. Why should a President who is fighting looting be in bed with him?
Are you saying that a government seriously and truly fighting corruption should not be seen hobnobbing with Kalu? >>> That is exactly what I am saying, yes. As our people say, 'By their friends, you shall know them.' If the best friends of the government are people like Orji Uzor Kalu and Jolly Nyame, then the people should draw their own conclusions about the integrity credentials of the administration.
The President recently said that a former President (alluding to Chief Olusegun Obasanjo) spent $16bn and then asked where is the power, insinuating that the money was wasted. Do you agree with him on this ground? >>> I will not get caught in this fight between two old soldiers. Look, Lt. Buhari was a subaltern under the command of Col. Obasanjo in 1968 when Obasanjo took over from Benjamin Adekunle as the General Officer Commanding of the 3rd Marine Commando Division of the Nigerian Army during the War. In July 1975, Obasanjo became Chief of Staff, Supreme Headquarters in a coup in which Lt-Col. Buhari was one of the six leaders. When Obasanjo became Head of State, he made Buhari Petroleum Minister. In 1983, when the military overthrew the government of President Shehu Shagari, they asked Obasanjo to return but he passed it up in favour of Major-General Buhari. Now you want me, in 2018, to get involved in a verbal altercation between these two? That would be profoundly idiotic. I'll not do it.
Subscribe for your copy/copies now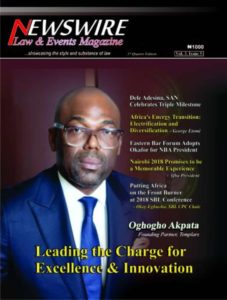 Do you need to be heard? Or your articles published? Send your views, messages, articles or press release to: newswiremagazine@yahoo.co.uk  >>> We can cover your (LAW) events at the first Call: 08039218044, 08024004726
Do you want to be heard, your events covered, your articles published, or need to advertise your products and services on our

Blog

and

Magazine,

reach out to us at

Newswire Law and Events,

you will be glad you did. For more details about our services,

please call:

08039218044, 09070309355. Email: newswiremagazine@yahoo.co.uk