Advert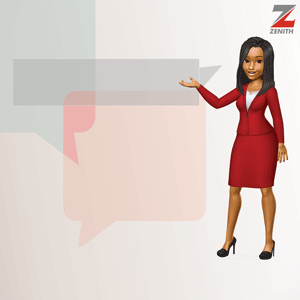 Principal Partner of leading law firm, Wole Olanipekun & Co, Chief Oluwole Oladapo Olanipekun, OFR, SAN, is a product of Amoye Grammar School, Ikere, Ilesa Grammar School, Ilesa and the University of Lagos. Upon the completion of his secondary and tertiary education, he was called to the Nigerian Bar in 1976. Having taken the legal world by storm, displaying high reasoning and adhering to best traditions of the legal profession, he was called to the Inner Bar in 1991, the youngest at the time, both professionally and biologically.
The Asiwaju of Ikere, Maiyegun of Ikere, Aare Baamofin of Owo, Jagunmolu of Ijan-Otun, Agbaakin of Ijero Kingdom, Baamofin of Igbajaland, Gbofinniyi of Ondoland or Chief, as he is fondly called by family, colleagues, friends, admirers and adversaries alike, is a former Attorney-General of the old Ondo State. He was elected President of the Nigerian Bar Association (NBA) and served in this capacity from 2002 to 2004 – a tenure which witnessed remarkable innovation and development, both for the legal profession in general, and the NBA in particular, creating the avenue for the body to reassert itself as the conscience and voice of the nation. The Wole Olanipekun-led Executive introduced innovative programmes such as the creation of the NBA's Section on Business Law (SBL) and its Section on Legal Practice (SLP). Wole Olanipekun SAN, as President of the NBA, caused the body to be registered with the Corporate Affairs Commission under Part C of the Companies and Allied Matters Act, thereby acquiring the status of a juristic personality, able to sue and be sued in return. As a testament of his tirelessness and dexterity, he combined his duties, as President of the NBA, to also serve as the Vice-President of the Pan-African Lawyers Union during this period.
Chief Olanipekun, SAN is regarded as one of Nigeria's foremost court-room advocates, with a vast number of landmark cases within the circumference of his jurisprudence cementing this widely held view. He has carved for himself an enviable niche in Nigeria's legal firmament, securing a practice and reputation of similar ilk to legal giants like Chief F.R.A Williams, SAN and Chief Afe Babalola, SAN, G.O.K Ajayi, SAN, Richard Akinjide, SAN, Sir Clement Akpamgbo, SAN, amongst others. Between 2009 and 2013, he was the Pro-Chancellor and Chairman of the Governing Council of the University of Ibadan and he is presently the Pro-Chancellor and Chairman of Council, Ajayi Crowther University, Oyo. He was appointed a Life Bencher by the Body of Benchers in 2004, in recognition of his indelible contributions to the growth and development of the legal profession in Nigeria. A philanthropist of note, he is a recipient of a number of awards, honours and accolades from various important professional, socio-political, economic and cultural institutions.
Asiwaju Olanipekun is happily married to his heartthrob, Erelu Omolara Olanipekun and the marriage is blessed with four children, all of whom are happily married and are members of the legal profession; the eldest of whom is, by the grace of God, a Senior Advocate of Nigeria (SAN) today.
Recently, Chief Wole Olanipekun, OFR, SAN, sat down with the NEWSWIRE Law & Events magazine, to a conversation which cuts across a wide spectrum of issues – from the practice and regulation of law in Nigeria; the evolving role of the NBA and its engagement with the powers-that-be, especially in this democratic dispensation; the present administration's fight against corruption and its legal ramifications; and the quest for the enthronement of a culture of ethics and best practices in the society, as a whole, and in the legal profession in particular. It is a no-holds-barred exposition into the mind of an astute gentleman, renowned lawyer, leader, administrator, patriot, elder statesman and political interventionist.
Excerpts:
Tell us about your early life and schooling?
Looking back, especially with particularity of the advantage one gains from retrospection, I can now say my early life was one embossed with God's providence. I grew up in Ikere, in today's Ekiti State. However, at the time I was born, nursed and schooled, it was situated in the Ondo Province within the Western Region of Nigeria, and this was where my formative training began and I had my early education, began my secondary education at Amoye Grammar School in 1965, completing same in 1969. During my time there, I tried as best as I could to fulfill the wisdom contained in the Latin phrase "mens sana in corpore sano". That is to say, I tried to actuate the literal translation of that phrase, which is 'healthy mind in a healthy body'. To that end, I did quite well academically and was also actively involved in sports. I was made Senior Prefect of Amoye Grammar School in 1969. In those days, you could not be made a Prefect of a school, how much more a Senior Prefect, if you were not within the best three to four ranking students in your class. In any event, apart from being the Senior Prefect, I was also in charge of the Literary and Debating Society. I was involved in quiz competitions, and we participated in debates all over the old Ondo Province. We still have some of the prizes we won hanging in the school library.
After leaving secondary school, I must say that I made a concerted effort to investigate anything that tickled my fancy. It suffices to say, I was fascinated by a lot of things. In those days, there were no counselors to counsel and guide students as to what professions they would eventually go into; subject combinations like Physics, Chemistry, Biology; Chemistry, Biology, Geography; Geography, Economics, English, etc., were randomly and fancifully picked by students to satisfy egos and curiosity, and whenever one was asked what a particular student wanted to be, he would enthuse before reasoning or being reflective, that he would want to become a Doctor, Pharmacist or Geologist. As for me, I joined the Joneses and initially, was offering Chemistry, Biology and Geography at Higher School, with the aim of becoming a Geologist. It was in my early days at HSC 1 that I came across one Mr. Daramola, my Mathematics teacher in Secondary School who used to insist that none of us would get any tangible job if we did not do well in Mathematics. He was the elder sibling of the late Ayo Daramola, who was assassinated in Ekiti, over ten years ago, and the said Ayo Daramola was a close friend of mine. Mr. Daramola asked me what I was offering in the Higher School and I retorted "Chemistry, Biology and Geography". He followed up with another question as to what I wanted to become in future and I exclaimed "Geologist!" To my greatest surprise, Mr. Daramola reminded me of my background in the Arts, particularly English and Literature, and tried to dissuade me from pursuing a science combination of courses, as well as Geology as a career, and think of law as a profession. In effect, Mr. Sunday Daramola was the first person to sell the idea of law to me. Let me confess that despite the fact that I changed my subject combination from Chemistry, Biology and Geography, to Geography, Economics and English, I was not very sure as to what I wanted to become, but all I could remember was that I, like any other young man at that time, wanted to go to the University to obtain a degree.
At this time the Nigerian Civil War was drawing to a close, as hostilities on both sides had ceased. With this came a resurgence of both socio-economic and ancillary activities, so there was an advertisement for admission into the University of Nigeria, Nsukka (UNN), which had been closed down during the war. It was a dream and aspiration of mine to obtain tertiary education. I applied to study Journalism at University of Nigeria, Nsukka and I was granted admission. As I was studying for my A' Levels at Ilesa Grammar School, a telegraph came to my home town in Ikere for me, but my father delayed bringing it to me at Ilesa Grammar School for about a week or so. I received it with great excitement; I was on top of the world. I saw myself as having climbed the Mount Everest. Some of my classmates, who are now retired – such as Akin Asimolowo, Gbenga Akilapa, Ezekiel Umejei, Isaac Komolafe, Akin Fapounda, etc., who were also my roommates, were very happy for me. Everyone applauded my feat, and there was a small party in the dormitory within the hostel for me. I packed my luggage and left for Nsukka. On arriving the campus at Nsukka, still reeling from excitement at the prospect of becoming an undergraduate, I proceeded to register, but I was told at the Registry that I could not do so, because the Matriculation Ceremony was conducted the previous day. Completely overwhelmed with emotion, I burst into tears and wailed uncontrollably, thinking of how my friends, classmates, and even my juniors would make jest of me on my return. It appeared as if I had come to a dead-end, but I picked all the bits and pieces of my life, swallowed my disappointment and returned to Ilesa Grammar School. I suspected they did mock me; in fact, I overheard someone calling meme 'the one who finished a degree within a day'. As it happened, I came out of school in December, 1971, with very good results. Now, it was time to proceed to the university. What was I going to do? Our results came out in February, 1972. In those days, even though your results were received early in the year, Universities only admitted students in September. In the intervening period, I worked at the Federal Ministry of Justice at Marina, in Lagos, which was located at the old Secretariat. I worked, as a Clerical Officer, carrying files for the now retired Hon. Justice Sunday Akintan, JSC, who retired as a Justice of the Supreme Court, and the late Hon. Justice Ogundere, JCA, who retired as a Justice of the Court of Appeal. The Attorney- General of the Federation at that time was Dr. T. O. Elias. All of them were with the Ministry of Justice, as counsel of different grades. At that time, perhaps due to the nexus and close proximity that existed between myself and members of the legal profession, I had taken an interest in the subject of Law and now wanted to study it at the University. I was overwhelmed by these lawyers in general, and Dr. Elias in particular. From my vantage point as a clerk, I viewed him like a mini-deity; one dared not move close to him. However, on further reflection, having observed him over an extended period of time, I realized he was a gentleman of the highest order.
When the time came to send in university applications, I applied for Law both at the University of Lagos (UNILAG), and at the University of Ife (now Obafemi Awolowo University, OAU). I didn't want to put all my eggs in one basket, so I also applied for English at the University of Ibadan (UI), as well as Geography at the Ahmadu Bello University (ABU) in Zaria. In those days, you could apply to as many universities as possible. I was granted admission by all of them, Law, Unilag; Law, Ife; Geography, ABU; and English, UI. Needless to say, I was confused. A senior cousin of mine – we were living in the same room at No. 18, Abayomi Street, Lawanson, Surulere, Lagos, Chief Femi Abidakun, was going to study English at Ife. He persuaded me to come with him to Ife to study English. He made reference to a lawyer living nearby, who in the morning people would go and assist him in pushing his Volkswagen. He said Law was not a profitable career, and that in any event, he pointed to my flair for English, and my good writing skills, and said I was going to be a Professor of English, like Professor Wole Soyinka, or Professor Niyi Osundare, who was my idol in school; coincidentally, we are from the same town.
In that state of confusion, I traveled to Ado-Ekiti to meet Professor Niyi Osundare, who was then a fresh graduate from UI, and was teaching at Christ's School, Ado-Ekiti. I remember we were under a mango tree, and I said, "Egbon, what do you advise?" He replied, "Wole, if I had received other counsel, perhaps I too would have thought of reading Law, but nobody advised me. Please go and read Law." And that was how I settled for Law in the University of Lagos. I am from a Christian background. My late father was a devoted Christian. He had this notion that all lawyers belonged to societies which were not in conformity with Christian tenets and teachings, so he wanted no son of his, to become one. I said "Papa, a good number of them are your friends, and you are saying this?" He said, "No, I don't want you to study Law." With that, I was persuaded to change my course from Law to Mass Communication.
The Mass Communication Department in UNILAG wanted me badly because I had impressive results at my A-Level exams, and gave their approval for my switching courses, but the trouble was how the Faculty of Law would release me. At the time, like now, there were so many students wanting to read Law. Lo and behold, the late Professor Abiola Ojo, who was to release me from the Faculty of Law, picked up his pen in a bid to sign my form and saw the name, 'Ilesa Grammar School' on it. He looked me eyeball to eyeball and asked me what the matter was. I told him I wanted to change to Mass Communication. He asked if I had arrived at this decision of my own volition. I said it was what my parents wanted. He asked if I ever heard of Dr. Abiola Ojo, I said our Principal at Ilesa Grammar School had mentioned the name, as one of the most successful old students, along with the likes of Kayode Eso, Olu & Yinka Ayoola, Professor Jegede, S.M.A. Belgore JSC, Chief Phillip Umeadi, SAN, Alhaji Lateef Jakande and many others. He said he was that Abiola Ojo, and added that he wasn't going to allow me to be wasted because I shared the same alma mater with him. "You will be a successful lawyer and the legal profession in Nigeria would need someone like you." He asked me to go and inform my parents that I had a foster father in Lagos, who would not allow me to change my course. That was how I stayed glued to Law.
At the University of Lagos, my quest for a better Nigeria saw me get intimately involved in student unionism. In the process of our agitation for a better Nigeria under a democracy, and asking the Military, then under General Yakubu Gowon, to immediately withdraw to the barracks, a lot of Students Union leaders and activists were arrested and detained from 2nd to 28th February, 1974. We were put in different detention camps all over the country. I was detained for the first week, at Iyaganku Police Station, Ibadan, and later transferred to Agodi Prison, also in Ibadan. People like Gbolabo Ogunsanwo, Areoye Oyebola, Ebenezer Babatope, Haroun Adamu the journalist, and many others were challenging and pressurizing the Government to release us. Eventually, Gen. Yakubu Gowon announced on the 28th of February that we had been given a State pardon, and we were released. Very early in March, 1974, the Students Union leaders of the University of Lagos booked an appointment through the Students Affairs Office, headed by Chief (Mrs) Opral Benson, Ebenezer Babatope and Mr. Aghedo, to see General Gowon at Dodan Barracks, and our request was immediately granted. I was asked to address General Gowon on behalf of the Students Union, and in my speech, I reiterated the position of the Nigerian students that the Military had nothing to do with politics and governance, and that we had no apologies for our position. We demanded from General Gowon, a specific date his Military Government would retire to the barracks. It was in the course of General Gowon's speech that he looked at me and said "Young man, you are courageous and promising. You will go places" Little did I know that he was prophesying over my life!
In later years, I was onboard a flight from Lagos to Calabar to handle a matter at the Court of Appeal and the airliner I boarded seated me right next to General Gowon. He had boarded before me, so when I got to my seat, I bowed to him and paid him my compliments. Then he looked at me and asked if we had met before. I said, "yes sir". I introduced myself as Wole Olanipekun, President of the Nigerian Bar Association. He said he knew I was the President of the NBA but did we meet somewhere else, before then? Then I told him about our encounter at Dodan Barracks, in February 1974. He said, "Oh, that troublesome boy! Were you the one I said would go places?" And when I said "yes", he said with a firm voice, "Oya, come and pay your tithe, because I blessed you that day".
From your encounters, what can you say about General Yakubu Gowon?
Let me say this about General Gowon. He is indeed an officer and a gentleman. He's a father and a very pleasant leader. In fact, if Gen. Gowon were not the Head of State at the time we were into student unionism, then people like us would have been rusticated. It is on record that successive governments rusticated Students Union leaders, who did not do a fraction of what we did.
Did you work with the Ministry of Justice or decided to have a private practice?
After Law School, many job opportunities beckoned to us. You see, I'm one of the lucky few to have been in my formative years, when Nigeria still took care of her youth. I remember I was to serve with the newly-created Ondo State Ministry of Justice. An uncle of mine, Hon. Justice M.E. Ogundare, was the first Attorney- General of Ondo State at the time. He came on a recruitment tour to Ilorin, where I was carrying out my National Youth Service Corps (NYSC), teaching Company Law and Law of Contract at the School of Management, at the then Kwara State College of Technology, and tried to persuade me to join the pioneer staff of the Ondo State Ministry of Justice as State Counsel, assuring me of a bright future there. I politely declined. I was offered jobs with the Nigeria Police Force, Nigeria Customs Service and the Nigerian Immigration Service, while the newly-formed Oodua Investment Company offered me a job as Company Secretary. None of these tickled me as such, hence, I opted for private legal practice and joined the Chambers of Alhaji Akanbi Oniyangi at Ilorin, as a junior Counsel, immediately I completed my NYSC.
I realize you attribute everything to God. Are you also an evangelist?
Gratitude to God was ingrained in me at an early age. Such virtue becomes even more important, as one grows older. Now you sit down, take your time, look back, and you see God's guidance with you at every stage from your early life. You then ask yourself, how did you manage? How did you scale through? What helped you and why did you not fall? Why did you not falter? Was it because you knew how to do it? No, it was God – The Eternal Rock, the Refuge, the Mighty Hands. So anytime I look back over the course of my life in retrospection, I always remind myself that the best attribute in life is humility. It is important to remember your yesterday. I'm not one of those who will describe themselves as self-made. No man is self-made. To me every man is made and sustained by God. Every person, who has succeeded is nurtured and anchored by the Almighty God. My mother told me of a prophesy by my paternal grandmother, who was an evangelist. She said immediately I was born, the old woman said I would go places. That was the woman, who gave me my name Oluwole, meaning "the Lord has entered this home." I don't see life as an accident, but as a fulfillment and function of God's destiny for myself in particular. The Bible says in the Book of Jeremiah 1:5: "Before I formed thee in the belly I knew thee." Before God put me in my mother's womb, He knew me. So for whatever the achievement might be, whatever the successes, at every stage, at every second, God has a hand in it.
What were your early goals as a young lawyer?
You see, there is no better written book, or better constructed one than the Holy Bible. The wisdom contained therein, refreshes and renews itself, becoming newer and newer every day. If you read the Book of Genesis, Chapter 1 verse 1 today, and you think you have memorized it, or you have familiarized yourself with the extent of its content, the Holy Spirit will surprise you by unlocking another level of wisdom within the same Bible verse; something you previously could not see or realize. The Bible says "No one who puts his hands to the plow and then looks back is fit for the kingdom of God." This applies not just to the kingdom of God, but to every human endeavor, profession or undertaking. It applies to a man's ambitions. I say this because right from day one, I've been prayerful, especially regarding my aspirations and goals. Despite the fact that I went to clubs and parties, I was aiming at the ultimate pedestal in this profession.
Reading about the Chief Rotimi Williamses of this world, the Kehinde Sofolas, the Afe Babalolas, the Richard Akinjides, etc inspired me enormously. When I was in school, Oluwole Rotimi was the Military Governor of Western State. Akinjide's name was announced as the Commissioner for Finance for the West, which was to us a very big position. Akinjide was then the President of the Nigerian Bar Association, but he rejected the offer on the pages of newspapers, saying that his position, as the President of the NBA was superior to that of a Commissioner. I looked at all of these role models, including Chief Frank Akinrele, and told myself that one day I would be like them. In 1986, when I was ten years at the Bar, the late Honourable Justice Babatunde Belgore, – then Number Two at the Federal High Court – called me to his Chambers here in Lagos and said, "Wole, I am recommending you, as a Judge of the Federal High Court." I thanked him, but declined the offer. I didn't want to go to the Bench. I wanted to stay at the Bar to practice and get to the peak of the legal profession. As if that was not enough, in 1988, one of the best judicial officers I've ever met in my life, the late Honourable Justice S. F. Adeloye – then the Chief Judge of Ondo State – sent a letter to the then Chief Judge of Kwara State, Honourable Justice Timothy Oyeyipo, to the effect that the Ondo State Judicial Service Commission wanted to recruit and appoint a number of judges of Ondo State origin, where he stated that he understood that a promising son of Ondo State, Wole Olanipekun, was practicing in Kwara State and that they would want him to recommend me as a High Court Judge of Ondo State. Honourable Justice Oyeyipo called me to his Chambers and he showed me the letter and said, "Wole, even if the letter didn't mention your name, I will ordinarily recommend you. I am doing it now." I replied, "Sir, I thank you, and I appreciate the offer, but I think I would prefer to take the Silk.


Now, the practice of law, is not something you wake up one morning and you say you are going to court. No, it needs diligence, honesty of purpose, hard work, prayers, tolerance etc. You have to be passionate, painstaking, and above all, you have to ask for God's grace and favour at all times. Finally, you also need good health. Clients are very fickle sometimes. If a client comes to my office and realizes that some particular counsel are not around and when he is told that said counsel are unavailable, he will go to other Chambers. Thus, apart from asking for God's grace to let me actualize my ambition, I was also praying for good health and good luck.
You were at one time the Attorney-General and Commissioner for Justice in Ondo State. What do you say to those who call for a separation of the two designations?
While I don't agree with their postulations on the subject, I won't ordinarily write them off. I'm sure they have cogent reasons for agitating for the separation of the two positions. To my mind, the position of Attorney-General is a powerful and influential one. It is a position of responsibility. It is a position, whose occupier must be strictly apolitical. People are agitating for the separation of the two positions because on many occasions, they have seen successive Attorneys-General in Nigeria, both at the Federal and State levels, attempt to navigate the murky waters of politics, crying more than the bereaved and wearing the gab of politicians unashamedly; without disguise and without pretext. That is why the clamour and agitation for the separation of both offices is getting louder and more potent by the day. To me, however, there is no need to separate the two positions. Are you saying if there is an Attorney-General and there is a Minister of Justice, then you now say Attorney-General simpliciter, that the Attorney-General must not pursue justice or must not look after justice? An Attorney-General will still be the Chief Law Officer of the Federation or State, and in his name cases will be prosecuted. He will still have the power of nolle prosequi. He will still be the one in cabinet meetings, who will give advice to the President or Governor and whisper into his ears. He will still be the Chief Law Officer of the State. So why do you want to separate the two offices? It was experimented on during the time of the late Chief Bola Ige, and there was confusion. There was an Attorney- General, and then President Obasanjo said he was appointing a Minister of State, Ministry of Justice. We don't need a Deputy Attorney-General. So, I would say let the same person occupy the two positions, but let us respect the sanctity of the office. Let the occupier of the position also respect himself or herself; respect the institution and always be mindful of what he or she would be remembered for.
I was Attorney-General of Ondo State between 1992 and 1993. To God be the glory, I was already a Senior Advocate of Nigeria then. An Attorney-General must be sure-footed, and my Governor respected me for being so. Let me share with you an incident that occurred on the day of our swearing-in. All the Commissioners were to be sworn-in, including Mimiko, who is now the Governor of Ondo State and was the Commissioner designate for the Ministry of Health. I protested to the Secretary to the Government, Professor Olu Agbi. I told him that as Attorney–General, I wanted to be sworn-in separately, after which they would then swear in the others. He went to see the Governor, Evangelist Bamidele Olumilua, and the Governor said in Yoruba, "Whatever Wole wants, lets give him. I pleaded with him to come and serve." Former Governor Olumilua is still alive – ask him. I didn't attend any political rally or meeting with them. I sat in my Chambers. A good number of those who served under me are now Justices of the Court of the Appeal, Justices of Federal and State High Courts. I was running the office of the Attorney-General, as if it were my own Chambers, working round the clock, personally preparing briefs and appearing in Courts. In fact, I was arguing a case as Attorney-General of Ondo State before a Lagos High Court (this was regarding one of the matters in respect of Owena Towers) when Abacha's coup was announced. Amongst the State Counsel I led that day, was Gboyega Adebusoye, a Senior State Counsel then, who is now a Justice of the High Court of Ondo State, if I remember correctly. I am of the view that we should always hold any occupant of the position of Attorney-General in high esteem, and such occupant must always appreciate the sacredness of the office that he holds, and remember at all times that he is not just an ordinary Commissioner or Minister. When you get to the Ondo State Ministry of Justice today, you'll see my name and my photograph; humbly, I belong to that dynasty.
What would you say were your accomplishments and setbacks as NBA President?
When I was campaigning to be President of the NBA, we had a clear-cut manifesto. I traveled throughout the nooks and crannies of this country, and visited every Branch. My first attempt at the NBA presidency was actually in the year 2000.Another contestant, Chief O.C.J. Okocha, SAN and I agreed – along with Chief Bayo Ojo, SAN (who later became Attorney-General of the Federation), who at the time was the only person privy to our discussion on the coming election – that a contest between us might provoke a backlash, so I stepped down, with the aim of running again in 2002. That two-year wait afforded me sufficient time to map out my plans and goals for the NBA – an organization which I believed then, and still believe now, can set an agenda for Nigeria, especially in the area of good governance; a properly run NBA can set a template for the country's Government.
When I became President, whenever there was going to be a meeting of the National Executive Council (NEC), it was imperative that we had an officers' meeting at least a week before the NEC meeting; I carried my officers along and intimated them fully on the agenda. We would debate the pros and cons of each issue, dot our i's, cross our t's, and go to that meeting as a united front. We introduced the stamp and seal, which the then Chief Justice of Nigeria, Honourable Justice Mohammed Uwais came to launch in Ilorin. We expended time and a lot of resources on it. We issued the stamps. Sadly, our successors did not take off from where we situated the stamp and seal project, but rather, started afresh as if no Executive of the NBA introduced it, launched it and presented it to the Nigerian lawyers. Unfortunately, in Nigeria, we do not seem to appreciate that running a country or an association ought to be an exercise in continuum. Rome wasn't built in a day. I wasn't the first or second NBA President, but when we took over, we recognized that we had predecessors, and made efforts to consolidate their achievements with our vision. We tried to build on what good they had done, but some of our successors didn't always appreciate that principle. Using the NBA as a microcosm and a metaphor, this is the same thing with Nigeria; every new government always behaves as if there was no Nigeria before it came. Even till now, this attitude persists among people in government, who see themselves as the pioneers, authors and finishers of our national life. In fulfillment of my electoral manifesto, we made efforts to align the practices and programmes of the Association with the practices, programmes, procedures, governance and organogram of the International Bar Association (IBA). We created Sections – we started with two, the Section on Business Law (SBL), and the Section on Legal Practice (SLP), and they took off effectively; indeed, our annual National Conference in Enugu in 2003 was based on this experiment. Not only that, the NEC of the NBA approved a series of bye-laws for the two Sections, by which officers in charge of them were appointed – namely, George Etomi for the SBL and Yusuf Ali, SAN for the SLP; Honourable Justice Adeniyi of the FCT High Court was appointed the pioneer Secretary of SLP. I laid the foundation for the second NBA House in Lagos, which has now been completed.
It was during my tenure that the NBA was registered as a juristic person. As a result of this, NBA can now sue and be sued in turn. It was also the Executive I led that resuscitated the General Council of the Bar and elected NBA Executives for the first time. It also resuscitated the Nigerian Bar Journal and appointed Professor Ernest Ojukwu as the Editor-in-Chief. Within the two years of our being in office, six editions of the NBA Journal were produced.
As I said before, I belong to a dynasty, and I make no pretense about it. I was one of the Alao Aka-Bashorun boys. I was a member of his kitchen cabinet, when he was the NBA President. I was very loyal to him. I exhibited selflessness in NBA's service, in trying to build on what our predecessors did. An NBA President must not dip his fingers into the NBA's treasury. The officers who served under me are still very much around t; the Treasurer, Financial Secretary and the Vice-Presidents are still alive (the General Secretary during my tenure, incidentally, is now my in-law). The NBA did not sponsor me as President for any conference or any other programme within and outside Nigeria. An NBA President must be able to sponsor himself; the only person we sponsored was the Secretary. I sponsored myself on trips around Nigeria; the records are there. I made sure that NBA's money and trust were not abused, and we ensured fair distribution in the locations of our annual conferences and NEC meetings between the North and the South. We were disciplined in our conduct; our meetings were for 9.00am prompt.
If we were holding our conferences or meetings in a particular State, the Governor of the State had to be there for 10.00am to declare the meeting or conference open. We introduced 'The State of the Nation' as an item on every NBA NEC meeting and conference, and were the first EXCO to so do. Specifically, it was at our first NEC meeting at Makurdi, Benue State, in October, 2002, that we first introduced it. Under this item, members were free to discuss and make suggestions on diverse issues of national importance, including security, budget, finance, economy, politics, governance, mis-governance, corruption, the judiciary, elections, etc. At the end of every NEC meeting, as well as conference, we issued communiqués, signed by the President and the Secretary, succinctly summarizing and bringing to the fore, the resolutions distilled from our discussions. Yes, we did step on toes, but anybody vying for the position of NBA President must realize that it is not a picnic. As much as it is our obligation to respect powers and constituted authorities, we must also act as a voice of counsel, advice, and if necessary, dissent. In a terrain like ours, the NBA must not be like the three proverbial wise monkeys – seeing nothing, hearing nothing, and saying nothing.
I was NBA President during President Olusegun Obasanjo's tenure – and people thought that as a Yoruba man like him, I was going to compromise on the things that mattered to the NBA, in order to accommodate that kinship. But in the end, Obasanjo declared me a persona non grata as far as his Government was concerned – and I didn't mind because I wasn't seeking for any position in or favour from Government. When the NBA paid the President a courtesy call on 11th November, 2002, he could not withstand my speech, so he became agitated ; he interjected about three or four times, to the point where I had to say, 'Mr. President, will you excuse us?' Kanu Agabi, SAN (the then Attorney-General of the Federation) was present. The following day, one of the national dailies had a banner headline captioned "NBA went to the lions' den and challenged the lion" President Obasanjo's Government vilified me about three or four times, as a result of my principled stand on issues. I also remember, when the American Bar Association (ABA) President, Honourable Justice Dennis W. Archer came to Nigeria, on the invitation of President Obasanjo, to give a talk on Democracy – and the NBA was not invited! We pretended as if we did not know what was going on, and also decided that we would not attend the function. Meanwhile the ABA President's first port of call was my office in Lagos. He insisted that I partook in the event – or else he would not go. I declined and instead I handed him over to J.K. Gadzama, the Chairman of the NBA, Abuja Branch, who organized a cocktail party to welcome him. In the end, because he refused to do anything without us, the Government sent a delegation to try and persuade us to take part – and spare the Government and the Nation an embarrassment. The delegation, led by the late Chief Ojo Madueke and Professor Jerry Gana, came to plead with us and persuade us to take part. So, I gave in and agreed to participate. Deliberately, when programme was to start, President Obasanjo asked me to say the opening prayers; I guess he wanted to know whether or not I would pray for him and Nigeria. I did pray for him and Nigeria, as it is the duty of every citizen to pray for our leaders and our nation, but I noticed that Obasanjo did not close his eyes when I was praying. We supported Obasanjo, when necessary, and we criticized him when we should. Obasanjo became very uneasy with my suggestion to spend only one term in office, to stabilize Nigeria, to make that sacrifice for the sake of the polity. He accused me of trying to change the goalposts, when he was already in the penalty box. On the day before we went to see the President, as if in anticipation of the contents of my speech, Femi Falana, SAN, came to see me at the Transcorp Hilton Hotel (it was called NICON Noga then) and pleaded to see my speech, because, in his words, "I know the way you write, I know the kind of person you are going to see tomorrow and what his likely reaction might be" He went through it and pleaded that I moderate certain areas of the speech. We took the Federal Government on, on several national issues – including the arbitrary demolition of tollgates, which we thought was economically and politically unwise, kidnapping of the then Governor of Anambra State, Chris Ngige, harassing political opponents with agents of State, disobedience of court orders, etc. Atiku Abubakar, GCON, (then Vice-President) was at my daughter's wedding the other day, and we're still friends till today. As Vice-President, the designated official residence of the Chief Justice of Nigeria was allocated to him. I was having a meeting with the NBA Branch in Kaduna at the time. I drove straight to Abuja, as soon I got the news of Atiku's action, I asked Otunba Dele Oye for permission to use his office in Abuja, and I issued a press statement on the NBA's letter-headed paper, giving the Vice-President a seven-day ultimatum to vacate the CJN's residence. Subsequently, Honourable. Justice Mohammed Uwais, the Chief Justice of Nigeria as he then was, called to thank me – even though he had issues with the seven-day ultimatum we gave the Federal Government, but today, that place remains the CJN's official residence. How many people know or remember that particular bit of history? Festus Keyamo was detained by Obasanjo's Government and no reason was given. We held a meeting at the Ikeja Branch of the NBA, and again, we gave the Government a seven-day ultimatum to release him. The Government complied with the ultimatum within three days.
In 2002, the Igwes, a couple, who were foremost members of the Onitsha Bar, were murdered. Their double homicide took place two days after I became NBA President and it was a baptism of fire for us. Still reeling from the shock of the murders, we rallied and carried out an investigation, submitting our report to the Government (including our conclusions on those we suspected carried out such a dastardly and heinous act) with the charge that the Government take over our investigation and prosecute same to a most logical conclusion. We gave the Igwes a befitting burial in Onitsha, one that lawyers in that town had never seen before – with over a thousand lawyers in attendance. Memories of that day are distinctly etched in my sub-consciousness. Those of us representing the Bar, along with families of the deceased persons and other sympathizers, all wore black outfits. That particular incident remains one of the darkest strain on the fabric of the Nigerian Bar. Although it was part of the promises I made during my campaign, that if elected, we would acquire land and build the NBA House at Abuja, the Federal Capital Territory, we could only source for the initial money for the purchase of the land, but restrained ourselves from going ahead to buy it because of time constraints; we also came to believe that no particular executive can fulfill all its promises. We left the sourced funds in the coffers of the NBA, and I stated emphatically in my final address at the NBA Conference in August, 2004, that the money was dedicated to the purchase of a parcel of land for the NBA House.
The Executive I led also started the continuing and continuous education programme for lawyers, even going as far as issuing certificates to participants. We appointed Professor Jadesola Akande (my lecturer at the University of Lagos) our Chairman and we had about four sessions across the country – in Lagos, Port Harcourt, Kaduna and Abuja.
Also as NBA President, Adams Oshiomhole appealed to me (he wrote me a letter), asking me as NBA President to come and lead the defence of the NLC in an action instituted against the NLC by the Federal Government, when the NLC called out workers on a national strike against the fuel price hike by the Federal Government. I accepted the invitation, went to court to lead the NLC defence, and led the team of lawyers including Chief J-K Gadzama, SAN and Femi Falana, SAN. Chief Afe Babalola, SAN, leading Gboyega Awomolo, SAN, appeared for the Federal Government. We got the Federal Government's action thrown out at the Court of Appeal. Both the NLC and the entire nation commended the NBA for standing by the people. The case is now reported as FGN v Oshiomhole (2004) 2 NWLR (Pt 860) 305.
The legal profession has gone beyond bread-and-butter for individual lawyers. The NBA is the largest professional Association in Africa, and perhaps the third or fourth largest in the world. At the International Bar Association (IBA) Conference that held in Durban, South Africa, I noticed that the Nigerian contingent was so large, as was usually the case. We decided there and then to organize the first Nigerian Lawyers Night at an IBA conference in 2002. That was when the tradition of the NBA hosting Nigerian Lawyers at IBA conferences began. While we improved on the legacies of our predecessors, we introduced a lot of innovations, this is why when I was delivering my final speech as NBA President, I was able to say in all good conscience that I had delivered on my manifesto and promises. At the tail end of our tenure, we held an EXCO meeting where, I gave a parting gift to each officer from my own purse without dipping my hands into the NBA till.
I want a situation where the NBA becomes more formidable and more vibrant, a situation where the Government would ask themselves, before they carry out any action with legal ramifications, 'What will the NBA say?' To this day, I am always elated by the letters I receive, expressing gratitude for what the NBA did under my watch. Like Caesar's wife, the NBA President must be above board.
At the end of my tenure, several Nigerian national dailies, through their editorials, commended the dynamism of the NBA under my humble leadership. Of note, I remember the Justinian Magazine Edition of September, 2004.In that edition, the indefatigable Chief Gani Fawehinmi, SAN, wrote of my tenure thus; "As the President of the Bar, he has done everything to uplift the respectability and dignity of the profession. He has, through his stance, position and idealism, doggedly worked according to the admonition of the first Nigerian lawyer, Christopher Alexander Sapara Williams, who enjoined lawyers to live their lives for direction of their country and the advancement of their country. For you to appreciate the success of Olanipekun, you have to appreciate the success of Alao Aka –Bashorun, who like Olanipekun, fought against the excesses of Government, as he and his executives used the beacon of the Constitution to beam the searchlight on the mis-governance of the country by General Olusegun Obasanjo. I think Olanipekun will go down as one of the best President of the Nigerian Bar Association ever. It is a plus for Olanipekun that he did not throughout his tenure, kow-tow to the whims of President Obasanjo." Notwithstanding the uneasy relationship between President Obasanjo and the NBA under my leadership, I will always remember the noble and professional role Chief Kanu Agabi, SAN, played throughout our ordeals. He stood by us, and I understand that on one occasion, he politely admonished President Obasanjo to stop calling me a 'rascal', educating him that I was a rare gift to the legal profession and country. I am always appreciative and full of deep respect for this gentleman who, as Attorney-General, did not abandon or sell the NBA. He is ever highly principled.
We are yet to see a Nigerian President from the legal profession. Do you foresee one in the near future?
I pray that one will emerge, because a lawyer has a lot of advantages over others. A lawyer is a jack of all trades, and master of nearly all. Lawyers are versatile. We have medical law, laws governing engineering, accountancy, politics and so forth. So, I am persuaded that Nigeria will be better off under the watch of a lawyer. But how do we get there? Getting to the highest office in the land is not necessarily a function of one's brilliance or perfection; more often than not, it depends on certain nuances peculiar to our environment – such as where you come from, your religion, the principle of Federal Character, all sorts of permutations etc. So, when will these permutations – ethnic, religious, etc – align to favour a lawyer? Your guess is as good as mine. Again, it is not easy for a lawyer to fund a political ambition from the meager resources he gets from his legal practice – although we must appreciate those, who have aspired, especially at State and Local Government levels, and especially those who have done the profession proud with their stewardship in public office. Take Chief Obafemi Awolowo, for example; imagine if he had had the opportunity to be Nigeria's President or Prime Minister. No less a personality than the late Chief Emeka Odumegwu-Ojukwu called him 'the best President Nigeria never had.' I pray that will never be said of the best lawyers we have in Nigeria. So, as I said, it is achievable, but how? When? Where? For now, the highest political office a lawyer has ascended to in this country, is that of the Vice-President, a position presently occupied by Professor Yemi Osinbajo, GCFR, SAN, a most distinguished ambassador of the legal profession. I am persuaded that a majority of Nigerians see him as an added value to the present administration. To me, he is an exemplar of what an administration headed by a lawyer would represent in terms of maturity, good governance, intellectualism, dynamism, etc.
You are the Principal Partner of Wole Olanipekun & Co. Tell us how your firm has grown to become one of Nigeria's 'Magic Circle' law firms.
'Magic circle' is a nomenclature used in the United Kingdom referring to the top pedestal law firms. While we don't use that same nomenclature here, I appreciate your placing us within that phylum. At Wole Olanipekun & Co., we make it a point of duty to mind our business; we honour social invitations of people who are close to us. We do not get involved in politics, or any other business apart from Law. We work seven days a week –Saturdays and Sundays inclusive. After worshipping in church on Sunday and communing with God, it is a habit of ours to saunter into the office if only just to keep our minds engaged; we are constantly reading some form of informative data or the other whether in form of scholarships or for purposes of training and retraining. We ignore those who strain to annoy or irritate us. A lawyer has to change with the times or be constantly adaptable because there is no occupation that is as demanding as the legal profession. A good number of people have passed through us over the years. We have produced astute legal practitioners. We have produced numerous SANs – including myself – and we have many alumni of this office, who are occupying high offices in banks, corporate organizations, and in the Judiciary etc. We have gotten this far by the grace of God. The law profession is never static; you have to keep on nurturing your dreams; you have to keep on moving. You also need inspiration, but above all, you need the fear of God, so you don't compromise the interest of your client, neither will you try to bribe a judge or compromise the judge in any way. I can beat my chest and say to the glory of God, that since I was called to the Nigerian Bar in 1976, and since my taking Silk in 1991, I have always intentionally striven to run away from anything that will lead to the perversion of justice, or anything that compromises my client, and I will never do it. I hear these sort of things happen in our profession, but I can never imagine how anybody would have the guts to approach a judge with money or other inducements. I respect my person, my office and my profession, and for that reason I always want to act within the ethical boundaries created both by my conscience and the Rules of Professional Conduct guiding legal practitioners. We have among our clients, people of different political persuasions, commercial inclinations and business interests, and they all have one thing in common; they all respect us and trust us. A lawyer must have integrity, honour and discipline. He must always be good-intentioned and cosmopolitan. Law is a living profession and if you like describe it as a living organism. It has to be constantly watered and nurtured for it to have life, just as nutrition is essential to the body system. A lawyer who does not read or constantly re-educate himself, by way of continuing legal education is as good as dead. A lawyer who dupes or defrauds his clients undoes himself, whether wittingly or unwittingly, and you can be sure that however close the clients were to him or her, they would soon desert him. A lawyer who abuses both his colleagues and the Judex, and quarrels with them every day, loses not just his or her reputation, but also his or her job. It is not easy for a lawyer or any professional or businessman, or any person at all, to climb to the top and remain there unshaken and unperturbed the grace of God cannot abound from within a void, particularly if a lawyer has his hands always dipped in inequitable conduct.
We noticed that you are involved in a lot of philanthropic endeavors all over the country, including your donation of a Law Auditorium to the Faculty of Law, University of Ibadan, a Bar Centre to the Nigerian Bar Association, Ikere Branch, an ICT building to your alma mater, Amoye Grammar School, Ikere, the Wole Olanipekun Schorlaship Scheme, one hundred units of laptop computers to the NBA Lagos Branch, some cars for the NBA Junior Lawyers, Ilorin Branch and recently, a Vice-Chancellor's Lodge to the Ajayi Crowther University, amongst others. Can you share some insight into what motivates you?
To my mind, it is more blessed to give than to receive. The Bible also teaches us this, and I want to believe every religion teaches it. I have read several books and literature, and I have come to the conclusion and realization that no man is ever remembered for his wealth or depth of his accumulation when he passes on, but for the meaningful and positive impact he makes on humanity. That is why it is always said that one's footprints are never wiped off by the torrents of time. You have listed some of the things God has enabled us to do for humanity in the fields of education, religion, health, etc. What I am by the grace of God and whatever I give, is given not because I have excess, but because of God's motivation that I should do it. I am a legal practitioner in and out, not a businessman, and I am also not a politician. It gives me pleasure to make other people happy. I also believe that a lawyer must not forget his roots however cosmopolitan he might have become. I come from Ikere, in Ekiti State for example, and I am convinced that my impact must be felt at my nativity. Hence the little things I have done there, including building a Special Amenity Ward at the State Specialist Hospital, Ikere in memory of my mother, and a Vicarage in memory of my late father. I am also happy to note that the NBA Branch in Ikere has grown exponentially through the little assistance I have been able to provide for them. At the last count, there were over one hundred legal practitioners on their register. At the University of Ibadan, where I was Pro-Chancellor and Chairman of Council, I tried to set a template for good governance, rooted in sacrifice ab initio. I did not take a dime from them either as allowance or stipend, rather, I gave back to the society through them from my little earnings as a legal practitioner. That is also what I am trying to replicate at the Ajayi Crowther University, where I am now Pro-Chancellor and Chairman of Council. Through my scholarship scheme, which was introduced in 1996, over 200 graduates have come out as beneficiaries including Lawyers, Doctors, Pharmacists, Accountants and Educationists. To my mind, this is how to add value and impact positively and meaningfully to people's lives. Without being immodest, I have lost count of the Law School students whose school fees were paid by me, including several of them who are attending the Nigerian Law School this current session. I believe those of us who critique the Government and our leaders for their apparent failings and latent inadequacies, should not just be armchair critics, but also set some models and good examples, within the ambit of our individual abilities for the Government and the general public to follow. I have come to the realization that the life one lives and the dividends of his sweat do not solely belong to him, but essentially to the larger society. It is from the larger society that a good number of dependents of a successful man emerges, particularly in a clime like ours where poverty ravages the society, and parents find it difficult to buy common exercise books for their children, how much more of paying their school fees.
In 1991, you were conferred with the prestigious rank of Senior Advocate of Nigeria, SAN, at a relatively young age – 40, to be precise. How would you compare the recognition of merit at that time with what obtains now?
At the time I was conferred with the rank of Senior Advocate of Nigeria, only seven of us were so conferred at that particular ceremony. Of the seven, three (about 40%) of us were from the old Ondo State. I ask myself today, 'Can that happen now?' You ask yourself, 'Are we progressing in Nigeria or otherwise?' Those conferments were based purely on merit – not on geographical background, or whom you knew, or your connections, but solely on merit. All we did was send in our applications, and after a period of evaluation, our names were announced. I was based in Ilorin then, and I was the youngest of the seven– both in terms of age at the Bar and biologically. At that time, I had over thirteen cases at the Supreme Court; over twenty six at the Court of Appeal; over thirty five at the Federal and State High Courts, and it was all over the place – in Kaduna, Ilorin, Ondo, Lagos, Ibadan and Benin. I am not in any way condemning the present procedure, or to suggest in any way that standards have fallen, but I want to use this opportunity to plead that in everything we do, whether in the nation as a whole, or in the legal profession in particular, we must give priority to merit. I am advocating that we entrench meritocracy because only then can we truly rise above our present challenges. I'm proud to say that one of my sons has also taken the Silk. I feel the joy of a father, to see such an accomplishment in my own lifetime. I have joined the league of lawyers like the Rotimi Williams, Kehinde Sofolas, Idowu Sofolas, Pa Olaniwun Ajayis, Dele Aikus, Ajogwus, Akinreles, Molajos, Bola Ajibolas, Akin Delanos, Okeaya-Innehs , and so many others whose children went on to take the Silk. It is indeed the Lord's doing, and it is marvelous in our sight.
All four of your children are lawyers, with the eldest one having taken the Silk. Why have they taken after you professionally? Did you influence them, or did they choose to study law on their own volition?
Again, it is God, not me. Let me focus on Dapo (my first child, who has taken the Silk) for a moment. He was a science student in Secondary School, with the aim of going for Computer Engineering or Computer Science. As a dutiful father, I encouraged him in this, as he displayed proficiency in this area. We were in Ilorin at the time and one evening, he approached me and said he believed he could study Law at the university. I reminded him that in my time, you could read Law with any combination of science subjects, as long as you had a credit in English Language but nowadays however, you also needed to have Economics, Government, Literature in English, and so forth. I said to him, "You're not offering Economics or Government. You're offering Physics, Chemistry, Biology, Mathematics and Additional Mathematics. And you're in the A Class at the University of Ilorin Secondary School. So how would you go about it?" He said, 'I will study these Art subjects privately, and go ahead with my Science subjects." Who was I to discourage him? In any case, no knowledge is ever lost, so we hired private tutors for him in these subjects. He sat for the O'Levels, and coincidentally, the same year he passed his SSCE exams was the same year, he applied for JAMB – he passed and was admitted to the University of Lagos. I can't say if Dapo's going to UNILAG to study Law influenced Bode (my second son). Bode's set was the pioneer set of students of Olashore Secondary School at Iloko Ijesa. Unlike Dapo, he already tended towards the Arts, so with him, there was no debate. My first daughter, Bukola, stated from the outset that she was going to read Law, and so did Tope, her younger sister. When Dapo finished his Ph.D, his professors said of him, "We hope your parents are as proud of you as we are." I shed tears of joy when I heard that. He specialized in banking and financial transactions, and he got a job at the World Bank, and he wasn't ready to come back to Nigeria. As a father, I persuaded and pleaded with him to return home and he hearkened to my pleas and returned. When he returned, he lectured, first at the Nigerian Law School, and then at the University of Lagos, before he came to join us (Wole Olanipekun & Co). So I suppose the only area in which you could say I influenced Dapo would be when I made him return to Nigeria, rather than take up a job at the World Bank. I did not influence any one of them to follow my professional footsteps, neither did I dissuade them once they had made up their minds.
You have enjoyed many years of cordial relationship with the Dele Adesinas. Tell us about it.
Dele Adesina, SAN and myself got very close when I became President of the NBA, he was the NBA's General Secretary. Our tenures converged and created the time and space in our lives to develop and foster a close relationship. As spontaneous as it was, we probably do not even remember how it began. Although we come from the same part of the country, I wouldn't say this was what brought us together. Rather, I would say that like attracts like. Only the deep can call to the deep. He knows me well enough to know that I can be very rigid, when it comes to my principles. He is my brother, friend and confidant. I know he loves and respects me, and vice versa. Our regard for each other is mutual. Also, apart from one or two occasions, I can't remember, when we ever disagreed. I trust him implicitly. He is a man, who can enter any part of my house – and I'm not saying this because we're now in-laws; we developed this relationship long before I knew we were going to be in-laws. My wife and children know about this relationship – including Tope, who's now his daughter by marriage. In his home town, I am known as his friend and egbon (elder brother). In spite of that, there are instances, where I would not budge from my principles to accommodate our friendship. In 2008, for example, Dele Adesina, SAN wanted to become President of the NBA, as did Rotimi Akeredolu, SAN at the time, but Rotimi was the first person to approach me in respect of his ambition. Meanwhile, Dele was applying for the Silk, and we were all supporting him; Rotimi had already taken the Silk. In the course of the campaigns, Dele also took the Silk, and came to my office to solicit my support and I told him that I was already committed to Akeredolu – not because I loved him less, but because I am a man of principle who honours his commitments. Dele thought he could change me on that, but it wasn't to be so. In his very presence, the Association of Yoruba Lawyers held a meeting at my country home in Ikere, where we endorsed Akeredolu, and he went into that office unopposed. I fear God, and I don't mind being a lone ranger. In 2014, when the office was zoned to the South-West, I stood by Dele (Mind you, I didn't know he would be my in-law then). But then, another person became the NBA President instead of Adesina. My relationship with Adesina has now crystallized into an in-law relationship, and I have no regrets about it. His son, Demola Adesina, worked in this office for three years; I trained him – not knowing that I was training the future husband of my daughter. And we didn't match-make them, believe it or not. They met in the UK; my daughter trained in the Universities of Essex and University of Bristol. I didn't know anything about that – it certainly didn't inform my support for Dele in 2014; that was based purely on principle. I believe when we don't live by our word, we lose our humanity and the very essence of our creation. Having said that, one thing I will not do, however, is to be rude to people. I try to live by the words of Psalm 1. I don't even have time for any of that; my hands are full with the demands of the legal profession, and my other charitable and humanitarian engagements.
Many people came from far and wide to grace your daughter's wedding. Would you call this occasion pay-back time for all the good you've done in the lives of others?
I must confess that I felt humbled by the array of people who came. Take former Vice-President, Atiku Abubakar GCON, for example: he was out of the country, but he came back on Friday (the day before the wedding) and immediately sent a message to me saying, 'Wole, I have to come and honour you.' Take also Chief Ernest Shonekan, GCFR (the former Head of Nigeria's Interim National Government). We have enjoyed a mutually respectful relationship over the years– although he is the older of the two of us. Take Otunba Subomi Balogun, CON or Oba Otudeko, CON. Take the Ooni of Ife. The Alaafin of Oyo was coming, he got held up in traffic. The Oba of Lagos had his son graduating in London at the same time, but he sent emissaries. Then look at the Governors: the Governor of Enugu (who was with us at the Engagement Ceremony), the Governor of Ondo, Olusegun Mimiko is my bosom friend and it is a friendship spanning decades, starting from when he was Commissioner for Health and I was Attorney-General in the old Ondo State. Asiwaju Tinubu could not come; but sent representatives as he was held up somewhere. The Governor of Lagos, Akinwunmi Ambode, who respects me so much, but could not make it, sent his Deputy. Look at the lawyers who turned out. Look at the Minister of Health, Professor Isaac Adewole, we were schoolmates at Ilesa Grammar School, though I was two years his senior. I left the school in 1971. I didn't see him until 2009, when I became Pro-Chancellor at the University of Ibadan though I had been reading about him and he was following my progress. When I paid my first visit to the University, all the Deans of Faculties congregated in the Vice-Chancellor's office; the Vice-Chancellor at the time was Professor Olufemi Bamiro. Lo and behold, I saw Professor Isaac Folorunsho Adewole among them. Later, when the race for a successor to Professor Bamiro began, Professor Adewole showed interest, and the Council under my leadership appointed him. Although there were petitions here and there, in the end, we changed the University of Ibadan for the better. God used me to make him Vice-Chancellor of UI, and because of his excellent performance as Vice-Chancellor, he was recognized and made a Minister. He was at the wedding. Jim Ovia, CON was in attendance; he calls me 'certified SAN,' whatever that means. Other Bank Chief Executives and Priests were all there. One of the Bishops, Rt. Rev. Israel Amoo, who officiated at the ceremony, was a practicing lawyer, and he started practicing in my Chambers. I should not forget to mention the likes of Chief Emeka Anyaoku, CFR, former Secretary-General of the Commonwealth of Nations, Chief Michael Adeojo, OON, of Elizade Group, Dr. Pascal Dozie, CON, of MTN, Chief Ayo Adebanjo, elder statesman; as well as several ministers like Alhaji Lai Mohammed and Alhaji Adebayo Shittu, and other eminent personalities like General Alani Akinrinade, CFR, Mr. John Momoh of Channels Television, Mr. Timi Alaibe, former Managing Director of the Niger Delta Development Commission, Mr. Segun Oloketuyi of Wema Bank, Chief Olu Akinyelure of NNPC, Senator Daisy Danjuma, Senator T.A. Orji CON, Otunba Gbenga Daniel, CON, Otunba Niyi Adebayo, Honourable Femi Gbajabiamila, Honourable Abike Dabiri, Professor Wale Omole, who chaired the reception, etc. General Yakubu Gowon GCFR, former Head of State, and Vice-President Yemi Osinbajo GCON, SAN, sent their apologies as last-minute official engagements kept them away from Lagos. What of the large retinue of legal practitioners, both of the Inner and Utter Bar, as well as our Judges and Justices from all the superior courts of record and Magistrates of all cadres? I wouldn't call it payback. What good have I done? What have I offered? I would rather call it solidarity. But when people show you that you are loved, you can't help but shed tears of joy. It's good to be good.
Any word of advice for the newly-wedded?
Paul the Apostle said; "Look unto Jesus, the author and finisher of our faith." They should look unto Him because He is the author and finisher of their marriage, of their joint life, of their matrimony and of their home, of their today and of their tomorrow. They must constitute added value to the Nigerian nation, to the institution of marriage and to the Church of Christ. They must add value to their families and to their world and they must always remember, whose son and daughter they are.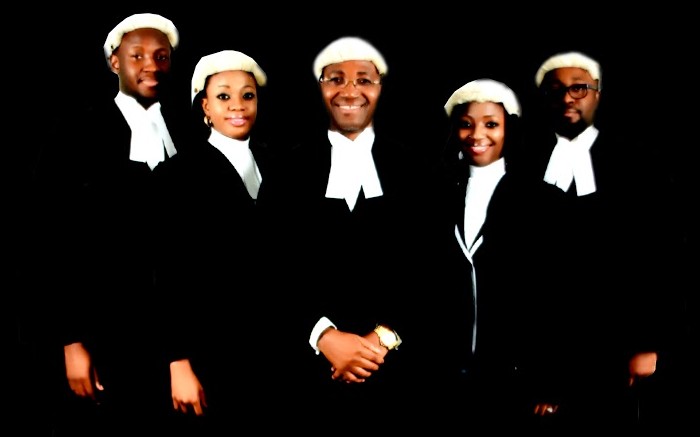 How do you feel now that all your children have gone to start their own families?
That is the prayer of every parent. I feel proud, but at the same time, I feel the absence of Tope, being the last child. The day after her wedding, I went to her room, and I saw the photographs she had displayed, photos of her and myself, and I became very emotional. But then I suppose her mother's father probably felt the same way, when I took his daughter from him. I keep telling my children: Try to keep your marriages. When you see a nation that is not at ease with itself, a likely cause may be because of a breakdown of the basic unit of society, the family. The world we live in today is in trouble for the same reason; people file divorce proceedings at the slightest irritation or provocation, hence we have broken homes all over, and children from broken homes scattered here and there. So I tell them, keep and protect your marriages.
How do you relax? What do you love doing the most when you're not in the office?
Before now, I would go to the club and take maybe a glass of wine, no more than that, because I am not much of a drinker. But these days, believe it or not, I see Law as my pastime and my hobby, as well as my profession and my vocation. I enjoy it – I virtually live and swim in it. I am at my best when I'm reading, or in court. I am a very triangular person: I leave my house, go to the court, and return to the office, and that is my day – and from the office to the house. Sometimes, I go to the swimming-pool. I read newspapers, watch some movies and listen to some gospel music. I honour social invitations from close friends, and I travel out of the country as often as I can. I am a member of the Ikoyi Club and Island Club. I go to the Island Club a maximum of ten times in a year. I'd say my hobby is traveling. I like adventures. As for socializing, let me hasten to say here that I'm not an introvert. When I am in the office however, I revel in the aroma and the flavor of Law. I sometimes forget that others – especially my children, my younger siblings and my staff – cannot be like me. I let them relax in their own way, even though I have a reputation for working my people to breaking-point. I typically stay in the office till 9.00pm or even 10.00pm. Sometime ago, I called my sons on the intercom and I was met with silence. I wondered where they had gone to. Immediately I realized they must have gone home, I called my wife to complain about "her sons", and she reminded me, "Daddy, its 9.30pm!" and I had nothing to say to that. Six years or so ago, a Syrian client of mine gave me some valuable advice about managing family relationships in the office. It is difficult trying to do so, he said, but highly fulfilling. Speaking from personal experience, he told me there was always a natural tendency to go to extremes – handling one's children with an iron hand, or over-pampering them. And he advised me to avoid both extremes. For that reason, I keep trying to strike a balance.
How did you meet your wife? What endeared her to you? Is she also a lawyer?
No, she is not a lawyer; she studied English at the University of Ilorin. She's a businesswoman. I met her when I was a strapping young man. I was attracted by her beauty and elegance. Her father was a retired teacher, while her mother was a nurse. More importantly, she is very prayerful, very humble, and she is what I would call a typical Yoruba woman. She transcends the ordinary and encapsulates a lot more than I can possibly put in words. She is someone that substantially understands me and this is an especially sterling quality, as I can be a very difficult and impatient person. I'm a stickler for excellence, for orderliness and for scholarship. My wife constantly reminds me that not everybody can be like me. She tries to balance me, considering the stressful and challenging nature of my profession. Only the rugged, those who are hardworking and can persevere, can survive in this business. In the world we now live in, it's no longer about the survival of the fittest, but the survival of the very outstanding. The world we live in today has no place for average people.
Our institutions and ethical standards appear to have weakened in recent years, and corruption and systemic decay seem to have permeated our affairs. What's the way out for Nigeria?
Corruption in Nigeria has become institutionalized, so much so that our romance with it has gone ahead to become a household cliché, that is, 'eating deep into the fabric of our society'. It has become part of our blood and stricken deep into our marrow. I keep saying that the way to fight corruption is not how we are going about it right now. We are only scratching the surface. We are not attacking it from the roots; neither are we giving serious thought as to how we came to this sorry state in our national life. What is the big deal in arresting and jailing people? You drive to the filling-station to buy fuel, and before you know it, your driver and the petrol attendant are ripping you off. In the office, the messenger would not move your file unless you offer him a bribe. If that messenger becomes a Minister tomorrow, is he not going to be worse than the Ministers of today? We need to look at these things from the root. We need teaching, tracking and moral rearmament, moral revival and attitudinal change. We have to build institutions that will prevent corruption, rather than just apprehending people after the event and damage has occurred. What were you doing when they were committing corruption? Are institutions like the EFCC, the ICPC and the Nigeria Police only meant to arrest and arraign people? Human beings are naturally rebellious – right from the Garden of Eden, but it is the presence of working institutions that helps to stop them in their tracks, and it is institutions that have made the difference between a nation like America and Nigeria. If the American President, Barack Obama, does anything corrupt or criminal, they will probe him, and if he's found to be culpable, they will impeach him. The other day, I was watching CNN and it was reported that US presidential candidates, Hillary Clinton and Donald Trump had raised campaign funds amounting to $90m and $80m respectively, in a particular month. Now tell me, do we in Nigeria know how much the various political parties in this country raised and spent for their campaigns? Do we have such laws in place to regulate the amounts of money that parties and candidates can raise for campaigns? Are people not amassing vast amounts right now for the elections of 2019? If a new set of people come to power in 2019, and say they are probing the people before them – from 2015 to 2019 – what do you have? A vicious cycle. We must also restructure the country, no question about that. Because the present structure of Nigeria (where the Federal Government is rich, while everyone else is poor) aids, abets, nourishes and waters corruption.
It is institutions, rather than individuals or politicians that will fight corruption. My greatest concern about corruption is that it must never be allowed to creep into the legal profession. That will be the ultimate disaster, the last bus-stop. My take is that a Judge can make mistakes because he is a human. But let us go further, if a Judge makes a mistake that is patently abnormal, illogical, against every grain of law, against every logic, against every antecedent or precedent, then don't just say that you will set aside his judgment. That kind of Judge must be questioned or put on the watch list because nothing is as bad as the perversion of justice. As lawyers, we have to be very careful not to become the conduit pipes through which judges are corrupted and we also must not be saying that whatever people in power are doing is always right – as some of my colleagues are in the habit of saying, which worries and disappoints me. In the fight against corruption, we must fight it in accordance with the law. Due process must be followed. We must not adjudge anybody guilty until proven to be so. As a person, I will not join the band wagon of calling people 'looters'. How and why did you even allow them to loot? How did you make the treasury so accessible for them to loot? So, as a lawyer, I don't believe in trial by media – whether print or electronic. This name-calling all started during the time of President Obasanjo. Obasanjo would address the nation and condemn people, but now he's out of office and susceptible to those very same machinations. In one or two places they are pointing accusing fingers at him. Now would you say he is guilty on the basis of that? If Mr. President, who is not a lawyer, could defend his Ministers and say that accusations being made against them are false, then lawyers, as professionals, also have a right to defend their clients. Or are you not aware that Mr. President defended his ministers – even while at the same time accusing lawyers for defending their clients, until they are proven guilty. Please don't get me wrong. Mr. President has a right to defend his Ministers and appointees. In that same vein, lawyers have a right, qua, a duty, to defend the interests of their clients. If we have strong institutions, corruption would be minimized. These sort of crimes could be pre-empted, prevented and nipped in the bud, at the planning stage. – such acts could be foiled early, with the planners and conspirators of same arrested for attempting such a thing. I am worried about the way things are going in Nigeria. Mr. President, the Governors and those in power must be connected to reality, with actuality.
On the just concluded NBA electronic voting system, how fair is the system at this point when every aspect of our daily activities all over the world is going through the internet? Do you think it is a better option and has NBA done well in the last conduct?
My take before, during and after the NBA election is that, the NBA being a professional association, must follow due process. I started attending NBA Conferences in 1978. By that time, the contenders for the NBA Presidency were J.B. Majiyagbe and B. O. Benson. At the end of the day, J. B. Majiyagbe stepped down for Benson to become the President. I was involved in Aka Bashorun's struggles and election. I was among those whom God used to revive the NBA. My philosophy and my position are whoever would become NBA President must be installed through due process. I advised our former President, that whoever is going to be elected as our President must not be rubbished or accused of manipulation. Because by the time we start doing that, the enemies of NBA's progress would be happy. The NBA is uniquely placed to correct the ills of the society, but if the NBA is troubling itself, then we have a problem. As for electronic voting, if a lawyer has paid his practicing fees and has paid his branch dues, you must automatically allow him to vote. Then there must be a degree of certainty as at the close of nomination and accreditation. We must have an idea of the number of people who are going to vote. How many lawyers have you accredited from each branch? Every lawyer and the contestants should know the total number of those who have been accredited for any election. We should be able to know how many people cast their votes in Lagos, Ikeja, Abuja, Port Harcourt and every other Branch. To my mind, the President of the NBA, after setting up the Electoral Committee, should not have anything to do with the conduct of the election. Again, the NBA at the national level has no right to dissolve any branch of the association or the executive of any branch. I've been there before. We must protect the association. I respect both the past and present Presidents of the NBA, and they know I respect them. I have a duty to the association to offer elderly advice from time to time. Now that the elections are gone and a winner has emerged, I want to plead, in the interest of the Association, as well as our collective interest as lawyers, that everyone should sheathe his sword and allow sleeping dogs to lie. As for Mr. President, he should appreciate the fact that he is now our leader, and should see himself as belonging to no faction. He has a duty to call upon those who are naturally dissatisfied with the outcome of the election, and extend an olive branch to them. For example, despite the fact that there was no dispute about my election as President of the NBA in 2002, I personally went out of my way to make rapprochement with my opponent, the late Chief Segun Onakoya, almost immediately after the election, and I got him nominated into the topmost executive of the African Bar Forum, within the IBA. Mr. President and NEC should ensure that all the anomalies and complaints made against the conduct and outcome of the last election are addressed, redressed and corrected, so that they do not crop up again in 2018.


A lot of young lawyers out there hold you in high esteem, as their role model. What advice do you have for them?
They must be painstaking, God-fearing, steadfast, hardworking, honest, and persevering. They must not double-deal, cut corners or engage in sharp practices. They must not do anything that is unethical because that is ultimately counter-productive. They must not be too much in a hurry. They must avoid taking two steps at a time. They must also be conscious of the fact that some senior lawyers who have become household names didn't rise in one day. Their Rome was not built in a day. They must avoid the proverbial hot pepper soup, because it will burn their tongue. They must be prayerful and respectful. They must be loyal to their respective bosses. There is a natural law; any lawyer, who passes through a Chambers and is now pulling down the Principal of the office, should watch his back. I worked in the Chambers of the late Alhaji Akanbi Oniyangi for three years. None of my juniors would say he had ever heard me say any negative word about him. His first son, Razaq, sees me as an Uncle. Up till today, I communicate with his wife and she calls me 'son', and I see her as a mother. But nowadays, even when you do so much for some junior lawyers, they still back-stab you. In this office when sending off any junior, we offer prayers, we buy them books and we even ask some to go with their official cars. We do it for the good and hardworking ones. Two or three of my juniors were with me when my Chambers was about three years old; Adebayo Adelodun, he's now a Senior Advocate of Nigeria. He respects me and I am very happy at his progress. There is also another person; Saka Isau, SAN, he was a onetime Attorney-General of Kwara State; and also the Secretary to the Government of Kwara State. He would always tell me that in Islam, your boss can never go wrong, and I see the way God has been promoting him. Look at someone like Roland Otaru, SAN, he was in my Chambers for about seven years. He is doing extremely well. Dayo Akinlaja's father handed him over to me when he was a student at the University of Benin. He trained under me and by the Grace of God, he became the Attorney-General of Ekiti State; today he's a Senior Advocate of Nigeria. And not just the men. Look at Titi Okanlawon, SAN, a lady who spent one year in my office. She would say that is my 'Oga, this is where I cut my legal teeth. They all passed through Wole Olanipekun & Co. and they respect me. When you respect your boss you're respecting God. Running down of one's senior or boss in the profession is a habit that I abhor and do not tolerate. I don't usually allow any junior to backstab his Principal in my presence
My appeal to young lawyers is that their time will come and that there is no way they will not climb to the top, if they cultivate the positive attributes I have earlier highlighted. I always pray a particular and peculiar prayer, that is, that the junior ones, as well as the budding elements in the profession, in particular, and society in general, should be greater than those of us who they see as their role models. So shall it be, because they just have to take over from us, just as it pleased God to allow us take over from our seniors. If they have all these positive attributes, there is no way they will not make it. There is no way they will not reach their own Canaan. The sky is big enough for a million birds to fly without clashing.
Thank you for your time, Sir.
Thank you, members of the Editorial Board of Newswire Magazine.
-Advertisement-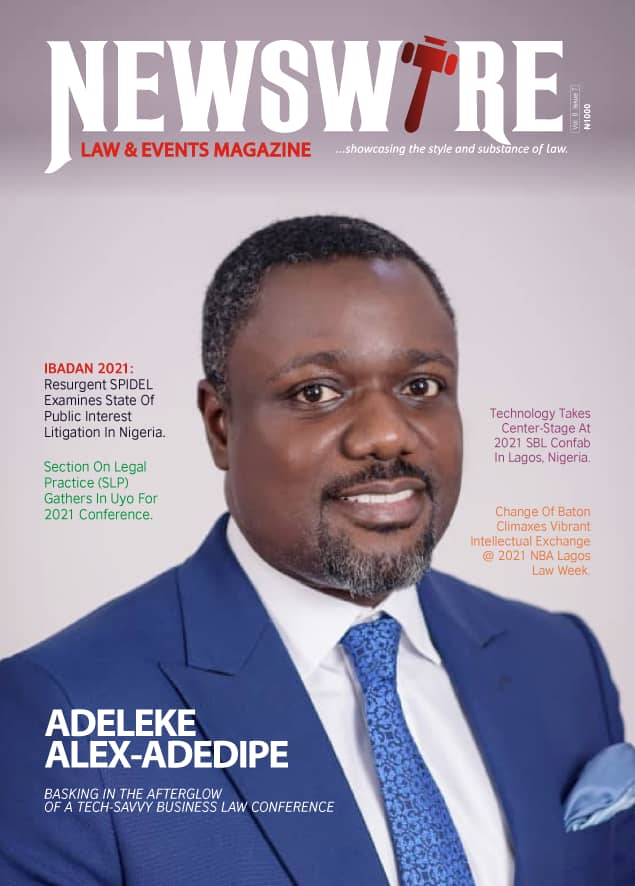 Newswire Law and Events Magazine is Out. It's a collector's item. Get one - or two,or more - for yourself and loved ones.
Do you want to be heard, your events covered, your articles published, or need to advertise your products and services on our

Blog

and

Magazine,

reach out to us at

Newswire Law and Events,

you will be glad you did. For more details about our services,

please call:

08039218044, 09070309355. Email: newswiremagazine@yahoo.co.uk