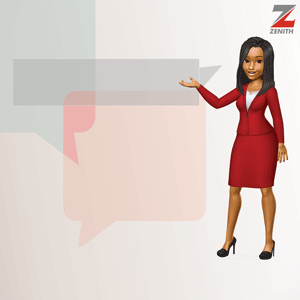 Trained in Nigeria and the United Kingdom, Mrs. Abimbola Izu is a seasoned technocrat with years of experience and proven expertise in the practice of law, in both private legal practice and the banking industry. With an illustrious career spanning stints in several leading law firms, as well as Bond Bank, where she served as its pioneer Company Secretary / Legal Adviser in 2002 and rose to become the head, legal and corporate services division of the bank, Bimbo (as she is fondly known by family, friends and well-wishers) has been the company secretary/legal adviser of Skye Bank since 2006. In her work of advising the bank on board and corporate governance issues, has made her impact felt on several landmark transactions, and in the process has helped establish Skye Bank as a household name and a foremost brand in the financial service industry, taking it from the margins to the mainstream of a vibrant and highly-competitive banking environment. An alumnus of the University of Ife, Ile-Ife, Nigeria and the University of Warwick in the UK, Bimbo has attended a number of prestigious local and international training programmes on various aspects of law and management. She is a Fellow of the Rockefeller Foundation's Leadership for Environment and Development.
She recently found time from her busy schedule to share her experiences and unique insights on law and banking with Newswire Law & Events Magazine. Excerpts:
-Advertisement-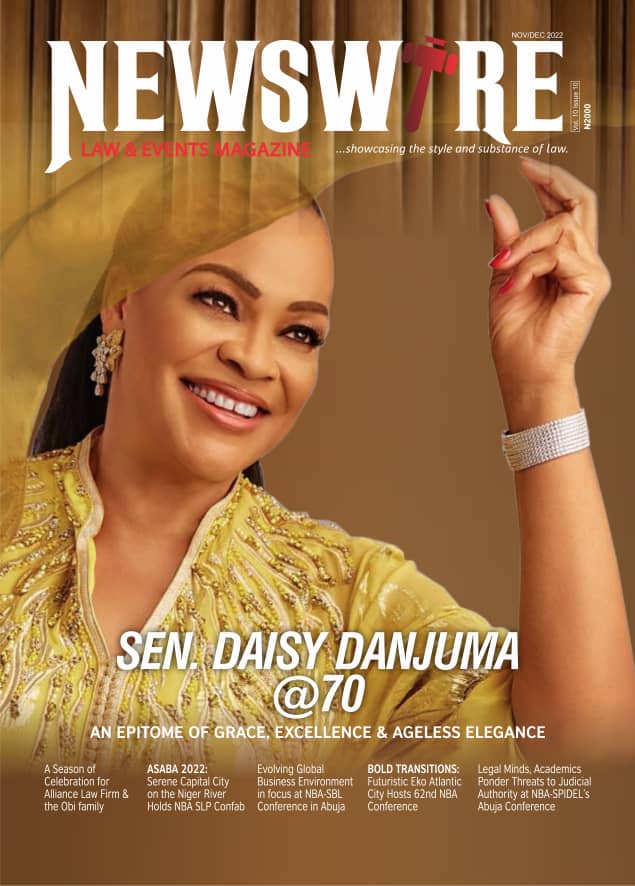 For more details about Newswire Law&Events Magazine, kindly reach out to us on 08039218044, 09070309355. Email: newswiremagazine@yahoo.co.uk. You will be glad you did
What was growing up like for you?
Growing up was a lot of fun. I grew up in a family of 4 kids. I was the only girl child in the family and was indulged and got away with a lot of things especially because of my father. He doted on me because I was the only girl. So, as I said, growing up was a lot of fun.
What about your educational background?
I attended Saint James Primary School, a Roman Catholic school in Ilorin, Kwara State, and Government High School, also in Ilorin. Both are public schools, by the way, but they were very good schools. Then I proceeded to the University of Ife (now Obafemi Awolowo University), Ile-Ife, where I studied law, graduated in 1986, and was called to the Nigerian Bar in 1987. I won a scholarship to study for my masters' degree at the University of Warwick in the United Kingdom in 1989. I later got a Paisios Scholarship admission to start my PhD. I studied for a few months, but then I realized that the topic and research I was supposed to do wasn't what I wanted, so I abandoned it and returned to Nigeria.
What are some of the achievements in your life that make you most proud?
I think that at different times in my life I have had opportunities to do different things that I wanted to do. When I was at the University of Ife, I was the president of the student union then. I was the first female student union president in Nigeria at the time – I still don't know if there has been any other one after me. I think I was about 17 or 18 years old at that time. It was a lot of fun for me because I was completely passionate about what I was doing. That was the time that every kind of opposition, and every dissenting voice in the country's political life was silenced, in the days of then head of state Gen. Muhammadu Buhari and the late Brig-Gen. Tunde Idiagbon. A lot of things were going on, and the country was chaotic. Inspite of this atmosphere of repression, almost all forms of activism were on ground. I remember the late Dr. Beko Ransom Kuti who was the president of the Nigerian Medical Association at the time, he was a renowned activist and a strong supporter of the National Association of Nigerian Students, NANS, which at the time was opposed to military rule. I was the student union president at the University of Ife then, and I had the chance to do many things. I went to Law School after that.
I was happy to have worked with Chief Afe Babalola and I was very passionate about advocacy. I love litigation; I got the kind of exposure that ordinarily people will not get even after10 to 15 years at the bar. I got that kind of exposure in just one to two years at the bar. I got the chance to do a lot of things that I wanted to do, which made me very happy indeed.
What inspired you to study law?
To be honest, I'm not quite sure I gave much thought to it. I think that I like talking. Well, you know, back then if you are not an engineer you are a doctor, if you are not a doctor you are a lawyer. And you see I never passed mathematics while in secondary school, so I guess the only available course for me to read was law. But, as I said, I never really thought about it seriously.
Has any of your children taken after you – as a lawyer?
Each person has his or her pathway in life. The fact that I am a lawyer does not mean that my children must be lawyers as well. My father isn't a lawyer and he didn't force or encourage me to be one. By the way, I tell people that when I leave this job, I may not know what I will do next, but I know what I won't do. One of the things that I will not do is to practice law. So, the pressure from any child to take after me as a lawyer is not there. Because a lot of time as lawyer you've invested so much, you've built a practice, you have built a law chambers, and a library, all the time looking for someone to take after you. I'm not leaving any legacy for any child in that respect. I tell my kids that whatever God wants them to be in life, we (their parents) will support it.
 Would you have preferred to marry a lawyer?
When my husband was wooing me before we got married, I couldn't imagine he was anything but a pastor of a church – because he was always in church. I didn't know he was a military man. So when I was getting married his profession didn't make any difference.
 What was your reaction when you realized he was a military man?
That is the interesting part of the whole thing because I happened to dislike the military at that time. I respect them a lot now, but not back then. I just didn't think that they were civilized. I won't say that now because my husband is in the military and I have since realized that he is very civilized, very cultured, and very professional.
 Can you remember those childhood friends of yours that you are still in contact with?
I have some of them around. One thing about me is that I've never really had the knack for keeping a lot of friends. But at any point in time you are likely to find me with one or two close friends, age long friends. I have Sunmibo Oyerinde (nee Agbaje) and Jite Olatunbode. But we are not as much in touch anymore as when we were young.
 Did you have any practice before becoming the legal adviser of Skye Bank Plc?
Between 1989 and 1990 I was in Diamond Bank. From 1991 till 2002, I worked in Chief Afe babalola & Co., worked for myself at some point, and then I worked with Olaniwun Ajayi & Co.
What made you leave practice to work in the banking sector?
I never really left practice, per se. I happen to be a lawyer practicing in the bank. The work that I do here is lawyer's work, too – although now, I have other things added to my portfolio, I have an e-directorate and several other things. But when I got into this bank I was a company secretary and legal adviser, which I still am. I still do the work that I was doing then. I refuse to see myself as a banker; rather, I see myself as a lawyer, because legal practice does not necessary have to be in a private legal firm. You could be practicing law in a private law firm or practicing in the ministry of justice, or a government parastatal, or in a corporate forum. I chose to practice law in a corporate forum, and I was influenced by the nature of practice that goes on here. Unlike any other bank, we at Skye bank Plc do most of our work by ourselves, for which reason we see ourselves as lawyers first, and bankers second. Apart from the few things we are not allowed to do, like going to court to present our cases ourselves, we do every other thing. If we choose not to do them, it would be because it is not expedient for us to do them, or because we lack the competence or inclination to do them. For instance, in transaction, we handle most (at least 85%) of our structured transactions in-house. And I'm talking about very complex transactions here; technical transactions, high value transactions; transactions between one hundred million and two hundred and fifty million dollars; transactions in upstream and downstream oil and gas, as well as telecommunications, corporate and project finance, power, etc. We've done all these in-house, by ourselves, and we will continue to do them. We've built ourselves up, we've built our technical capacity and trained ourselves, because we don't see how we are any inferior to the guys out there. I have worked in law firms myself before, and I did the work then, so why should I become disentitled to do it now? As a matter of fact, by reason of my experience in both private law practice and banking, I've had the best of both worlds – in terms of direct everyday interface with the commercial world, and also the legal skill and understanding gained and deployed. We attend the same training courses in terms of ongoing online training and the rest. I did not leave my brains back in the courtroom when I left, I took it with me. So I didn't leave practice. I'm still very active.
 Are you saying Skye Bank does not require the services of external lawyers?
What I mean is that we handle most of our transactions (cases, if you like) ourselves. We have a lot of external lawyers for our litigation portfolio because we have to make use of them, unlike in other places. You'll think twice before suing us, because we do our own internal opinion first, we review and derive opinion internally so that when the external lawyer comes to give us his advice we can engage with him on the correct position of the law, because sometimes they can push you in a direction in which you don't want to go. But when I do an assessment of my own position, I review the law, I review the facts, and I'm able to tell myself the truth and ask myself, 'Look, what are my chances, should I go this down route or should I settle?' Or, 'What case management strategy is the lawyer going to employ for me? Am not going to leave my case in somebody's hands and let him do anything he likes?' Because it does happen. The lawyer's got to tell me what he's going to do. And I can only engage with what the lawyers want to do when I have done my own review and have my own opinion. I review processes to be filed. I don't get to look at all of the cases, of course, apart from the important cases I review personally. And many times we sit with lawyers at conferences to argue until we agree a position. In fact, we even argue on cost of actions, we argue on defense, we review strategies etc; we do all of that together before we agree on the way to go. This is what to file, this is the position, and this is supported. In many instances when the external lawyers do not even have the critical authorities that we have, we bring it to their attention. We don't operate a postman kind of legal department. Here, we actively engage in the nitty-gritty of the law.
 As Skye Bank Plc. company secretary and legal adviser, how can corporate financial institutions protect themselves from fraud and money laundering?
Money laundering is a global challenge, and if there is any institution in the world that says that it can protect itself from it 100%, that institution would be lying. I deliver papers every year at Cambridge International Symposium on Economic Crimes; it is held at Jesus College, University of Cambridge in September of every year. It is attended by people from about 90 to 100 countries from all over the world; from Nigeria, we have high court judges, court of appeal judges, Supreme Court judges and government ministers. We have FBI and CIA agents, prime ministers, premiers, research agents, economic experts, captains of industry, etc. One common theme at this forum is money laundering and economic crimes because it's a global challenge. The whole world is grappling with it, but economic criminals are always a step ahead of everyone else.
So what can any financial institution do? There are several regulations and laws on money laundering and the financing of terrorism. If we observe them as rigorously as we can, it can be reduced. But truthfully it can only reduce, it can not be prevented. Because like I said, these guys are several miles ahead of everybody, and that's the truth. By the time you catch up with them, they've gone. An entire international financial system is wild, and it is so difficult. Every institution must invest in training for its staff, appropriate training on the measures on how to combat money laundering, how to identify perpetrators, and also monitoring to ensure that the regulations are observed, the measures in place are diligently pursued and so on. You do that from time to time to ensure strict compliance. Even with the 100% compliance, I don't think that they can be prevented, because the rules that we have today that you're reacting to, are for the money laundering tactics or strategies of yesterday. As at today those guys have gone on to craft the one for tomorrow. So, it's a major challenge.
 What change with corporate finance do you foresee ahead for Skye Bank Plc.?
For a lot of financial institutions we know capital is very key. There is a different level of capital that is required for business. I think Skye Bank Plc. is one of the three institutions whose additional input of capital is desirable in the coming year. I think that it's quite possible that Skye Bank Plc. will be looking to be active in that space in a couple of months.
What is the commercial advantage of the legal profession in a commercial environment like the Skye Bank?
I wish the law would work all the time; the world would be such a nice place. Ordinarily if you have a system that works, the lawyers or the input of a legal adviser into commercial arrangement you can not gainsay it. I mean, in developed economies, someone once told me or maybe I read it that; Americans believe in lawyers more than they believe in God. Anything they want to do, a lawyer is available to them, just to guide them and see that they are on the right side of the law; to ensure that they don't step out of line , and to also ensure that their commercial objectives are being met. Ordinarily, a lawyer should be present from the beginning of every single transaction when it's still being conceived in the minds of business people. Not when they have finished the deal and are shaking hands across the round table. By then it is too late to call in a lawyer to come and document. They may have committed to things that are just unworkable or that are not in the commercial interest of one party, or lawful or illegal, it could be anything. But if a lawyer is involved right from the conceptualization stage, then guide you from the very beginning of the process, restructure your deal, the nature of the transaction, even your counter party, the risk that you should be assuming, the kind of litigant you should have for those risks, and how to operate the deal in a clear spirit and letter of the law and get the best. Those are the values that a lawyer can bring into a commercial transaction.
 You just compared Nigerian system to that of the western world in terms of legal commercial value in any transaction. How do we salvage the situation in all our economic and business sectors?
Several years ago, someone asked me to write a piece on corporate governance. I started by saying that corporate governance is not legislated. For it to be effective it has to proceed from the heart. Corporate governance is what is being done in a lot of places around the world. You can tick all the boxes, everything would be right, but the institution would still collapse, because it's the heart that matters. When the heart is not right, it will circumvent everything no matter what structures are put in there. They can put all the rules, they can put all the laws, believe me Nigeria's problem is beyond the laws and all the rules that we have. For instance, the financial services industry is one of the most regulated industries in the world. And also in Nigeria, it is the most regulated. But do we still have challenges there, yes we do. It's not for the sake of regulation or lack of regulation. It is the heart. If we don't get our heart fixed, no amount of legislation or policy will solve it.
 How do you think the legal department under your supervision can avoid liabilities in the course of their duties?
Permit me to say this again. In one of the papers I delivered at a forum, I told them that, for me, I have developed a very simple grid which I called 'Priority Grid', it's in my head. I look at myself and say 'that this job, who are the people that am responsible to?' First on my priority grid is my God; next is the institution. I have the shareholders; I have the depositors, the regulators, and finally my board of directors. By the time you look and find out that 'if you're true to yourself', the interest of God and that of the institution is likely to be the same. So what would you do that can jeopardize the survival of that institution? It's quite likely that that thing is not likely to be very pleasant if you're true to your God. It's not likely. But it may please the shareholders. For instance, a shareholder might want me to declare so much in terms of dividends, but it might hurt the survival of the institution. Or the depositors might want me to give them interest rate that is way-off; it might also hurt the interest or survival of the institution. The same way, if I go and steal money by doing something that would compromise my organization and standing with God, it would be against my God, and is also likely to be against the interest of the institution in the long run. For me, that grid is my priority grid, and it helps me to resolve a lot of conflicts and to also stay out of trouble. That's what I tell the people that work with me, that look, people that am responsible to, none of them is here in person. A shareholder is a stakeholder in an institution, a regulator is a stakeholder, the depositor is a stakeholder, analysts are stakeholders, the media/journalists are stakeholders, and staff in fact is made up of stakeholders. So we're always balancing the interests of all these stakeholders and ensuring that we come to a point where the interest of all of us in the institution is sustained over time. It makes it very easy for me to know what to do. Knowing the right thing to do is never a problem in any situation; you will always know it, unless your conscience is already seared. The challenge is always having the courage to do it. And believe me, each man stands on his own in this regard.
Most GMD's and CEO's of banks in Nigeria today are lawyers; would you say they're good managers of money and economy than the trained economists'?
Being a lawyer gives you a broad platform to develop an outlook that sees many things if you apply yourself. I don't think being a lawyer in itself is what has made its practitioners better; I think its probably hardwork and what platform they've built on. Honestly am not in a better position to say whether they are better or not because I have never worked with any.
 Any role in politics for you, probably after you retire from the bank?
I don't think so. I know very definitely that I would not go into elective politics. Political appointment? Yes, maybe. But I will not contest or run for elective position.
 Why do you think female lawyers are not into politics like their male counterparts?
I told you earlier that I was the first female student union president in Nigeria, and I don't know how many others we've had since then. So in terms of my pedigree you would say that this is my natural calling. Guys like Femi Falana, SAN were my friends back then. You see I don't blame any woman in Nigeria that does not go into politics; because I don't think what we are practicing in Nigeria is really politics. That is certainly not my idea of what politics should be. It's disheartening because year-in-year-out you see these things degenerate further. If you thought the quality of political practice five years ago was poor, you only need to look at what it is now and say 'God, how much worse can it get?' Some people just feel that they're not cut out for politics, because, deep down, you know yourself. One thing I know that I will never be able to handle is hypocrisy, falsehood, lies. And that is the name of the game of politics. Politics in Nigeria has almost become derogatory. There are women who feel they want to give a good name to their children. One of my boys came in one day and said one of his friends (mentioned the boy's name) did something particularly offensive. And I asked what the parents did for a living; he said he did not know the friend's dad but that the mother is a politician. I didn't know politics had become so synonymous with filth in Nigeria until that day. I certainly don't think it's about money (because the people that play politics in Nigeria are not the ones spending the money). It's the benefactors and the godfathers who bankroll electoral campaigns that get the chunk of the money. A lot of women still harbor feelings of shame when they ask themselves "How could I have debased myself because I want political office? How could I be lying and cheating, all in the name of politics? Am not saying that all the women are liars and are cheats, and that there are no women that are honest. But the general tone of our politics is nothing to write home about.
 Tell us about your professional membership?
I'm a financial member of the Nigerian Bar Association (NBA) Lagos Branch. I pay my practicing fee every year, and I make sure my staff also pay theirs. I was quite active in the Section on Business Law during George Etomi's tenure, though I have been busy lately.
 How is a typical day like for you?
Some days I wake up very early, say 5 or 5.30am because I love to do some work before I go to the office. Naturally my day starts at 5am, I get to the office around 8am – 8.10am every morning. At the office I spend a lot of time at meetings, from meeting to meeting and, before you know it, the day is gone.
 Tell us about that memorable social gathering you will always remember?
My most memorable social gathering is really always with my family and that's the truth. Because I spend a lot of time away from my family, and am always at work and all that, I look forward for a time-out with them. Thankfully, my husband loves being at home with his family; he's not just the going-out kind of person. So every restaurant and hotel in town we must go and see and discover and have fun. It's always something I look forward to.
 What is that incident that cannot be forgotten even as you grow older?
I would say that was 17 to 18 years ago. I was in a church called Freedom Hall and it had a huge impact in my life at the time. It wasn't a regular church though, but I believe the church reshaped my life and outlook. It was a phenomenon; I saw life, people transformed from the ordinary and becoming more conscious of who they were; what their purpose is in life. That was very memorable for me. It was a platform on which my future, including my present position, in terms of my relationship with God and my family and where I am today, was redefined. I think its one experience that can not be forgotten.
 What change are you eagerly expecting in the NBA under the leadership of Augustine Alegeh, SAN?
I have not participated too closely with the affairs of the NBA in the last couple of years. But from my level of interaction, I think the NBA is too embroidered in the political affairs of the country. And you'll really want the NBA to stand its ground and not be swayed by political sympathies, but to stand in the interest of the legal institution. To my mind, the legal profession is becoming an endangered profession by reason of the impunity that we have allowed to go on in our legal and political processes. It is becoming endangered because soon enough people would start to ask, "What do you need a lawyer for? You better go get a tout or thugs and you will get a better result". I think it's in our own interest to really get ourselves back on track.
 What do you look forward to accomplishing in the next five years?
With God I want to accomplish the purpose of my life.
How do you perceive the Nigerian banking industry and what are the opportunities that lawyers aren't tapping into?
I receive a lot of lawyers everyday, and I have meetings with them. There is something that I say to them, and it's the truth. "The key is moving, and we seem not to realize it, because for most of us (lawyers) we are still doing business as usual." 98-99% of lawyers that come in here, they are coming to do the same thing. If you asked them, 'what can you do?' their response would be 'Anything you have', I do briefs, I do property, I can file this and file that'. That's not what we need. That was why I was interested in you when I saw your magazine and I felt very excited to meet with you, because there aren't too many lawyers who are in the business that you are into. I say to them, I don't have 100 and something lawyers on my list, I don't have enough work to keep them busy. Not because the bank is not busy, we are, but because I have realized that in the last two or three years, the nature of the support, the services required have changed very significantly, and you can find lawyers there. I tell them that when we started experiencing softness in the market; i.e. in the real estate market, banks would say collateral, they take properties and you perfect the rest. When the customers default, you don't even have people in the market to buy up the properties, even with the fact that you have what it takes. Sometimes the property would be in the market for months, even years, and you haven't still found a buyer. The bank is not interested in property; the bank is interested in cash. The other point of course is that of perfection. We asked ourselves why we should put all our energy as lawyers on the security and all the rest. Why not also figure out how to prevent default? Then we started by setting up a process for project management. You come to us for a facility, we appoint a post-project manager who will project-manage every stage of the transaction, so that the risk of non-performance or poor performance is reduced. And if that risk is reduced then the risk of your failing to repay the facility is also significantly reduced. A lot of customers would rather pay for appointed manager that would project-manage whatever it is that you are financing for them, and they will pay for that. And then you will find out that your need for lawyer is reduced significantly. So I tell my colleagues when they come to see me that what I need now are people who can help make sure that projects do not fail. I don't even want to get to the point of coming to realize security. That's my need. Each time I finished having discussions with learned colleagues they will tell me, they didn't see it that way or they didn't see it coming. That is why in a year, even if you're on our list, we don't ask you to do anything because your jobs or your briefs are going to other professionals that can also deliver and that will help me to prevent defaults. You are not helping me to prevent default; you are helping me to cushion defaults when they happen. But I would rather prefer someone that will help prevent them. As lawyers operating in a dynamic corporate environment, we've got to re-invent ourselves on a regular basis, we need to refresh ourselves. The dynamics are changing everyday, the landscape is changing everyday, but we lawyers have remained in our traditional set mode, we are not innovating changes and the world is really changing. So, it's really up to us.
 Lawyers who are governors are ruling their states very well. Do you see a lawyer becoming the president of Nigeria anytime soon?
It's possible.
 Why do you say that?
You'd be surprised at the number of people that are lawyers these days. You find Army Generals who after they've retired and finished with one career, go to study law. Bankers and civil servants too, when they have finished with their career, decide to go and study law, even entertainers. It's like a retirement course for them all and everybody's eye is on politics nowadays.
 What is your advice for the junior lawyers who look up to you?
Pay your dues. Learn the rules. Don't be in a hurry. Be tutored. When I was still very fresh at the bar, when we were at the law school, they tell us that even at zero salary, young lawyers should attach themselves to well-respected practitioners and learn. Don't be in a hurry because the money will come down the road. Success is not money. In any event, it's easy for us to define and redefine what success is to us. So I repeat, learn the rules and don't be in a hurry.
 We really want to appreciate your precious time with us!
You are very much welcome.
Do you want to be heard, your events covered, your articles published, or need to advertise your products and services on our

Blog

and

Magazine,

reach out to us at

Newswire Law and Events,

you will be glad you did. For more details about our services,

please call:

08039218044, 09070309355. Email: newswiremagazine@yahoo.co.uk