Advert
ABIMBOLA IBIRONKE AKEREDOLU, SAN
Lawyer, Linguist & Administrator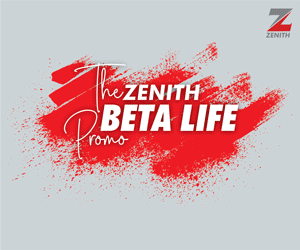 She is a believer in the evocative power of language in the service of the Law, which is no surprise to those who know her well. A graduate of French from the University of Lagos, MRS. ABIMBOLA AKEREDOLU, SAN is also fluent in Italian and German.  Called to the Bar after her graduation in Law, also from the University of Lagos and the Nigerian Law School, she garnered valuable professional experience at reputable law firms in Ilorin and in Lagos before joining her present firm, Banwo & Ighodalo in 2007. Over the years, she has demonstrated her expertise in key practice areas such as commercial litigation, negotiations of settlements, and arbitration. A former Attorney-General and Commissioner for Justice in Ogun State (the first female to be appointed to that office), Akeredolu is an active member of the Nigerian Bar Association (NBA), and the Chartered Institute of Arbitrators UK, (Nigeria branch) among others.
In this lively exchange with NEWSWIRE Law & Events Magazine, Mrs. Abimbola Akeredolu, a cosmopolitan lawyer with a difference, shares her thoughts on a plethora of issues: the practice of Law and the demands it imposes on practitioners; the relationship between the Bar and the Bench in their joint quest to build a polity based on the rule of law; and the challenge (especially among women) of balancing work and family life, amongst others.
Excerpts:
Tell us about yourself; your background, the school you attended and everything about your childhood. >>> I attended Corona Day Nursery Ikoyi, Corona Primary School in Ikoyi, and for my Secondary education I attended Holy Child College for three years, then I went up to school in England when I was in form 3 to Halidon House School, Slough in Buckinghamshire, England. I went to the University of Lagos, where I first studied French. As part of that programme, I spent one year at the Universite des Langueset Lettres in Grenoble, France to study French and that was for my first degree. I also got a scholarship to study Italian at the Universita Per Stranieri in Perugia, Italy. The Italian government was giving scholarships to the best students in Italian that year, and I was one of them. So I went up to study at the University for Foreigners in Italy.
I came back, graduated in French, then did my Youth Corps service before going back to Unilag to study Law. And for my growing up, I lost my mother when I was 7months old. My father literarily brought me up single-handedly. He married again when I was about 8years old. I guess life pretty much changed from that time. It was a rough journey but we thank God. Here I am today. I have other older and younger siblings but I was the only child of my mother.
What lesson did you learn from that experience? >>> It's not easy to bring up someone else's child, it is a tough job either way for both the stepmother and the child as well.
Who were your peers growing up? >>> I grew up with some family friends; the Jose family, children of the late Alhaji Ibrahim Babatunde Jose, who was my father's best friend; my friends from Corona School and my classmates from Holy Child College. My room mates and class mates in Unilag. I am still in contact with many of them. Nowadays, social media has made things easier for us. I belong to different chat groups, we have the Holy Child Whatsapp/chat group for my class and once in a while I go to Old Girls Meetings and we catch up. We have a very great support group.
What does it take to succeed as a lawyer? >>> There's no other formula to success than hard work as a basis. If you have passion and commitment there is no way you will not succeed. Hard work, Passion and commitment – those are the key to success in whatever it is you have chosen to do, however menial it may be, even if it is a street sweeper. Traffic wardens who do their jobs with commitment and passion really inspire me. Even when they don't ask me for money I go out of my way to encourage them. No matter what you are doing, if you're doing it seriously and passionately, you never know who is watching. Recently something circulated on social media about Vice President Yemi Osinbajo, SAN (who happened to be my lecturer while in UNILAG); he narrates about some typists in the Law Faculty in the University of Lagos, that the head typist and the Assistant head typist would disappear by 4pm and you would never find them. However, the youngest typist who was not even a graduate would be there and most times would work till late in the night, and the VP said he would drop him off at his house sometimes at 1am. And it went on like that till Prince Bola Ajibola whom the VP had served as Special Adviser, was at The Hague (as a judge at the International Court of Justice, ICJ) and called the Vice President to say he was looking for a hard-working typist. And that was just the requirement, "hard- working". And the VP said he thought about it but that the fellow that he knew was very hard-working but not a university graduate. So he had no hesitation in recommending him. The man went to The Hague, worked like a jackass, as he was used to doing. He has since become a graduate, taken his family to The Hague, and it is reported that he even sent the Vice President a car, obviously out of gratitude. The Bible says, "Seest thou a man who is diligent in his work, he shall stand before kings; He shall not stand before mean men." [Proverbs 22:29]." That Bible quote was written thousands of years ago, but it's still applicable and relevant today. So there is no other formula but hard work, and if you add passion and commitment, better for you.
But if every time all you are looking for is money, money, money then you will miss it. I like to say this all the time. When a certain country started building cars, they were interested in profit and only profit. Another country started building cars and they wanted to make the best cars. I tell you that today, the ones who wanted to build the best cars are making more money in addition to building very good cars. I think our society has degenerated to just money-money. The new age musicians are not even helping matters, either, because their music is all about "I want to hammer" What is 'hammer'? There is no proper way up other than hard work. Biologically, you don't even grow up in a day. When you were born your neck would not even stand. Your mother would hold your neck up for about 3 months. Then you learn how to sit before you crawl, you crawl before you walk, and walk before you run. Now, if life itself is structured that way, would success be structured any differently? It's unfortunate that our society has degenerated to this level.
How has the study of French and Italian impacted on your work as a lawyer?>>> Let me say that studying French for my first degree was not by design. I didn't have enough A Level points; my A Level points were not good enough to qualify me to study Law. I looked at it and said, well, fine. Language is a gift that God has given me; my ability to pick up languages is amazing. So, I decided to study French. I could have changed in-between but I felt I have started it, I will finish it. Second year, we were going to be in France for one year, that was interesting. So, I thought let me start with French and finish it first.
I find that language has helped me as a lawyer, because, you see, language is the basic tool of a lawyer. If you cannot express yourself, how can you then convince a judge or a client, or the other side (of a negotiation) to come your way? You have to be a master of the language. So, to that extent, studying French for me has not been a waste of time and it was not a mistake. And of course, while studying French you must also do English. French was my major, English was my minor. And I also had an elective in Italian.
I think it would be nice if we get to a level like that of the United States where you have to do a first degree before studying Law. Because then you come to the workplace relatively more mature than others. That's really an edge, especially to cope with the intricacies and politics of the work place and the rigors of the job.
What does a lawyer need to know before opening a law firm? >>> Get experience. Identify and work with good lawyers. Imbibe their work culture and professional diligence. At first I wanted to start my own law firm long before I joined this partnership. But then I asked myself, 'Can I handle any case at all that comes from start to finish?' I couldn't answer that question in the affirmative 100%. At that time, I was much younger, so I joined Aluko & Oyebode, and I was there for 5 years. After that I was ready to start my own firm. But at that time, the word on the street, especially among those who came back from the IBA (International Bar Association) conference that year, was 'Partnership, Partnership!' Everybody was saying that partnerships were the way forward. So I sat down with my husband – who is a doctor and had his own hospital – and we decided that the two of us cannot both be running our own solo practice at the same time; it would take a toll on our family. We prayed about it, and when this partnership offer came, my husband said, 'If I were you, I'd take it.' So, here I am.
In your opinion, should a young lawyer have a mentor? >>> I think the only mentor I have is Jesus Christ. I like to be practical. In my experience, a mentor helps you to look at a particular issue and guides in the right direction – in that case, you'd have different mentors for different things at different stages of your life. We're seeing a lot of mental health issues in Nigeria now, chiefly because people don't have someone to talk to. So, if mentorship is about somebody whom you can talk to, it's a wonderful thing. Even in marriage – as sweet as it can be sometimes – you need a mentor. I have co-ordinated the Marriage counseling committee in my church for 14 years now; we counsel people who're about to get married. And we find that years after getting married, they come back and say, 'Wow, thank you for those classes. The things you taught us would've been strange to us otherwise.' So mentorship is crucial, especially in these very trying times. But you need somebody (as a mentor) who is not emotionally involved, somebody that can speak to the facts as they are, somebody who can be objective and hard, if necessary. Not your mother or your mother-in-law; they would be too emotionally involved.
In practice, if you have a difficult case and you don't know what to do, you also need someone you can trust (not someone who'd go and snatch your brief, for example!). The person must be available for you, and must be a good-hearted person.
Early challenges and how they were surmounted? >>> One challenge that I remember easily was when my children were growing up. I thought I didn't have enough time for them. And the Bible says, 'Bring up a child the way he should go, and when he grows up, he will not depart from it.' But there was this constructive tension; my work was fighting for my time, my family was fighting for my time. My boss needed more of my time. I was in a very good law firm at this time, and I had no reason to leave. I had my boss' favour, I was learning, I had opportunities, exposure, everything. But my children were very young and were growing up without me, my husband said we were not talking. I decided to resign. It was a hard decision to take. I stayed at home for about a month, and I'm sure I cried every day. I was at home when I got another job offer, but I told them straightaway, 'I'm not going to work late.' And they said, 'Fine, you close at 5pm.'In fact, because of my desire to have more time for my children, people used to call me 'Akeredolu, JSC (Justice of the Supreme Court)' and they'd say, 'Go and be a judge, so you'd have time for your children.' But my husband and I agreed that I didn't have the temperament to be a judge. My husband said, 'I know you want to do this because of our children, but these children will grow up and leave the nest one day. And then, as a judge, you'll see a SAN and you'd then say, Ah, if only I'd stayed on as a lawyer!'And I'm sure I would have hated being a judge. It's a beautiful job, but I'm simply not cut out for it.
Another challenge is when cases don't go your way, your client is in a hard place, or the system is not allowing you to get results. That's a challenge that continues. But if you're doing what you enjoy, you'll eventually overcome the challenges.
Where did you cut your teeth as a young lawyer? >>> I cut my teeth at the law office of Adegboyega Awomolo, SAN, in Ilorin (Kwara State). That was my first job as a practitioner. I was employed in that firm by Yusuf Alli (now SAN). I returned to Lagos thereafter, but then I took 2 years off to attend to my second child, who was about a year old. At this time, I ran a tailoring and a baking business, because I'm a restless soul; I can't just sit and do nothing. I wanted to get my hands busy, so I wouldn't be a nuisance to myself and to people around me. After that I went back to legal work, and I worked for Mrs. Funke Adekoya (now SAN). I worked with her for a couple of years, and then I went on to join Olaniwun Ajayi LLP. I worked with Dr. Konyinsola Ajayi (now SAN). From there, I had a very brief period with Austin-Peters & Co., from where I went to Aluko & Oyebode, and I was there for 5 years. It was from there that I came to Banwo & Ighodalo. In-between my time at Banwo & Ighodalo, I set up my own law firm (the law office of Abimbola Akeredolu) when I left office as Attorney-General of Ogun State.
On the allegation that senior lawyers are impeding the fight against corruption, Is Pres. Buhari's complaint against the Nigerian judiciary justified >>> I do not believe that the allegation that senior lawyers are impeding the fight against corruption and the complaint against the Nigerian judiciary is justified. Can it be right to paint everybody with the same brush? It is not right to lump everybody together in such a broad generalization. I believe the difficulty being encountered in the fight against corruption is multi-faceted – a number of the players are to blame including the EFCC (the Economic & Financial Crimes Commission). The erstwhile EFCC boss likes to say that lawyers help delay corruption cases, but I've done cases against the EFCC and my experience is that they usually start by brandishing their arrests and cases on the pages of newspapers rather than do a thorough investigation so as to get  cast-iron evidence, they take the easy path i.e. via newspaper trials. At the end of the day, their cases get thrown out, most of the time, on a 'no-case submission'. This means that the court cannot see any need to call on the defence to come and defend itself, given the weak submission of the prosecution. This is not to say that some judges do not, on their part, delay cases unduly, but to my mind, every player has a part to play if success in the fight against corruption is to be achieved. So we all need to commit to doing things properly and make the necessary structural adjustments. The question is, 'Who will bell the cat?' Those who are interested in doing things properly are either in the minority or do not have the requisite power or opportunity to change things.
The EFCC itself needs to clean up its act,. I would want to see their conviction rate since they were established because this will confirm to us if they are effective as an agency or just an ineffectual albatross around the neck of Nigeria. If their conviction rate is poor, then we need to find out what is responsible for this and chart a new course to make them more effective. You cannot do things the same old way and expect different results.
I don't think we have been totally fair to our judges. A judge will work based on the facts before him; he's not going to manufacture evidence on your behalf. A judge will decide based on the evidence you put before him, because judges are human beings, and they're called to do a job. So even the best and most incorruptible judge is not going to manufacture a case for you. And if the opposing lawyer does his job properly, they're going to take advantage of the weaknesses in the case that you put before the court. If I have a client that I want to get off the hook, I'll use every legitimate means in the book, every legitimate thing, that allows me to achieve my objective.
What can be done to stem the tide of undue delays? >>> There are different techniques for different players. I think one thing the judiciary can do is to award heavy and realistic costs against delaying counsel, so that a counsel and his party would know that they would be liable to incur substantial costs if they engage in seeking frivolous adjournments – say, between N200,000 and N250, 000, which, if you don't pay, you cannot come back and continue with your case. Everybody will sit up. A good model would be England – and this is not to say there are no delay there, or that the English system is perfect – but this is what obtains there. If our judiciary can be realistic on costs, and the measure is equal for everybody, we wouldn't have a situation where you ask a judge to award N100,000 costs and he awards N10,000 or N15,000, because that is totally inadequate. It's wrong, and some – not all – judges do it a lot. But there's a particular judge in the federal high court whose costs are pretty heavy, so when lawyers are going to her court, they sit up. You don't go there and ask for silly adjournments, because she would weigh you down with costs. And because she would be there at 9.00am, you'd do the same. I wish that would work across the board, people will sit up.
When the Lagos High Court Rules 2004 first came in to play, I was happy, because I thought, things would move faster now, and we would see real development in the legal world. The 2004 Rules were modelled after the Woolf Reforms in England. I held the view that if the judges made us comply with those rules, we wouldn't have all these lengthy cases. In addition, law firms would begin to merge, because a one-man practice will not be able to cope with the rigours of the rules. Lawyers of like minds will merge and be able to work more effectively and efficiently. But somewhere along the line, we totally lost it.
Once upon a time when I was younger in practice, I would on occasion do matters in 3 different courts in one day – I'd start in the federal high court in the morning; 12 noon here in Lagos, and by 2.00pm I'm in doing a case in Ikeja – because I try to avoid unnecessary adjournments. I'm not saying I've never asked for adjournments, but my attitude is that if the judge in any of these courts would take me at the designated time, I'm ready to go – especially if the lawyer on the other side is dodging and doesn't want the case to continue. And that's the way it should be, if we're serious. A lot of us are not serious, and we drag down the system, and because there's complacency, the system accommodates it, and it's frustrating for some of us. When I practiced in Ilorin many years ago, if a case is for Monday, that weekend I'd sit down studying my file, studying the authorities. When I came to Lagos, my husband once said to me, 'The way you used to read when you were in Ilorin, I don't see you preparing as hard anymore.' I started out doing that, but the frustrations were so many. You go to court on a particular day and you're set to go, and its either the court would not sit, or the other lawyer would not show up for one reason or the other – and he wouldn't even have the decency to write a letter to that effect! He says he's sick, but no medical report! And the judge himself would say, 'But he says he's sick.' So? Didn't he know he was sick on Friday, so he could have written me a letter or called me ahead? We waste time in these parts, we waste resources, and it's so unfortunate.
What were the highlights of your tenure as the Attorney-General of Ogun State? >>> The truth is that I didn't achieve as much as I'd hoped to achieve. The state of the Ogun State Ministry of Justice was of concern to me. The library had not been upgraded in years. My predecessor had been working on upgrading the library, so I continued from there. The saying goes that charity begins at home, so I decided also that we needed to clean ourselves up as a ministry and take it forward. So we were able to update the library, renovate the Conference room for conducting trainings. I spoke earlier about language being a powerful tool for a lawyer, and that means books. You can see that from my own office here. A lawyer will not do well without books. So I got lawyers to give us books in return for favors that they wanted, even if they wanted to be publicly acknowledged for their gesture by writing, 'Donated by so-and-so.' In the books they gave us. We sent a number of bills to the Exco for onward transmission to the House of Assembly. We negotiated and reviewed a large number of commercial and construction contracts. And we did all our work in-house. The only kind of work that we gave out was the work that lawyers needed for their own purposes. So, the bulk of my work was more of an in-house cleanup, and to make sure that our court processes were up to speed. We conducted in-house trainings; we sent our lawyers for trainings, and also got outside lawyers to come and train us. I was there for just two and a half years, and those were the few things I was able to achieve.
So, what's your take on the issue of so-called 'untouchable judges.'? >>> I don't think there are any untouchable judges.
What can be done to salvage the judicial system in Nigeria, considering the rot and neglect that have gone on over the years until the advent of the Buhari administration? >>> We have what is called the Bar/Bench Forum. This forum is a place where, ideally, we should be able to tell each other some home truths. We should be able to say, this and that is happening; can we put a stop to it?  But as it is, the Bench has taken control of the Bar/Bench Forum. Judges themselves are human beings, having the weaknesses of human beings. But the way things are currently run, the Forum is now where the Bench simply tells us what they want to do, without carrying the Bar along. That's one thing that should be remedied.
On the matter of petitions, I remember reading something recently, where a former Chief Justice of Nigeria, said that most petitions against judges are badly drafted, and are clearly unsupported by evidence. My experience has been the same as the present Chairman of the Ethics and Disciplinary Committee of the Lagos Branch of the NBA. Most of the petitions against lawyers are not supported by affidavits, and some are badly drafted. We had to send these petitions back to their authors to please support them with affidavits. In one instance, our clerk even had to go 3 times before finding the place where a petition came from. In another instance, our secretary even had to drop one of the returned petitions at a shop. They phoned this 'lawyer' from the shop, and he replied he was going to pick up his letter on a particular day. So when you write a petition, and before you now say that your petition was not attended to, ask yourself, is this petition a petition properly so-called? Does this petition meet the requirements of the law?
I'm not making a case for the judiciary in this matter. Like I said, all the players have some guilt in this matter, we all have our problems. As the former Chief Justice said, out of every 100 petitions against judges that she came across, 90% were not compliant. Maybe the lawyer who is writing a petition is writing in anger. Question is, does a wise lawyer write out of anger? The saying goes that it is a foolish lawyer that has himself for a client. If you're angry about an issue, get somebody in your office to present your case, somebody who can perhaps present it less emotionally, so that your point is better made.
In addition, we all need training – the judges, too, need training. Judges, to my mind, need to be brought in touch with present realities. The idea of someone coming to court and asking for a frivolous adjournment, and the judge awards 10 or 15 Thousand Naira cost is laughable in present-day Nigeria. What is 15 Thousand Naira going to do? I was once a speaker at a dinner of the Lagos bar, and I am grateful that it appears the judges there took what I said in good faith. I said to them, if your court is not going to convene, we'd appreciate it if you tell us beforehand. Lagos is so congested and full of traffic; imagine someone who lives in Egbeda and has to be in court in Lagos for 9.00am. He gets to court at a quarter to nine, and is just calming down from the stressful Lagos traffic and then at 9.30 the Registrar comes and tells him the court is not going to convene afterall; this to a lawyer who left home at 5.00am! Whereas the day this lawyer gets to court at 9.15am, for a sitting that began at 9, his matter is struck out! Where lies the equity? Is that fair?
But, as I said, they took it in good faith, and I find that in this new legal year, the Lagos Judiciary sends messages that court would sit at 11.00am, or would not sit. God bless them. That's really good. Because, if you're likely to incur costs because you didn't show up at a court sitting, who will pay YOU costs when the court doesn't sit? The court shouldn't take advantage of its hallowed position. Justice is a two-way traffic. Many people came to me afterward and said, 'That was bold of you,' and I said, 'Look, this is the only job I do. Yes, I know how to bake cakes, but that's not what I earn my living from. I earn my living from this job, so it has to work. They (judges) also earn their living from this job, so it has to work for all of us.'
Also, the development of Nigeria is hinged on the judicial sector working well. As the third arm of government, it has to function, and if it does, there will be a multiplier, snowball effect. Other sectors will begin to work as well. The judiciary wields an enormous amount of power, which, if properly channeled, will galvanize the development of this great country. It is not by accident that the judiciary is described as the last bastion of hope for the common man.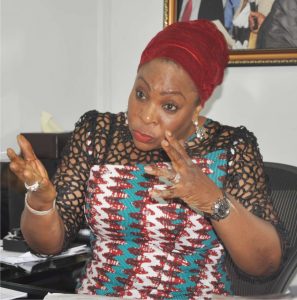 What's your assessment of the state of the legal profession in Nigeria, and the role of the NBA in advancing the rule of law in the country? >>> The state of the legal profession in Nigeria leaves a lot to be desired and that is unfortunate. Regarding the role of the NBA in advancing the rule of law in the country, the NBA in the days of the late Alao Aka-Bashorun were the glory days in that regard. In those days, the NBA was a force to be reckoned with in the advancement of the rule of law. When the NBA sneezed, the abusers of the rule of law caught cold. I doubt now that if the NBA roars, whether even the mice in the house will bat an eyelid. You asked for my assessment.
What can you say about the allegations of judges receiving bribes to pervert the cause of justice? >>> The allegations are unfortunate and unfortunately, these allegations have also been targeted at the senior lawyers and senior advocates because they are the ones who have more access. I'm a senior advocate myself, but truth must be told. I don't know how this bribing is done, but it is undoubtedly a question of access. A lawyer who has no access cannot do it. But I once knew a senior judge (now of blessed memory) who said the only friends he had were lawyers Of course, you can't tell a judge not to have lawyer friends. But even if you are friends with a judge, if you're operating with probity and the fear of God, you must know how not to cross the line. I think the problem lies in the fact that many of us don't know where to draw the line. The Bible says that both the giver and the receiver of a bribe are guilty. So we should share the blame between the lawyers who give and the judges who receive.
But another issue is this: Are the judges well-paid? It's really a chicken-and-egg situation. A judge who is not well-paid, whose father, mother, child or wife is sick, and needs money, will turn to his friends, classmates, etc. I'm not saying its right, but he is human. So that area needs some work. When I was considering whether to become a judge, it wasn't a source of concern for me, so I would've had no hesitation in telling anybody (who approached me in that way) to get out of my office. But it may not be that way for a breadwinner who has school fees to pay, a wife to maintain, and so forth. It's not right, as I said, but it's only human and human beings can be weak in the face of adversity. I'm just trying to identify the source of the problem (of judges taking bribes), because it is only when you do so that you can proffer realistic solutions.
How can the Executive and the Judiciary join hands in fighting the scourge of corruption in a country that has been internationally derided as 'fantastically corrupt?' >>> The truth is that our so-called political 'leaders' and 'godfathers' are the very embodiment of corruption. Corruption is enmeshed in our society and culture. Nowadays, you find somebody throwing a party, not because of what he's celebrating, but because of the 'envelope' he's expecting from the guests. Is that not corruption? We need a few committed leaders and judges to take control of things, committed to truth. That's the only solution. Another thing that can help fight corruption is this: we shouldn't be appointing judges on the basis of man-know-man. It's not about, 'This person is my son's wife, and she wants to be a judge.' How does 'wanting' to be something automatically qualify you for it? I think those who recommend would-be judges for appointment should ask themselves, 'If I have a serious court case, is this the judge I would want to handle such a serious case?' But you're asking him or her to be a judge for others. Would you want him to be a judge for you? Is this what justice is about?
Someone who once heard me make this argument, said to me, 'Why don't YOU come and be a judge?' But I knew straightaway that I don't have the temperament for it. It's a very lonely job; it is more than people bowing to you and saying 'my lord,' and so forth. It is when a judge retires to chambers that the real work starts. It is not a job for all comers; some people are called to it. I do not have the necessary temperament, so the bar is where I should be. I've seen wonderful and beautiful judges who would sit down calmly and listen for a long while, and ask just a few questions. They don't descend into the arena. So the issue is not about 'wanting' to be a judge; it's about character, it's about competence, it's about experience, and it's about temperament. This is why they say, 'As sober as a judge.' When incompetent people get to the office of a judge, and then they see the gravity and enormity of the work involved, they can't cope, so they bend the rules for them. They now compromise the system, justice becomes delayed. We're the architects of our own misfortune.
The 2017 NBA Conference focused on the theme of institution-building. What can be done to shift the focus of the Nigerian people, in their quest for good governance, from individuals (no matter how 'nice' or 'God-fearing' they may be) to institutions? >>> If not for the strength of America's institutions, Mr. Trump would probably have unilaterally changed many things in that country by now. He hasn't done so because he's being caged by existing strong institutions. That's where we need to get to right now. But can we get there? Too many things in Nigeria run on sentiments. A man commits an offence, and instead of applying the law, we say, 'Ha, how can you take this man to jail? How can you convict him? Don't you know he's the President's so-and-so?' Doesn't the fact that he's the President's so-and-so impose an obligation on him to be of good behavior? To whom much is given, much is expected. I read of Lee Kuan Yew (the Prime Minister who took Singapore from 3rd world status to where it is today) that when a very close friend of his did something wrong, he allowed the system to take its course and for justice to be done. Those are the things we need to do in Nigeria. But our people will say, 'What if it's your own son tomorrow?' But my children know me; if it has to be, it has to be. When they were in boarding school, the school authorities said some things were contraband. When we get to the school and they are opening their luggage, and my children are trying to hide something, I'd be the one to expose them; I hold up the banned item and call the attention of the authorities to it. We need to be firm on principles. But we're not, partly because of our religious and tribal sentiments. We need to walk the talk, not send the imam or priest to people to cajole people on our behalf when we contravene the rules. How can a man of God allow himself to be used in that manner? Sometimes you find a person of principle running for office, and people would say, 'Don't put him there, because he is unapproachable.' By which we mean he's committed to doing what is right. He's unapproachable because the godfather cannot talk to him. That has to change.
How did you meet your husband? >>> (Laughs) We met at a friend's place. She had just delivered twins. My friend's husband, like my husband, was a doctor, and my husband was treating the twins. That's where we met.
What endeared him to you? >>> My first instinct was that he was a nice guy to talk to. But I didn't want to marry a doctor, because we had a friend who was dating a doctor at the time, and every time she returned from visiting his place, she'd say, 'I didn't see him al weekend. He was on call.' All weekend? We thought he was probably dating another girl. So that kind of biased me against doctors. Especially gynaecologists (doctor of women, is what I called them). So I wouldn't say I was totally enamored of my husband at first sight. Moreover, my discussion with God about husbands did not include doctors. But then my husband asked me, 'How many doctors do you know?' Of course, the only doctor I knew closely was the one with our friend, who was always 'on call.' So he said, 'You know only one? Does it mean that all doctors are like that one?' His arguments were objective, his analysis was proper, and I couldn't fault with his arguments. So we became friends, and took off from there.
What are your hobbies? >>> I love to read. I loved playing tennis, but not anymore because of my knees. I swim, and I love cooking.
Would you want to influence your daughters to follow your career path, or do you prefer that they do their own thing? >>> I think they should do their own thing. My husband and I find that we are fulfilled in what we do, and there's no better thing in life than to be fulfilled, and we wanted that for them. When you're fulfilled, challenges will not look like challenges; you won't even feel like you're working; more as if you're having fun. We thought our first daughter was the one that would become a lawyer. But she thought people would then say, 'You're not as good as your mother!' so she eventually decided to go off and do her own thing. And she's doing well.
You're one the few female SANs in a male-dominated terrain. What's your advice to young female lawyers aspiring to the position you're in today? >>> Being a SAN means you've been in the litigation line of practice. You just have to stick with it. Do your cases with passion. Don't let money be your focus. That does not mean you shouldn't take your salary. But if you go after money, you'll be frustrated. There were times when I felt like giving up litigation because it was too hard. I tried to become a company secretary, but doors simply refused to open, and I knew it was God telling me that it wasn't His plan for me. If God doesn't want something for you, doors will not open. Don't allow adjournments and things like that to slow you down or discourage you. But litigation is not for everyone, not for the faint-hearted, especially if you don't have the temperament for it; you have to be a fighter by nature to be in litigation, because it's a hard life. And life can actually be easier.
How do you balance family life with a hectic work life such as yours? What's your advice to single young women trying to achieve that balance in future? >>> The formula is to marry your friend. If you do so, as a friend he'll support you. God bless my husband for whatever I am today. I don't know how I'd have done it without him. So if you want to succeed on all fronts, marry your friend, because if you don't, you'll be fighting a war at home, a war at work and in all directions. And you can't win and along the way, you will lose yourself.
How does a female professional aspiring to the peak negotiate the various obstacles placed on our path by our male-dominated society? >>> You work twice as hard. But you must prioritize, because there's is a price to be paid, and where I paid this price was in terms of my social life. I work Monday to Friday, I shop for food items on Saturdays. I do my cooking myself. So something had to give. You can't do everything, so tell me what you're going to give up. I gave up my social life.
What's your philosophy of life? What's the most important lesson life has taught you? >>> What is worth doing, is worth doing well. If you have to do something, do it well. If you are not going to do it well, leave it alone. Put God first. There's nothing else. God gives you wisdom and ideas when you need them. To Him be the glory, honour and adoration.
NEWSWIRE: Thank you for your time, ma. >>> AKEREDOLU: You're welcome.
Subscribe for the new edition now

Do you need to be heard? Or your articles published? Send your views, messages, articles or press release to: newswiremagazine@yahoo.co.uk  >>> We can cover your (LAW) events at the first Call: 08039218044, 08024004726
-Advertisement-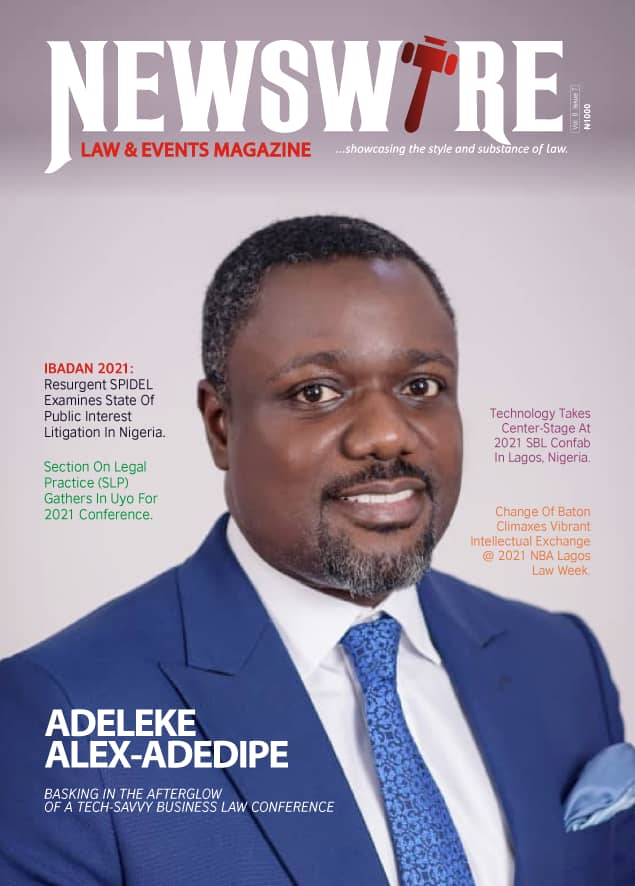 Newswire Law and Events Magazine is Out. It's a collector's item. Get one - or two,or more - for yourself and loved ones.
Do you want to be heard, your events covered, your articles published, or need to advertise your products and services on our

Blog

and

Magazine,

reach out to us at

Newswire Law and Events,

you will be glad you did. For more details about our services,

please call:

08039218044, 09070309355. Email: newswiremagazine@yahoo.co.uk