Advert

Presidential War: After $16bn, Where's Power? Buhari to Obasanjo
President Muhammadu Buhari, yesterday, made a direct rebuttal of Chief Olusegun Obasanjo's summation of his administration as a disaster as he lampooned the former president of harvesting nothing out of the $16 billion allegedly expended on the power sector.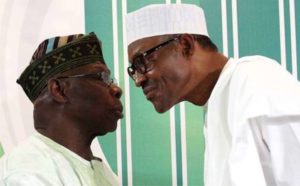 Meanwhile, former President Olusegun Obasanjo, in his reaction, said the action of President Buhari was based on ignorance, adding that Buhari was relying on the unsubstantiated allegations against him by the then leadership of the House of Representatives over the project.
Buhari in a lengthy self-testimonial accused all three presidents of the Fourth Republic before him of wasting the years of plenty as he affirmed that no leader since Gen. Sani Abacha paid attention to the country's infrastructure needs.
The President spoke when he received leaders of the Buhari Support Organisation, BSO, the base of his political support before his emergence as a presidential candidate in 2014.
His assertions nonetheless, Obasanjo kept the charge for probity in leadership yesterday at the convocation lecture of Lagos State University, Ojo, Lagos, where he charged that the world would leave Nigeria behind if it continued with indolence in leadership and followership.
The BSO delegation was led to the Presidential Villa by the Comptroller of Customs, Col. Hameed Ali, retd, who had served as Buhari's chief of staff prior to his inauguration as president.
Affirming that there was nothing to show for the proceeds from oil revenue between 1999 and 2014 when, according to him, oil prices soared to about $135, he said he had restrained himself and his aides several times in the past from responding to various accusations of non-performance and clannishness levelled against him by Obasanjo. According to the President, the debt incurred from the $16 billion spent by Obasanjo on power without any output is now being paid by his administration.
Buhari added that in Nigeria's history, his government had made the highest capital allocations in the 2017 and 2018 budgets.
Buhari, however, had good words about former Head of State, late Gen. Abacha, saying he agreed to work with him irrespective of people's perception about the late dictator because, during his military regime, a lot of roads and medical facilities were revamped.
He described the current period in the nation's history as terrible as he canvassed the need to revamp the country altogether, recalling how he was ruthless as a military head of state, arresting and throwing people into prison, a punishment he said was also meted out to him.
$15bn on power without electricity
President Buhari urged Nigerians to remain vigilant and ensure that only "people of conscience are in-charge of governance at all levels", as the nation prepares for general elections in 2019.
He said: "You know the rail was killed and one of the former heads of state between that time was bragging that he spent more than $15 billion, not naira, on power. Where is the power?"
"Where is the power? And now, we have to pay the debt. This year and last year's budgets that I took to the National Assembly were the highest in capital projects – more than N1.3 trillion."
"Let anybody come and confront me publicly in the National Assembly. What have they been doing? Some of them have been there for 10 years. What have they been doing? So, this country, luckily for me, I said it about eight years ago that we have no other country than Nigeria."
"This is a terrible time, and the people are saying what are we doing? Why can't you lock them up? And again, I went on by telling them what I said when I was in uniform, younger and rather ruthless. I got from the president downward; I locked them up in Kirikiri. I said 'you're guilty except you prove yourselves innocent."
"I, myself, was locked up, and those who misappropriated public funds were given back what they have taken away. Who did anything about it? Then I decided to come and put on agbada. I tried one, two, three, four times. God agreed. And the third time I came and met a statesman outside the Supreme Court."
Noting how his lawyer after the 2003 election, Chief Mike Ahamba, who he described as a Roman Catholic and Igbo man, tried to prove that he was rigged out in that election, he said his submission was thrown out despite the evidence adduced.
"So, why this question of religion and ethnicity and so on? People are worshipping the dollars, the Sterlings not to even talk of the Naira."
"Between 1999-2014, Nigeria was producing 2.1 million barrels of crude oil per day at an average cost (price) of 100 USD per barrel and it went up to 143 USD."
"When we came it collapsed to 37 – 38 USD and later was oscillating between 40 and 50 USD."
"I went to the CBN Governor, with my cap in my hand, and asked if we had savings. He told me we had only debts, no savings. Some of the roads were not repaired since the Petroleum Trust Fund (PTF) days."
"I don't care the opinion you have about Abacha but I agreed to work with him, and we constructed roads from Abuja to Port Harcourt, Benin to Onitsha and so on. We also touched education and health institutions."
Mismanagement of the economy
On the mismanagement of the economy by previous administrations, President Buhari noted that the perpetrators lacked imagination and plans for the development of the nation.
"Sometimes, I wonder about those who can afford to send their children abroad for studies and yet continue to sabotage the economy, I wonder what kind of Nigeria they want their children to return to and work. There is a lot of lack of imagination."
"If you are working for the country, then you shouldn't be misappropriating and misapplying public funds the way people did," he said.
The President noted that under his watch, the 2016 and 2017 budgets recorded the highest appropriation and releases in capital projects, with over N2.8 trillion disbursements in two years.
The President urged Nigerians to reject those bent on dividing the country along religious and ethnic lines, warning that they do not mean well for the country.
"I have said severally that we do not have any other country than Nigeria and we will remain here and salvage it together."
"We have nothing to regret. Absolutely nothing. God has given Nigeria everything. We are rich in human and material resources. Let us keep on praying to God to put people of conscience in-charge at all levels," he said.
On the activities of the support group, President Buhari apologised for not rallying them before announcing his intention to seek re-election in 2019 during a meeting of the National Executive Committee of the All Progressives Congress on April 9, 2018.
He thanked members of the group for their resolute support for him as a Presidential candidate in 2015 and all through his term in office, adding that their voluntary sacrifices were indicative of their trust and belief in the great future of the country.
He said: "Nobody is paying you for what you have been doing. It is because from the bottom of your hearts; you exposed yourselves by identifying with me through opposition to success and after the success, I don't know how many of you people will say what the hell you got out of it."
In his remarks, Ali said the group and majority of Nigerians are passionate about a second-term for President Buhari because of his integrity, honesty, love, and patriotism, even as he regretted that Buhari at 75 was being forced out of retirement for what he claimed as the common good.
$16b Power Project: You are ignorant,Obasanjo replies Buhari
Reacting to President Buhari's comment on the $16 billion power project allegedly wasted during his tenure, Obasanjo, who said the action of President Buhari was based on ignorance. He said Buhari was relying on the unsubstantiated allegations against him by the then leadership of House of Representatives over the project.
The former President, who said this through his media aide, Kehinde Akinyemi, submitted that lack of proper understanding prompted the President to make such a comment.
He said: "It has come to the attention of Chief Olusegun Obasanjo that a statement credited to President Muhammadu Buhari, apparently without correct information and based on ignorance, suggested that $16 billion was wasted on power projects by "a former President". We believe that the President was re-echoing the unsubstantiated allegation against Chief Obasanjo by his own predecessor but one."
"While it is doubtful that a President with proper understanding of the issue would utter such, it should be pointed out that records from the National Assembly had exculpated President Obasanjo of any wrong-doing concerning the power sector and has proved the allegations as false."
"For the records, Chief Obasanjo has addressed the issues of the power sector and the allegations against him on many occasions and platforms, including in his widely publicized book, 'My Watch', in which he exhaustively stated the facts and reproduced various reports by both the Economic and Financial Crimes Commission (EFCC), which conducted a clinical investigation into the allegations against Chief Obasanjo, and the Ad-Hoc Committee on the Review of the Recommendations in the Report of the Committee on Power on the Investigation into how the Huge Sums Of Money was Spent on Power Generation, Transmission And Distribution between June 1999 and May 2007 without Commensurate Result."
"We recommend that the President and his co-travellers should read Chapters 41, 42, 43 and 47 of My Watch for Chief Obasanjo's insights and perspectives on the power sector and indeed what transpired when the allegation of $16 billion on power projects was previously made. If he cannot read the three-volume book, he should detail his aides to do so and summarise the chapters in a language that he will easily understand."
"In the same statement credited to the President, it was alleged that there was some bragging by Chief Obasanjo over $16 billion spent on power. To inform the uninformed, the so-called $16 billion power expenditure was an allegation against Chief Obasanjo's administration and not his claim. The President also queried where the power generated is."
The answer is simple: The power is in the seven National Integrated Power Projects and 18 gas turbines that Chief Obasanjo's successor who originally made the allegation of $16 billion did not clear from the ports for over a year and the civil works done on the sites.
"Chief Obasanjo challenges, and in fact encourages, anybody to set up another enquiry if in doubt and unsatisfied with the EFCC report and that of the Hon. Aminu Tambuwal-led ad-hoc committee", he said.
Deliberate lying or ignorance?
Responding to the assertion of mismanagement of funds in the execution of the power projects, Mr. Akin Oshuntokun, who served as a presidential aide during the Obasanjo presidency said: "I don't want to know whether to call it deliberate lying or ignorance. These are issues that can easily be verified. The first time the issue came up, it was during Yar'adua era, and it was also in the National Assembly.
"First, Obasanjo never claimed to have spent $16 billion on power; it was those who wanted to demonise him that requested it."
"What I know for a fact was that when this $16 billion was being bandied about, Obasanjo's senior special assistant on power, Summonu, wrote a memo to the late President Yar'adua that all that was spent on power was roughly about $6.4 billion, that the figure that they were bandying about was outrageous. Yar'adua then sent the memo to one of his top advisers, and the guy then calculated the salaries, recurrent expenditure, overhead expenditures and all that was spent in the Ministry of Power from 1999 to 2007, bundled it with the $6.4 billion and came up with this outrageous sum."
"This was what Yar'adua was talking about. Any conscientious president would have availed himself of the facts, but it is consistent with his character to demonise people with distortions, lies and so forth."
"But I am sure Obasanjo is capable of accounting for himself, and I am sure he will do so robustly."
Meanwhile, Obasanjo, yesterday, charged that any leader who fails to provide basic needs for his people should quit for good as he affirmed that the world could leave Nigeria behind if she refuses to reform.
He spoke as the chairman of the 22nd Lagos State University, LASU convocation lecture held in Ojo campus of the university, with the theme: "Role of Tertiary Education in Promoting Social Cohesion and Peace: Opportunities and Challenges for Nigeria."
The lecture was attended by the State Governor, Akinwunmi Ambode, who was represented by his special adviser on education; the Nigerian High Commissioner to the United Kingdom, UK, Justice George Oguntade, who also doubles as the Chancellor of the institution,
In his remarks, Obasanjo said: "We need these four things. If for any reason, you as a leader in any walk of life, you cannot give leadership, maintain good governance, you cannot understand what development is and maintain and cherish values within our cultures; you must ship out no matter any level of leadership you are."
"If we continue with business as usual, our chances of development within the comity of nations will be very slim. We have to do things differently in Nigeria for us to get things right. If we do this, we will be reckoned with globally. But if we fail, the world will leave us behind," he added.
Subscribe for your copy/copies now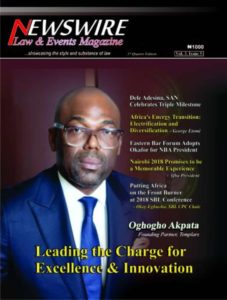 Do you need to be heard? Or your articles published? Send your views, messages, articles or press release to: newswiremagazine@yahoo.co.uk  >>> We can cover your (LAW) events at the first Call: 08039218044, 08024004726