Advert

Osinbajo to Chair Opening Session at 2018 Business Law Conference
Day 1 – Thursday, June 28      /     Session 1

Time: 9.00am – 11:00am   /   Venue: Congress Hall
Topic:

'Bringing down the Barriers: The Law as a Vehicle for Intra-Africa Trade'
The opening of this year's NBA-SBL Business Law Conference on Thursday, June 28 will commence with registration of delegates/conferees and participants for the 2018 Business Law Conference, from 8.00am – 6.00pm at the Congress Hall of the Transcorp Hilton Hotel, Abuja.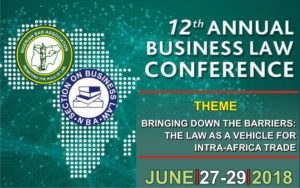 The 1st Session will examine the raison d'etre for the agreement establishing the African Continental Free Trade Area (AfCFTA) which seeks to progressively eliminate trade restrictions and transform the African economy.
The opening session theme is 'Bringing down the Barriers: The Law as a Vehicle for Intra-Africa Trade' would be Coordinated by the duo of Kunle Ajagbe, Partner – Aidan Partners, and Fatima Dattijo Muhammed, Partner – Miyetti Law
Register NOW! Click :- www.nbasblconference.org/register
Ajagbe who is listed in the International Who's Who Legal, is an occasional essayist on legal and global issues, volunteer facilitator and resource person for the Fate Foundation, the Women Advocates Research and Documentation Centre, the Lagos Multi-Door Courthouse and the Consumer Advocacy Forum. He is a partner in the Nigerian law firm, Aidan Partners; a Director of the Nigerian Indian Chamber of Commerce and Industry (NICCI); a Trustee of Global Rights Nigeria; and a member of both the Nigerian Bar Association, the NBA Section on Business Law and the International Bar Association.
Since being called to the Nigerian Bar in 1999, Kunle Ajagbe has been involved in several headline transactions spanning the traditional and emerging areas of Corporate & Commercial law.
Ajagbe has variously acted for and advised Nigerian and foreign businesses, public and private sector entities on legal best practices and strategy.
Kunle Ajagbe, is the Alternate Chairman, 2018 NBA-SBL Business Law Conference.
Register NOW! Click :- www.nbasblconference.org/register
---
Session Chair: When Prof. Yemi Osinbajo was announced as Buhari's running mate in 2015, many Nigerians wondered how a person with such petite figure would be the country's Vice President.
Beyond physical appearances, the man called Osinbajo is not just one of the notable lawyers in Nigeria, he is a Senior Advocate of Nigeria and of course, the  current Vice President of Nigeria.
Prof. Osinbajo has a tremendous oratorical skill. Many who love him often refer to him as a motivational speaker and erudite scholar.
He was the Special Advisor to the Attorney-General of the Federation and Minister of Justice of the Federal Republic of Nigeria between 1998 to 1991, he later became a professor of Public law. He was appointed the Head of Department of Public Law in 1997 at the University of Lagos where he held the position for 2 years (1997 – 1999). In 1999, he was made the Attorney-General and Commissioner for Justice of Lagos State under the administration of Senator Bola Tinubu tenure, a position he held for 8 years.
Prof. Osinbajo was a Member of the United Nation's Secretary General's Committee of Experts on Conduct and Discipline, a United Nations organisation for Peacekeeping around the world.
Osinbajo and his wife Dolapo Osinbajo birthed a non-governmental organisation known as "The Ordinary Society's Trust" in 2007 which tends to improve Christian practices and organisation.
He has written and co-authored (and edited) several books and publications. Some of his books and publications are: The Unification and Reform of the Nigerian Criminal Law and Procedure Codes; Law Development and Administration; The Annotated Civil Procedure Rules of the Superior Courts in Nigeria; and Cross-Examination: A Trial Lawyer's Most Potent Weapon.
Prof. Yemi Osinbajo assumed office as the Vice President of Nigeria after taking the oath of office on 29 May 2015 at the Eagle Square in Abuja. He is a member life member of the NBA-Section on Business Law.
Register NOW! Click :- www.nbasblconference.org/register
---
Moderator: Soji Awogbade is head of the Energy & Natural Resources practice group at ǼLEX. He specialises in energy transactions and advisory work and mainly advises clients on oil and gas, environmental, power and infrastructure, project finance, and company law.
His nearly 40 years of legal practice have given him considerable experience in the development, supply, transmission and distribution of gas and power, and energy sector restructuring and privatisation issues. He understands the legal, regulatory and policy issues; as well as the commercial, fiscal and environmental aspects of project development.
Awogbade is respected by local and international investors, government parastatals and regulatory institutions for his expertise in energy, oil and gas, project finance and infrastructure and business development.
He is the Founding President of the Nigerian Environmental Law Society. He is the past Chairman of the Energy and Environment sub-committee of the Nigerian Bar Association's Section on Business Law. He is a member of the Association of International Petroleum Negotiators (AIPN) and the International Bar Association (IBA).
Soji Awogbade is a frequent speaker at domestic and international seminars on energy, including renewable energy, natural resources and environmental issues.
He has been consistently ranked as a leading lawyer in Energy and Natural Resources by highly respected stables, including Chambers Global and IFLR.
Register NOW! Click :- www.nbasblconference.org/register
---
Lead Speaker: Ambassador Chiedu Osakwe is currently Chief Trade Negotiator for Nigeria and Director-General of the Nigerian Office for Trade Negotiations.
He is also, currently, the Chairman of the Negotiating Forum for the Continental Free Trade Area (CFTA) being negotiated.
Prior to his current positions, he was a senior official in the Secretariat of the World Trade Organization from 1998 to 2017.
In this period, he held several posts, including Director Technical Cooperation Division; Director, Textiles Division; Head of the Integrated Working Group for Least-Developed Countries; and, most recently, Director of the WTO Accessions Division (2009–2016).
Prior to the WTO he was a Nigerian Foreign Service Officer (1979–1998).
Register NOW! Click :- www.nbasblconference.org/register
For details on our speakers, Click >>> picbear.online/nbasbl
---
Panelist:  H.E Ambassador Albert M. Muchanga is an expert in multilateral diplomacy. Albert Muchanga, a seasoned and devoted public service worker, is the newly elected African Union (AU) Commissioner for Trade and Industry.
The tension during the elections was very high and tricky because the permutations were very complicated. Even if you are unopposed, you still need to be subjected to a vote and if you get the magic number of 36 votes, then you are okay, if not, you are in trouble.
Ambassador Muchanga, who is the immediate past permanent secretary for Parliamentary Business Division, has an array of experience both home and abroad.
Born on May 21, 1959, at Mbilu village in Macha area of Choma district in Southern Province. Ambassador Muchanga, a seasoned diplomat, did not understand until now why as a child, he constantly dreamt he was flying.
He was the first Zambian ambassador designate to Brazil and Ambassador to Ethiopia with extra-accreditation to Djibouti, Sudan, South Sudan, Yemen, AU, United Nations Economic Commission for Africa and Inter-Governmental Authority on Development.
Ambassador Muchanga, who was also the first Zambian to serve at Southern Africa Development Community (SADC) as deputy Executive Secretary, was also the first Gender Desk officer, which was later transformed into a fully flagged ministry.
He was also a Senior Economist and Desk Officer on the Southern African Development Coordination Conference (SADCC); Preferential Trade Area for Eastern and Southern Africa States (PTA) and Brazil, National Commission for Development Planning.
Ambassador Muchanga also served on a number of Management Boards such as the Food Reserve Agency, Mukuba Hotel Limited, Zambia International Trade Fair, and Competition and Consumer Protection Commission.
He was also among the committee of permanent secretaries appointed to prepare speeches and briefs for President Lungu between 2016-2017.
The Commissioner-elect also served as Director of Tourism at the Ministry of Tourism and Arts and Director Domestic Trade at the Ministry of Commerce, Trade and Industry, among others.
Muchanga has a passion working for the public service both home and abroad as he was trained at public expense and so feels indebted to work for the people.
He says the effectiveness of the African Union Commission will ultimately be judged by the positive difference that it will make in the lives of ordinary Africans. Muchanga says he will work towards broadening and deepening the contribution of regional economic communities in the African economic integration agenda in the areas of trade and industry.
Register NOW! Click :- www.nbasblconference.org/register
For details on our speakers, Click >>> picbear.online/nbasbl
---
Patrick Okedinachi Utomi is a Nigerian professor of political economy and management expert, He is a Fellow of the Institute of Management Consultants of Nigeria and a former presidential candidate.
He serves as a Member of Advisory Board of CBO Investment Management. He has served in senior positions in government, as an adviser to the President of Nigeria, the private sector, as Chief Operating Officer for Volkswagen of Nigeria and in academia.
A fellow of the Institute of Management Consultants of Nigeria and founding Senior Faculty of the Lagos Business School- Pan African University, Prof. Utomi was Director of the Centre for Applied Economics at the Lagos Business School. He co-founded the Lagos Business School in 1994. He has also served as the Chairman of the Economic Commission for the Niger Delta.
His academic background covers a range from Policy Economics, Business and Political Science to Mass communications. As an entrepreneur, Prof. Utomi founded and co-founded companies that are active in fields including financial services, ICT and media.
He was appointed Professor of the Social and Political Economy Environment of Business and Entrepreneurship.
Prof. Utomi has been a scholar-in-residence at the American University in Washington DC and the Havard Business School. As leader of Civil Society, he is the founder of the Centre for Values in Leadership; and the Concerned Professionals, among other social sector enterprise initiatives.
Prof. Utomi is active on the International speaking circuit, especially on the subject of High growth economics and leadership.
He is a professor of political economy, a management expert and a Nigerian entrepreneur. He is one of the panelists for the first session of this year's Business Law Conference.
Register NOW! Click :- www.nbasblconference.org/register
For details on our speakers, Click >>> picbear.online/nbasbl
---
Bola Akinterinwa obtained his degrees with distinction. He received a double promotion in the International Law Class at the University of Paris 2 and obtained his PhD degree with 'Special Commendations,' from the University of Paris 1, Panthéon Sorbonne.
An Embassy Translator at the Embassy of Nigeria, Paris, in 1984, and a Ford Foundation Fellow at the University of Maryland Foreign Policy Process in 1989, he has, since 1985, been a Research Fellow at the Nigerian Institute of International Affairs, Lagos, where he has, at various times, received three special Letters of Commendation from the Management of the Institute for his scholarship and patriotic activities. He is a former Director-General of the Institute.
Former Editorial Page Editor of, and a Monday/Sunday Columnist (Vie Internationale) with, ThisDay Newspapers since 1996, he was Member of the Editorial Board, from 1989 to 1994, and Editor, from 1994 to 1999, of the Nigerian Journal of International Affairs. He is author of several chapters in books and articles in learned and reputable journals of international affairs.
He has also authored and edited several books.
Register NOW! Click :- www.nbasblconference.org/register
For details on our speakers, Click >>> picbear.online/nbasbl
---
Register NOW! Click :- www.nbasblconference.org/register
For details on our speakers, Click >>> picbear.online/nbasbl
---
Over the years, the SBL conferences have not only been talk-shops, as it always ensure that there are tangible outcomes.
Over the years, the SBL conferences have not only been talk-shops, as it always ensure that there are tangible outcomes.
The NBA-SBL is in partnership with the executive arm of the Nigerian government through PEBEC and the National Assembly through NASSBER in the ongoing review of our laws, regulations and procedures to enhance the ease of doing business.
The results have led to the improved ranking of Nigeria in the World Bank ease of doing business index.
We expect to also engage government and stakeholders to position Nigeria to benefit from the AfCFTA, at this year's conference as we assure you of a world class event.
Register NOW! Click :- www.nbasblconference.org/register
For details on our speakers, Click >>> picbear.online/nbasbl
Subscribe for your copy/copies now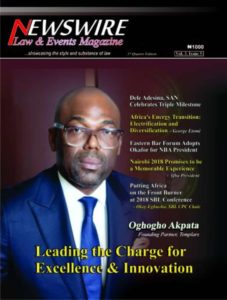 Do you need to be heard? Or your articles published? Send your views, messages, articles or press release to: newswiremagazine@yahoo.co.uk  >>> We can cover your (LAW) events at the first Call: 08039218044, 08024004726