Advert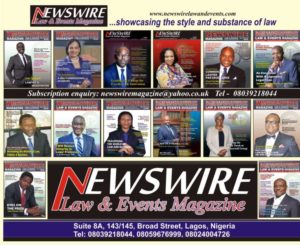 ---
Newswire Law & Events Magazine Rules & Regulations for Group Chat
Newswire
Newswire Law & Events Magazine: Celebrating the legal profession, and the legal icon in both the litigation and the business section. Give young lawyers the best lawyering semantic. Design a feeling of happiness and enjoyment or pleasant anticipation which makes it difficult to contain excitement.
Our MISSION: Affirming the dignity and rights of lawyers. The right to life, liberty, and security of person; to freedom of conscience, religion, opinion, expression, association, and assembly; to freedom from arbitrary arrest; to a fair and impartial trial; to freedom from interference in privacy, home, or correspondence; to a nationality; to a secure society and an adequate standard of living; to education; and to rest and leisure.
Rules & Regulations for Newswire Group Chat
Do not get personal:
Don't use chat groups as a medium to pass unnecessary comments or nit-pick one another. Of course you are free to disagree, but never disrespect.  If there is something that you think may not interest other members of the group or may offend someone, share it in a personal chat rather than Newswire group.
Never begin a topic that would hurt religious or cultural sentiments:
This is a definite no! The group consists of friends from different religions and cultures. And of course, we all have friends hailing from North, South, East and West. We should welcome every tribe with a warm heart instead of stabbing ourselves with a religious post, comment or pictures. We should always propagate One-Nigeria; what would bind us – agitate things that would last for a lifetime!
Don't make fun of anyone:
Making fun of anybody in a group is the most atrocious way of irritating them! There is a limit to everything and you must abide by that.
Exit group by informing Admin:
You might have deleted self from group unknowingly. In that case, you can request the admin to add you back.
If intentionally you wish to leave the group just because you are frustrated, – have personal issues with someone or not impressed with the group or the post, you can request the admin to delete your contact from group.
No unnecessary post:
Refrain from posting things that doesn't support the growth of legal profession and humanity
The group is meant for sharing law, national or business news. No sharing of jokes or memes within group.
Advertising is NOT allowed. Advertising your auctions is allowed upon approval by group admins, which will evaluate it on a case-by-case basis.
Don't exhibit rude behavior
Being rude in a group completely exposes your true colors to your friends who were trusting you till then. If something angers you, politely move away from the group chat. Switch to the person personal chat to resolve. Don't snap at the post that angered you with open opinion. Remember everybody has the right to share their thoughts on any topic especially when its law related.
Actively participate in Newswire group
Finally, your participation in the group determines your attitude. Don't completely ignore observations. It is enough even if you send occasional checkup messages to admin if need be. Keep a check on the conversations so that you don't miss something important. If someone had an achievement, congratulate them even though it maybe belated. Inform Admin directly of your intended publication/article, upcoming events and advise on the way forward.
Actively participate and keep the group alive!
Thank you so much for being part of Newswire Law and Events Chat Group.
Summary of Group Chat Rules
Please respect each other.
Please refrain from using coarse languages.
Discussion over trade is allowed.
Advertising your auctions is allowed upon approval by group admins. However, spam or abuse is strictly prohibited. Advertising otherwise is NOT allowed, unless approved by group admins, which will be evaluated on a case-by-case basis.
Discussion over other member's possible illegitimacy is NOT allowed. If you have any suspicion, please contact Admin.
Discussion over administrative matters is not allowed. Should you have any questions or doubts on such matters relating to post, please contact Admin.
Utilise the group chat to its full potential. Feel free to socialise, ask any questions if necessary.
When at any law event with the presence of our crew (Newswire Crew), kindly make your early/quick alert for coverage and attention.
Download some of your pictures on www.newswirelawandevents.com if you like.
Any violation of rules will lead to warning/kick/temporary ban/permanent ban from group chat. Severe cases will result in ban from the group.
---
Newswire, we present the world of law and the issues that engage them.

This edition is yet again,  'Mind-blowing'.

Go get your copy(ies) Now!

Do you need to be heard? Or your articles published? Send your views, messages, articles or press release to: newswiremagazine@yahoo.co.uk  >>> We can cover your (LAW) events at the first Call: 08039218044, 08024004726