IBA/NBA-SBL Young Lawyers' Training: Developing & Communicating your Value as a Lawyer
The fourth and final full session of the Young Lawyers' Training Programme of the SBL and IBA was one of the most engaging of the day, as it was devoted to the need for lawyers to devote their time and energies as much to the development of soft skills as to the acquisition of the requisite technical knowledge about their chosen profession. The session was specifically aimed at inculcating time management, perception management, professionalism, etiquette, a healthy work-life balance and other ingredients of a successful career and a holistic lifestyle.
Titled, 'Developing & Communicating Your Value as a Lawyer,' the session was moderated by Olubukola Olabiyi of the law firm, Odujinrin & Adefulu (who stood in for Kimathi Kuenyehia, a Ghanaian lawyer whose firm, Kimathi Partners, was one of the name sponsors of this event). Joining the moderator on stage was a high-powered discussion panel made up of the likes of Dr. Babatunde Ajibade, SAN, Senior Partner at the law firm of SPA Ajibade & Co.; Donna Shodipo; Joke Aliu; and Dapo Otunla of the firm of IHS Nigeria.
Also Read: Afba Reveals Hotel Partners / Provisional Program Schedule 2018 Conference Sessions
In her opening salvo, the moderator wanted to know what particular set of soft skills a young lawyer needed to cultivate in their quest for success, influence and impact. All the panelists, in their respective responses, agreed that communication was key. Dr. Ajibade was of the view that the ability to deliver one's message as succinctly and as briefly as possible, was priceless, while Mrs. Shodipo asked the young lawyer to learn to manage his conversation with his audience in a way that makes them remember him long after each encounter. If the prospective client detects an aggressive, all-knowing attitude on the part of the young lawyer, she said, they would turn away. Like Dr. Ajibade, Otunla stressed the importance of both crispness and unambiguity in both spoken and written communication.Leave no room for second-guessing, he said. Know yourself, and be perceptive about your responses. For Aliu, a mixture of good communication and emotional skills was essential. She decried the practice by some young lawyers to use abbreviations and intimate expressions even in formal letters, especially emails.
Also Read: Commencement of Registration Nigerian Bar Association 2018 Annual General Conference/
On how to carry oneself in social situations, Donna Shodipo's advice was: Read the room correctly. Listen with both your eyes and ears. Cultivate a reputation for attentiveness and tact, knowing whether and when to speak, and what to say.Also cultivate your seniors. Know how to address an offended client in speech and in writing.
In the view of Dapo Otunla, networking was as essential as any other social skill. Quoting Adam Small, he called it 'the most powerful tactic in marketing'. The fact that it was a tactic, he continued, meant that it was a skill and an art which could be learned. We've actually been networking since we were in kindergarten, he said, advising young lawyers to hand out business cards to prospective clients often, and then to follow up on them as frequently as possible – for the simple reason that every lawyer was looking for the same clients. 'Also, find a mentor – or two. Or three' he added. 'You simply CANNOT have too many mentors as a young lawyer.'

On the vexed question of remuneration for young lawyers, along with the tendency by some to cut corners in their bid to earn extra income, Dr. Ajibade said that a young lawyer needed to focus on develop relevant skills in the course of his/her daily routine, as a way of adding value to the firm he/she works for, rather than focus narrowly on just delivering the required service, getting paid, and going home at the end of each work day.
On her part, Mrs. Shodipo remembered that in her day, she had sought knowledge and personal development rather than money because she wanted more than anything to be the go-to lawyer in her firm; she wanted to be trusted by both current and prospective clients; and she wanted her name to have the ring of integrity and reliability around it for a long time to come.
On the best career move for a budding legal practitioner, Otunla insisted that any career in law must begin in a law chambers, as that was the best place in which to invest in oneself – and, in his words, 'separate oneself from the herd.' The young lawyer, he added, must not be afraid – or too proud – to ride on the coattails of an accomplished senior.
'Let the hook that caught you (i. e. the consuming passion that drew you to law) stay in you,' Dr. Ajibade told the participants. 'Without passion, you cannot succeed as a lawyer.'
Summing up the session, Mrs. Shodipo asked each young lawyer in the room to do a thorough assessment of themselves as to their motivations for wanting to be lawyers, and to picture themselves as they wished to fare in 5 years' time, whether on their current path or somewhere else. 'Focus on your purpose, and don't feel guilty about your choice so long as you feel that inner sense of worth and fulfillment,' she said. 'Don't go only on what society expects of you.What type of lawyer (and person) do you wish to become? The two go hand in hand.'
The session ended with a Q&A, which sparked further discussions on issues such as personal grooming and hygiene, as well as on the perennial conundrum around billing and remuneration, and what the NBA could do to enhance the welfare of young lawyers, especially those in pupillage.
In his remarks to bring the SBL/IBA One-Day Training Programme for Young Lawyers to a close, the vice-chairman of the NBA-SBL, Seni Adio, SAN,  who represented the chairman, Olumide Akpata, Esq., called on young lawyers to cultivate a reputation for excellence, diligence and integrity, and to understand that all a lawyer has going for him or her was a good name. He looked forward to the day when he and his generation would pass on the baton to the next generation of legal practitioners, and then sit back and read about their exploits as they transform the fortunes and profile of the legal profession in Nigeria.
With Adio's final remarks, the stage was set for the grand opening ceremony of the 12th Annual Business Law Conference of the Nigerian Bar Association the next day, Wednesday, June 27, 2018.
See photos below:
Subscribe for your copy/copies now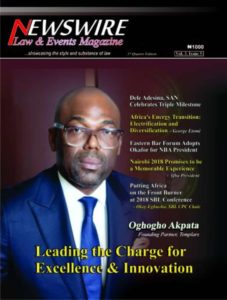 Do you need to be heard? Or your articles published? Send your views, messages, articles or press release to: newswiremagazine@yahoo.co.uk  >>> We can cover your (LAW) events at the first Call: 08039218044, 08024004726