Advert

Register NOW! Click :- www.nbasblconference.org/register
Those who Annulled June 12 and Killed our People Should Face Trial – Oroh
Hon Abdul Oroh, a former member of the House of Representatives and commissioner in the Comrade Adams Oshiomhole led administration in Edo State had before his political career been one of the leading lights of the civil society movement. He suffered brutally for his agitation for the manifestation of the June 12 mandate. He shared his experience on how he was detained for one year in this interview. Excerpts:
What does June 12 mean to you? >>> Let me say that it would have gone like any other June 12 anniversary but for the historical decision taken by President Buhari to formally recognise that Abiola actually won the election. There has been this debate as to whether the election was conclusive or not. The reality is that the election was conclusive; all the polling units in the country returned their votes. When Justice Saleh stopped the declaration, INEC actually filed an action at the appeal court in Kaduna and the result was part of the action they filed before the court.
And also there was a decree sacking the jurisdiction of the courts from stopping the election which means the judgment was actually faulty, ter incurian in latin (meaning in error). All the evidence across the land shows that the election was free and fair and Abiola won. And of course Tofa did not even qualify to vote because he tried to vote with a fake voter's card he was refused and Abiola ended up winning Tofa's polling unit. Tofa did not condemn the election. The election was free and fair and there was absolutely no reason why the military annulled it.
We waged a titanic struggle for the actualisation of June 12. >>> Abiola himself when he realised that he had been misled did not relent. His wife Kudirat did not relent. We all fought the battle to the extent that Abiola died in military captivity. Kudirat was assassinated. Some of us who were in prison then were released. I spent one year before I was released, I was arrested 28 of July 1995 and released on the 23rd June 1996, almost a year. People like Tunji Abayomi, Beko Ransom Kuti, Chima Ubani, thousands of other Nigerians were detained including Olisa Agbakoba who was held in Enugu.
So many of our people were killed. Some were killed in Iyana Ipaja, some at 3rd Mainland Bridge. Many fled the country and were suffering in exile, passing through harrowing experience. I recall somebody like Dan Suleiman. It was when he got to London that he had stroke and up till now he uses stick to walk. Then even soldiers were killing themselves, they were bombing military vehicles, newspapers were closed down, the economy collapsed, Nigeria was set backward.
If Abiola had been allowed, he would have spent four or eight years and other people would have continued. We would have consolidated our democracy, Nigeria would have been more united than today. The divisions we are having today can be traced to the culture of militarism that interfered with the democratic process that Nigerians had voted for. And today we are still suffering from that culture of militarism, you can see that Obasanjo is still determined to hold on to the public space. He has refused to allow any government in power to either make mistake or succeed as we are trying to consolidate our democracy.
People are also calling that Kudirat Abiola should be immortalised do you agree with that? >>> Not just Kudirat, I Abdul Oroh and all of us who suffered so much, who were detained, some were killed. All of us should be honoured. But the fact that Abiola has been honoured and Gani who was the anchor of the pro-democracy groups has been honoured; so I see it that all of us have been honoured. I think everybody who went through that struggle should be compensated. Apart from being honoured, there should be a special amount drawn from the Sovereign Wealth Fund to compensate all of us for the great loses that we went through.
If you are held in solitary confinement for one year with all the mosquitoes and sand flies, the suffering of your family, the stress, we could not exercise our freedom to operate as pro-democracy groups, our members were running from pillar to post trying to hide. So the dictatorship that we went through, one would have expected that now that the nation is at peace, democracy is thriving, we should be compensated. But those who made it impossible for us to have a smooth transition, to democracy are still interfering with this democracy. That is why I think we should all be compensated.
My wife was pregnant and I was in detention. My son was one year old; a week to his first birthday. I was not there when he did his first birthday. When my wife gave birth I did not see my child until six months after. It was a most harrowing experience.
So I think those of us who went through it should be honoured and compensated. When you drive around and see a street named after El-Rufai or Akinjide or EK Clark and those ministers who served under Obasanjo, it's always painful. And you don't see any street named after Beko Ransom-Kuti, or Ayo Obe, Chima Ubani or Abdul Oroh, Chris Anyanwu or Kudirat Abiola; then you ask yourself what kind of country is this? So I think it is unfair.
The federal government should sit down call for a list of all those involved in the struggle including those who were killed and honour them. And if we cannot bring those who killed them to justice, those who were killed should be properly honoured. In fact I demand that those who were at the helm of affairs, those who were responsible for the killings, who are still walking the streets of Nigeria freely should be brought to justice.
Subscribe for your copy/copies now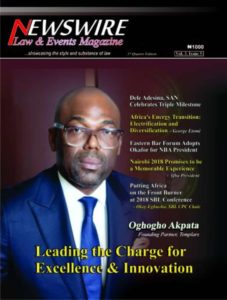 Do you need to be heard? Or your articles published? Send your views, messages, articles or press release to: newswiremagazine@yahoo.co.uk  >>> We can cover your (LAW) events at the first Call: 08039218044, 08024004726