Advert
2018 NBA Elections: I'm Going to Court – Mazi Afam Osigwe
The dust is yet to settle in respect of the decision by the NBA Electoral committee to disqualify one of its presidential aspirants, Mazi Afam Osigwe, from the general elections slated for the 27th -28th of July 2018. But in a swift reaction, Osigwe, whose appeal against the committee's decision was also thrown out for lack of merit, has decided to seek redress in court.
In this interview with NEWSWIRE Law and Events Magazine, Osigwe speaks on the curgestate of the NBA and how he plans to 'drain the swamp' if elected NBA President. Excerpts:
Why do you want to be the President of the NBA? What is it about the NBA that you want to change? >>>  First of all, I believe that if you're a member of an association, rather than sit down and complain about badly things are going in that association, or talk about what could be done better, or differently, you ought to offer your services to bring that change about. That's what inspired me to run for office as chairman of NBA Abuja branch in 2010. I also thought I could be beneficial to the association at the national, and this was why I offered myself to serve as the national general secretary, to see how the association could engender confidence in lawyers and be beneficial to its members. Basically, I believe and I understand that at this point, many lawyers are disenchanted with the NBA, which they see as this big organization – almost a behemoth – that simply takes their branch dues and practice fees and shows nothing for it. Many lawyers feel that the NBA is simply uncaring, and that whenever they run into problems in the course of rendering services to their clients, the NBA is not there for them. At critical moments (in the life of our nation) when the NBA is expected to speak out, it does not speak. Also, I am particularly concerned with the plight of young professionals who may not get any form of employment, I believe the NBA should be much more involved in a more comprehensive manner. Also, female lawyers are looked down upon, and those of them who venture into bar politics are sometimes seen as sex objects – so-called 'conference materials.'  I feel that the NBA should provide a professional platform for every caliber of lawyer, and allow even junior lawyers to contribute their quota in making the NBA a viable organization. I also want to focus on giving benefits to members, creating conditions for development, and having a pool of opportunities for members, and also having an organization that is accountable in the management of its resources. And I thought I could contribute my quota in this regard – improve the public perception of this organization, improve benefits to members, and open up the NBA so that every member – irrespective of age, or chapter, political or religious persuasion will be able to participate in its governance, so that the NBA can occupy its rightful pride of place among professional bodies in Nigeria.
For some time now, there seems to be an unwritten rule to the effect that to be NBA President, one has to be a Senior Advocate of Nigeria (SAN). There are even some SANs who subscribe to this view, who say that though this requirement is not in the NBA Constitution, it is as firm as if it is cast in stone. What's your view on this? >>>  That would be a most regrettable and unfortunate conclusion to reach. It is not a rule, let alone an unwritten one.  Whoever says that obviously doesn't have a good sense of the history of the bar. The rank of the Senior Advocate of Nigeria was instituted in 1975. Between that year and 1999 – before the bar experienced its crisis in 1992 – there were nine Presidents of the NBA, seven of who were NOT Senior Advocates of Nigeria; only two of them were SANs. These two were Andrew Anyamele, SAN and Chief Clement Akpamgbo, SAN.  All the others, Chief Fadairo, B.O. Benson, Dr. Mudiaga Odje, Wakanma Okoro, Prince Bola Ajibola – were non-SANs at the time they won the NBA presidency. And then there was something interesting about the NBA between that time and now. The mode of electing officers into the NBA executive was by universal suffrage. When the bar went into its crisis in 1992, and the national leadership was resuscitated in 1998, the constitution that was given to the association changed, the mode of electing NBA national officers was the delegate system – and senior advocates become automatic delegates in the process. And money became a big factor in who became the President. And that is why senior advocates were able to dominate the NBA presidency from 1998 till date. But now, the rule has changed again, back to universal suffrage. And it will interest you to know that among those non-SANs that became President, some defeated SANs in the election. So, any suggestion that only SANs are good enough to lead the NBA is an insult to the teeming number of lawyers in the NBA – the majority of who are, of course, not SANs. If it is indeed desirable that this be so, then the NBA constitution should be amended to reflect that fact, but to think that leadership qualities are to be found only among the revered rank of the senior advocate is to suggest that rank, by itself, makes one a better leader. We all can think of past leaders who were poor performers. You know the saying that 'the hood does not make the monk.' So it (the SAN rank) does not make one a better leader, it is not a legal requirement, neither is it an unwritten rule. It is a ploy to divide the NBA into those who matter and those who should not be mentioned at all. That would be unfortunate for the legal profession. And nobody should make that preposterous suggestion.

Could  that  be  the  main  reason – or one of the reasons – you were disqualified? >>>  Yes, among other reasons, including the fact that I've been very critical of the leadership for its profligacy in managing the affairs of the NBA. There are those who say that I should wait to become a senior advocate (before I can contest for the presidency). That's why I said, it is regrettable and an unfortunate mindset. But don't forget that among some of the finest Presidents of the bar were those who were not senior advocates – a prime example being the great Alao Aka-Bashorun. And those were the days when the bar was the bar worthy of its name. SAN or no SAN had nothing to do with it. It's because now, some people have deep pockets, they have constituted a voting bloc, they can sway how people voted, and can influence who emerged as delegates in their branches. A situation where delegates can come to the election, only to get to the voting place and find that their names had been dropped because it was found that they were not going to vote in a particular manner, this was the manipulation, the corruption that led to the jettisoning of the delegate system. And I now ask, "What are they afraid of, that they now say there is an 'unwritten rule'? Why not allow the voters to decide whether they will accept the so-called unwritten rule, and allow it to determine how they vote? Who is afraid? This is not a rule, and it will never be.
You have already responded to your disqualification by the NBA Electoral Committee, and they say your argument lacks merit. What do you make of the committee's reaction? >>>  Anytime I read the committee's response, I not only shake my head in disbelief, but I weep for the association. When somebody has given reasons for disqualifying you, and you have also responded and tendered arguments as to why their reasons are not tenable, and the persons, in one line, say they find no merit in your appeal, you worry that somebody somewhere is being less than honest and truthful, that this person is trying to maintain a position, no matter what. In any case, I think there is everything wrong with a rule that you should appeal to the same body that disqualified you. That in itself ought to change. If you look at the reasons for my disqualification, you can see why I say I weep for the NBA. First reason was that I did not show evidence of payment of branch dues to Nnewi branch. I was a member of NBA Abuja Branch until January this year, and I joined the Nnewi Branch in January this year. And in a forwarding letter I stated this in black and white. And I attached electronic transfer receipts evidencing payment of my dues to Nnewi Branch, and I pay bar practice fees as a member of Nnewi Branch. And a committee peopled by eminent lawyers – including two professors, one Senior Advocate of Nigeria, among others – said they had no evidence of my payments to Nnewi Branch as at a time when I was NOT a member of that branch. Isn't that standing logic on its head? And in the documentation I presented, I gave evidence of payment of dues for those years in which I was a member of the Abuja Branch. For their third reason, they said they could not verify these payments, which were made into a bank account – complete with tellers bearing the bank's name and account numbers. In the Abuja Branch, starting from when I was chairman, in order to improve accountability, transparency and ease of payment, the branch meeting decided that all payments would be made to the branch's bank accounts. At the time we had two bank accounts – GTB and Diamond. After my time, the branch added another account – in Access Bank. So members were free to make payments into any of these accounts. Yet, the committee said they couldn't verify any of this.  In 2016, when I was General Secretary, NBA Abuja Branch forwarded statements of accounts from GTB and Access Bank to the NBA, which showed that I paid into those GTB in 2016, and I voted in the elections, based on that confirmation. In 2017, they now said I didn't pay – without producing any statements. And it would interest you to know that of the forty-four or so persons who were nominated to run for office, it was only my dues that they claimed to have subjected for verification, within twenty-four hours of the opening of nomination papers. It shows you that people have already made up their minds, ab initio, to disqualify me. In any case, some of the officials of the present NBA executive boasted repeatedly and openly, that I would never run, that I was wasting my time, and that I would never get the letter of good standing they were demanding from the Abuja Branch. The tone of the committee's letter disqualifying me showed clearly that they were being teleguided. Their second reason was that I did not show substantial proof of relocation to the Nnewi branch. And I asked, "What do you mean by this? I paid my branch duties as a member of Nnewi Branch and you have the evidence. I paid NBA practice fees with the code of Nnewi Branch as a member. NBA Nnewi Branch gave me a letter of good standing, and yet you are not satisfied. The same Nnewi Branch sent you a voters' list, with my name listed at No. 86. Meanwhile, on their final voters' list, the same electoral committee that disqualified me listed me at No. 5 – even while still insisting on that same reason, that they are not satisfied. In other words, according to their logic, I am eligible to vote as a member of Nnewi branch, but not eligible to contest as a member of that branch. And these are lawyers who should know better, who should be promoting the rule of law. I use strong words to describe their actions because these are people who are bent on taking the wrong things, who are very brazen and don't care whether they drag the association into crisis, who don't even care about their own reputation. That's why I said the electoral committee lacks integrity and ought to resign. Look at the mess they have made of the voters' register. Look also at the mutilation they have done to Abuja. Other branches increase after the preliminary list, but they weeded out people from voting in Abuja, working from answer to problem, instead of the other way round. All this because they've made up their minds whom they want to make the NBA President. The bar has lost its shine; it is worse than the military these days. It is in the military where they will say you will not contest and then go ahead and disqualify you. A general secretary, without any law backing him, will write a letter and say they are suspending elections in a branch – just because of one office. They will appoint total strangers, who are not members, into a so-called caretaker committee of a branch, as they did in Ikorodu. He has no such powers; only past chairmen of a branch can appoint caretaker committees of that branch. So many actions that are not backed up by law, like employing so many people as political aides and paying them huge sums of money, without any form of official approval by NEC or anybody else.
Also Read: Afba Reveals Hotel Partners / Provisional Program Schedule 2018 Conference Sessions
So, what is your next line of action? >>>  I'm going to court. And I'm going to keep this debate going, because we're going to drain the swamp in the NBA. We must open and democratize the NBA, and make sure that it keeps faith with its motto. We must make sure the association regains its relevance, so that those who think that others cannot thrive in the NBA are not allowed to have their way. We must not give way to those who think they can arbitrarily determine who can be and who cannot be in the NBA.  It is our association, and until we take it back, we're wasting our time. Members must be interested in what is happening and must demand accountability. Isn't it alarming that one year after the 2017 NBA Conference, no comprehensive accounts have been rendered? We're now preparing for yet another Conference, towards which we will again ask people to pay huge sums of money? Does it not worry you that till date, no budget has been approved for the 2018 Conference? And people are feeding fat from the NBA. There's no sense of responsibility. I was part of the exco that generated the money used in finishing the NBA building. The exco that came after us has generated even more money than what we had, but has not improved on what we left on ground. All they do is wail and say we didn't complete the building. And we ask, what have you done since then? And yet this is an organization where a chief of staff is earning N1.2m a month. And he's not a paid staffer. He lives in a hotel paid for by the NBA, and has an official car and a driver paid for by the NBA. Travels all over the world at our expense. And that's just one person. That's what the bar has been reduced to, a rent-seeking pool of favoritism. Spending money against all prudential guidelines that say that monies be paid into authorized official NBA accounts. NBA has become a huge mess of corruption.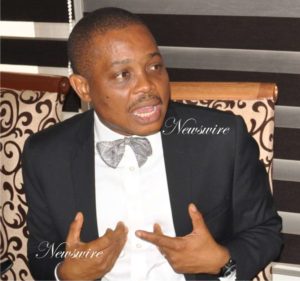 Don't you believe that your stance and your movement from Abuja to Nnewi branch are factors working against you? >>>  No. This is just a case of people who are abusing their powers. The voters who were excited about my entry into the race never cared about which branch I belonged to; all they cared about were my programmes. The NBA constitution allows members to belong to whatever branches they wished. I don't see any big deal about moving branches. Professor Ernest Ojukwu, who is a member of the Aba branch, lives and practices law in Abuja. Arthur Obi Okafor, who is a member of the Onitsha branch, lives and practices law in Asaba. A past President of the NBA, J. B. Daudu, practices law in Abuja now, but belongs to the Kaduna branch. Augustine Alegeh, the immediate past President, lives and has an office in Lagos, but belongs to Benin branch. I understand that even Chief Wole Olanipekun, SAN, today belongs to his hometown branch in Ikere, but he lives and practices law in Lagos. I can go on and on.  Why is it different in my case? Don't give a dog a bad name in order to hang it, with all these excuses. If you look at Article 41 and 42 of the Uniform by-law, the 3rd Schedule, it allows you to change your branch. The NBA constitution does not require you to have consecutive membership of a branch before you can run, all it requires is evidence of payment of branch dues as at when due. If it were really about consecutive membership, why did the electoral committee not question my payment of branch dues? I also paid my practice fees in Nnewi. Why did they not fault that, if it's really about consecutive membership? Think about that. It's just somebody looking for a ridiculous excuse to justify an action done in bad faith. It has nothing to do with where I come from or belong to. We're dragging the bar in the mud; we're trying to exclude people we don't like. We're playing God with the association. This is not about the crisis in NBA Abuja; it's about people saying, 'We'll show you.' It's abuse of power, a gross misuse of access to power, and lack of faith with our motto. It's about people saying, 'If you allow this boy to take over, other non-SANs will also take over in future.' It's about people who feel they are born to rule over others. I do hope to become an SAN someday. But if I run for office as an 'SAN', it would not be because I'm an SAN or because I think only SANs should run for that office, but simply because I believe I have something to offer. I was nominated (for President) by an SAN, by the way. Chijioke Okolie, SAN (a past chairman of the NBA Lagos branch) nominated me. How many SANs are supporting me? So it is not all of them that hold that anachronistic thinking. It's just a few persons who would rather break the law than uphold it according to their calling. Those are the people keeping the NBA down, making sure that the association doesn't speak out at critical moments when its voice needs to be heard. They are there to ensure that the NBA benefits only a lucky few, and to close the space so that others would not participate, to ensure that corruption and money politics continue. That's why you'll see people paying practice fees for young lawyers – and then hold on to their tellers, long after the submission of names to branches. Those are the people manipulating the law, making guidelines not founded on the constitution, just to achieve a desired aim. I sincerely hope the chickens will not come home to roost anytime soon, but I tell you, the dark clouds are gathering.
When you were running for General Secretary of the NBA, you were reportedly adopted by the Eastern Bar Conference (EBF). But of late, you have been on record as having criticized the EBF's adoption of one of your presidential rivals. But some people see your present position against this practice as a case of double standards – considering that you, too, were adopted in the same manner? >>>  It's really not about legality of otherwise. It's more about propriety. They are not the same thing. This is what I mean. In 2014, when I ran for election, I went for adoption, yes. But in 2014, the office of the General Secretary was not zoned; it was an all-comers affair, and I had two opponents from the north, two others from the east. If I may quickly take you through the history of adoption, this practice was for different forum to harmonize their position in a situation where other fora are producing candidates, so that they would go into those elections with one house and one candidate. Fast forward to 2018; In 2015 the NBA constitution was amended and zoned these offices. For example, now that the office of the General Secretary has been zoned to the north, only people from that region are running. So now there is no need for the different fora to harmonize by way of endorsement. An endorsement that will only result in the emergence of an unopposed candidate can only engender mediocrity. It allows a man who has enough to be able to buy it. I was one of those who championed the principle of one-man, one-vote in the NBA, one of those who believed that the delegate system had outlived its usefulness and was prone to abuse. Relying on adoption is the same thing as bringing back the delegate system; which means lawyers at the regional level would not be able to vote at all. If, for example, four of us who expressed in the NBA presidency submitted ourselves to the EBF, and the EBF then endorsed one of us, that means lawyers across the nation no longer have a say in who becomes their President. That means we will go back to the days when people would bring people to the election venue, put them in hotels and foot their transport bills, because they are the only ones who would vote. We saw it happen, where people who were going for adoption, were taking chairmen around town, giving them a good time. The circumstances are not the same any longer. The constitution has zoned the Presidency to the East; whoever emerges will definitely be from the East, so there's no need for adoption. Those who know will tell you I live my life according to standards; I don't have double standards. It will be an issue if I submitted to the forum and then lost it to somebody, and then refused to step down. So from the onset, I said I wasn't going because it wasn't necessary. Allow the aspirants to tell you why they deserve to be NBA President, and make promises so that we know what to expect from them.  The bar will be better for it. An endorsement that leads to unopposed candidates has never produced good leadership in the NBA, because most times the beneficiaries are not focused on articulating their programmes to better the association; they focus, instead, on buying up the delegates that would vote. It was Mao Tse Tung who said, 'Let a thousand flowers blossom.' If a thousand candidates want to run, let them run, and the entire lawyers in Nigeria judge them and choose from among them. That's why I didn't go. I cannot, in one breath, say that the delegate system wasn't good for the NBA, that it was anachronistic and corrupt, it reduces choices and monetizes the NBA electoral process – and then go and submit to the same delegate system at EBF level, that would be the double standard.
Also Read: Commencement of Registration Nigerian Bar Association 2018 Annual General Conference/
Let's assume that you had not been disqualified – and that you ran and won. What would you do differently as NBA President? >>>  I need to emphasize something I said earlier. The NBA was at one time focused on the delivery of services; it was known for actions, not words. The NBA must get out of hotel rooms and conferences, and impact positively in the lives of lawyers. It must put in place progammes that would benefit the people – especially as we are using their money. One thing we will do is insist on continuous professional development. A minimum of 6,000 lawyers join the bar every year; no more than 30% of this number ever get any form of employment, and even the remaining 70% are left without any form of guidance. The bar must put something in place for them. If I am elected, this continuous professional development programme will be online; you don't need to travel anywhere; all you need is internet access. We'll do the module and the self-administered examination – and it will be free.  If they are involved in physical learning with a physical faculty, they will go to wherever it is, and the NBA will pay for it. We have to improve our competitiveness; we cannot be saying the young lawyers don't know anything, without doing anything to improve their capacity – whereas big, foreign law firms are taking them.  We'll put in place online library tools that can be accessed in the grassroots areas, e-law reports (Law Pavilion, etc). License some of them and put them at the disposal of lawyers. Give membership benefits. Bring back the insurance scheme. Have a free health insurance cover for young lawyers. Involve more women in the affairs of the bar. Make sure that in each committee the NBA puts in place, there are at least two young lawyers and two female lawyers. Amend the NBA constitution to ensure that there is proportional representation at the bar. Take the NBA away from the so-called 'bar men' (as they call them) who have become profiteers and beneficiaries of the NBA's electoral process. Give the power back to the people. Amend the constitution to ensure that at least every branch elects one young lawyer to NEC. NEC approves our money, handles most things for NBA, yet these young lawyers are not being co-opted into NEC until they are ten years post call, and yet they pay their dues. Involve them, have a pool of opportunities. Have ease of doing business. Today if you apply for stamp, you fill the form, go to Access Bank and make payment – NO. You go online, sign in, pay with your ATM Card and order your stamp. If you don't want to pick it up at your secretariat you can pay for office delivery. We can do the same for our practice fee. And we must put in place those things that would help us fetch out fake lawyers like the Annual Practice List provided for a Rule 12 of the RPC. We should have Annual Practice License provided by Article 12 (3). All you need is to go online and search if that person is a lawyer or not, and work with the heads of courts through the NJC to ensure that every lawyer whose name appears on the process must include his or her enrolment number. So if there is need to verify who or he or she is we do that. And we move to that stage so that lawyers would understand that mere paying of practicing fee is not what makes you a lawyer, that there's a second lane that requires you to meet a certain level of minimum continued professional development to qualifies you as a lawyer. We must emphasize that. We must retrain our lawyers. We must learn that you can't just be content with your level of education; you must continue to improve yourself. And a number of these benefits the NBA will pay for its money. Of what use is it that we are suggesting to pay hundreds of thousands of naira to bring in a foreign ex-president to speak to us when we can convert the money to give benefits to our members. "I asked, of what use is it? We must be able to utilize our brand opportunities to invest. When I see branches like the Lagos Bar investing in 'Treasury Bills', I know that's the way to go.  NBA must endow funds. Seek for the future. The incestuous relationship with governors and politically exposed persons must be reduced and gradually stopped so that NBA will not lose its independence. So that we can speak. NBA must articulate programmes that allow us to improve and contribute to the improvement of legal trainings for lawyers and those entering the profession. There must be synergy between those that are entering the profession and those who are law teachers. We all must play a role. And NBA must also be involved in what happens to our colleagues who are in the official bar. Those in the public service, whose condition of service require NBA to be part of the agitation to improve them. Health professionals are doing the same. I want to be part of NBA that's engaging and achieving practical results without spending so much money organizing conferences all the time and achieve nothing in the lives of members. And we must build an online resource on our website for conference papers so that when you need a material or paper delivered 4 or 5 years ago, all you do is go online and download it for free. We need to get all these things done and make them available for our members. NBA should not be about conferences and NEC alone, it should be an everyday thing that lawyers can interact with as Association that has meaningful impact in their lives. That is what I want to see done. That's why I was running. That's why I'm still running because I am still challenging my disqualification.
Looking at the NBA structure of administration,  it's just two years.  Do you think if in your capacity  as NBA  President  you  can  achieve these less than two years? >>>  Some of the things I told you I already put timelines of one month to achieve. What does it take put a payment platform on NBA website – one week or two weeks at most, for the site to have better security features. You have arrangement with the bank and it's incorporated into it. You have bank details of every branch to integrate it into NBA premium system so that when lawyers from their branches paid in money, they will get their own automatic remittance. How long does it take to negotiate or to get a license from an e-Library provider – reach an agreement, pay and it's done. It is those that do not have ideas that think the NBA is like a political office in a state and would want to stay for four years. Before two years you would have executed your plans. Go and look at Austin Alegeh, his inaugural speech, by the end of his first year he has achieved what he set out to achieve. Before two years you are getting ready to leave. They are very simple to achieve. Put things in place and institutionalize them and it would run. You don't need the president to make them work. They are issues of regulation. Lawyers will be compelled to comply. It doesn't need rocket science. It's all about NBA retooling its thinking, refocusing its energy knowing that the members are at the center piece of the administration. And I am glad I saw Lagos Branch showed that when a young lawyer was brutalized. The way they took up the matter – that's the NBA of my dream. I did that when I was chairman of Abuja branch. NBA must have a handsome approach. It must not be an elitist organization. It mustn't be an organization that you hear about and need connection to get to. We must run an e-secretariat so that when lawyers are in need they know where to go to and get problems solved, and questions answered. That is what we need to do. And when we do that we make the office less lucrative. For example, what do we need a chief of staff for? What job is he doing for you? Let the paid staff do them. Professionalize the NBA and the Secretariat. Do away with people who came from one political godfather or the other in the NBA and bring in people who can run it. Let NBA run with the mindset of big donor organizations or NGOs where people's employment is tied to programmes. If your program does not run well, or you don't get funding, your contract goes. Except for those who are staffs. That is why you see only one woman being in every committee as secretary as if she is the only woman in NBA.
As General Secretary you did well. And as you said, you were not distracted. But as NBA President do you think you won't fall victim of Godfatherism? >>> I don't know about other people. But I know about myself. If you remember my days as Gen-Sec all the things I said I will do I did. I ran an open secretariat, an e-secretariat, I responded to people's messages and enquiries via e-mails, Whatsapp and SMS. It's about attitude to work. I have experience. I know and understand NBA very well. I never took bribe or gift from any service provider to make NBA to run perfectly well. And I keep saying it that unless the NBA is run with the mindset of making profit, like a business, otherwise, we are wasting time. There are things we must do differently. We must focus on our members. It is not about whether you get so high or so low. It's about having a vision and being true to it. When you are true to it you will always get it right. When I came to NBA I told them that some of you are already my friends. Those who are not my friends are not my enemies. We don't need to be friends or enemies to get things done rightly. One of the persons I had to recommend for termination was my very good friend. It's not about competitors or unfriendly opponent. It's about principle. It's about doing the work. My name means a lot to me because whatever I tell you I will do – I will do. If it were otherwise people would have had some muds to throw at me. But I refused to change from who I am. I don't allow people to set agenda for me. I remain focused and shelved off all those negative. And like Shakespeare said: "My honour is my life. Take away my honour and my life is gone." I don't joke with that. And that's why they don't want me. I always remind them that they are not God. God has blessed me beyond my dreams. I never thought that one day I will be running for this office. I never thought that people would sit down and plot to disqualify me. I never thought that people would be so afraid of me that the best way to take care of me is to disqualify me. So I attribute that to the mercy of God. But I tell you that I will fight injustice. That is one commitment I made to myself when I joined the legal profession. They know I'm not easily intimidated. Unless we fight these things, unless we learn to say 'it doesn't matter'. Some of them are boasting because they know and would say afterall JK Gadzama's case is still in court two years after. We must fight such an association where people do the wrong thing because they believe that the judicial system is so slow that you can't get justice. That while you are fighting they will hold the election. We must make sure that the NBA does not become that kind of association. I'm fighting this not so much for myself, but as for those who are after me that may still fall victim to this.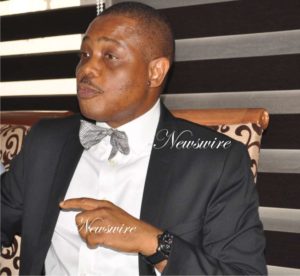 What is your advice/message to your supporters? >>>  For those who are looking up to me I always say this to them, "Let no one tell you that you can't do it." "Never you believe that you need that particular man or woman to be something. Believe in yourself, trust in God, and work towards achieving it. Don't allow anyone to tell that you have problem setting you back. You are your own enemy. If you put obstacles for yourself, it will inhibit you. And I always say: "Throw your heart over the Bar and your body will follow." Set goals for yourself, review what you have done and also realize that the practice of law is like a business. Do your checks and balance in your business as if you are checking your health system because your business is your life. Take a look back at your clients – are you serving them well or not. Remember you are improving your knowledge as you provide the best services for them. Try and get feedbacks from them on things you did differently. And remember that above all, the law practice is also a call to serve humanity. For those on the political side, I want them to know that I am going to challenge it. some of the decisions they will take I leave them to take it by themselves on how they want to proceed. I do not find myself in a position to tell people that if for any reason my name is not on the ballot, they should do this and shouldn't do that. But I know what I am going to do. I know I will do my very best for my name to reinstall on that ballot because I ought to be there. And I believe I will be there. But if for any reason I am not able to get my name back on the ballot, for them to vote for that man, that candidate who would place the interest of the bar first, and who would have time for the bar. Part of the problems of the bar is at times when you have an absentee president who didn't have time for the job and his aides takes decisions on his behalf and then abuse and have the law, and have scant regards for the law. Whoever is elected as president must be able to roll up his sleeves and do the work that he's elected to do. And also know that is about placing the legal profession first. He must place merit first and advance our bar association.
Peradventure your name is not listed on the ballot paper, will you work with elected president? >>>  If is elected, I am still challenging him. Because, that would limit what I can do if am still in court. But if am not in court, and I know he is the leader, I will accept him.
Thank you for your time and we wish you best of luck. >>>  I thank Newswire for coming at this crucial period of our noble profession, and for the good job you are doing.
Subscribe for your copy/copies now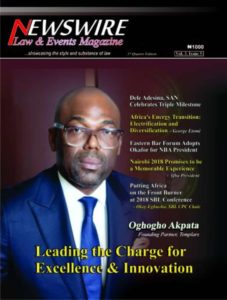 Do you need to be heard? Or your articles published? Send your views, messages, articles or press release to: newswiremagazine@yahoo.co.uk  >>> We can cover your (LAW) events at the first Call: 08039218044, 08024004726